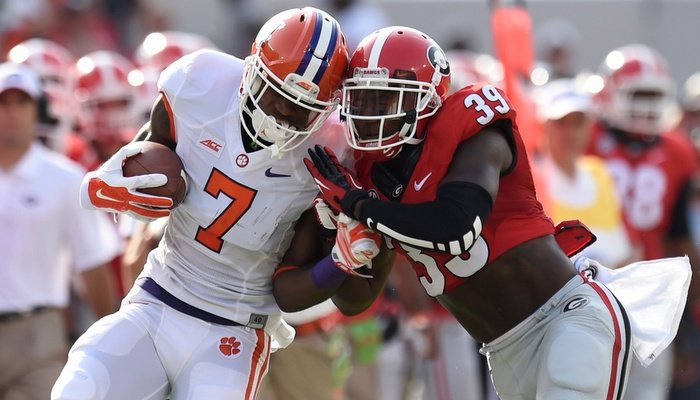 | | |
| --- | --- |
| Swinney would love to play Georgia every year | |
---
| | | |
| --- | --- | --- |
| Tuesday, August 30, 2016, 12:29 PM | | |
Clemson head coach Dabo Swinney talked to the media after Friday's practice and discussed the several minor injuries on his football team.
"I have been on the record many times," Swinney said about future ACC scheduling. "I like the eight plus 2 for us. I think that is one of the reasons we have been able to grow our program because we have been able to go play people."
Swinney is not intimidated to play anyone from the SEC conference and would love to restart the traditional rivalry between Clemson and Georgia on a yearly basis.
"If it was up to me we would play Georgia every year because to me that makes sense. They are just down the road. There is a lot of tradition in that. You could get beat every year too, but I think for what we are trying to do within our conference and be able to step out and play Georgia and South Carolina every year that would be great. That's not where we are, but we try to keep the ability to go and play somebody you wouldn't normally see. Auburn is a great opponent. We played them what three years in a row at one point. I think we were supposed to play Ole Miss this year. That's stuff is done so far in advance and when Notre Dame came in all that stuff got changed, and we ended up with Auburn for two years following up Georgia for two years."
Swinney is always searching for compelling matchups that will benefit his program in the long run.
"I just like the fact we can step out of conference and obviously we are going to play South Carolina every year and be able to go and play somebody that kind of gives you a different feel outside your league that maybe you don't know as much about or see as often. I think that is a good measuring stick for you as a program....I think that is one of the things that has allowed us to build the culture of our program and mentality you have to have to win those type of games."