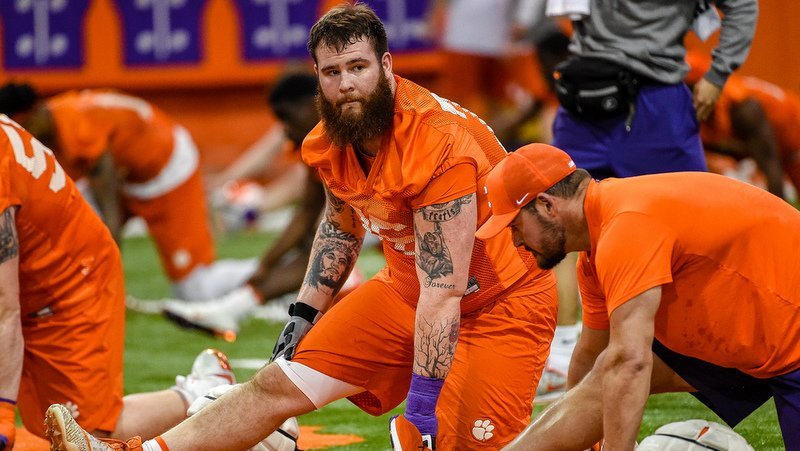 | | |
| --- | --- |
| Sean Pollard named to National Watch list | |
---
| | | |
| --- | --- | --- |
| Friday, July 19, 2019, 1:34 PM | | |
In the year it celebrates its 20th anniversary, the Rimington Trophy Committee is pleased to announce its watch list of 80 Division I centers for the 2019 fall season. To build this list, the committee accepted nominations from all eligible programs across the country for consideration. This preseason and for the second year, centers were nominated from every conference.
The following is a list of those named to the 2019 Fall Watch List:
Noah Hannon, Appalachian State
Josh McCauley, Arizona
Cohl Cabral, Arizona State
Jacob Still, Arkansas State
Peyton Reeder, Army West Point
Kaleb Kim, Auburn
Andrew Poenitsch, Ball State
Garrett Larson, Boise State
Alec Lindstrom, Boston College
Jack Kramer, Bowling Green
James Empey, BYU
Michael Saffell, California
Steve Eipper, Central Michigan
Jaelin Fisher, Charlotte
Jakari Robinson, Cincinnati
Sean Pollard, Clemson
Trey Carter, Coastal Carolina
Tim Lynott, Jr., Colorado
Jack Wohlabaugh, Duke
Dallas Connell, FIU
Nick Buchanan, Florida
Junior Diaz, Florida Atlantic
Deontrey Hill, Georgia
Kenny Cooper, Georgia Tech
Kohl Levao, Hawaii
Doug Kramer, Illinois
Hunter Littlejohn, Indiana
Colin Newell, Iowa State
Adam Holtorf, Kansas State
Nate Warnock, Kent State
Drake Jackson, Kentucky
Kody Russey, Louisiana Tech
T.J. McCoy, Louisville
Lloyd Cushenberry, III, LSU
Levi Brown, Marshall
Johnny Jordan, Maryland
Dustin Woodward, Memphis
Danny Godlevske, Miami (OH)
Cesar Ruiz, Michigan
Matt Allen, Michigan State
Josh Fannin, Middle Tennessee
Darryl Williams, Mississippi State
Trystan Colon-Castillo, Mizzou
Ford Higgins, Navy
Kyle Stapley, New Mexico
Sosaia Mose, North Texas
Jared Allen Thomas, Northwestern
Jarrett Patterson, Notre Dame
Steven Hayes, Ohio
Creed Humphrey, Oklahoma
Johnny Wilson, Oklahoma State
Jake Hanson, Oregon
Michal Menet, Penn State
Jimmy Morrissey, Pitt
Michael Maietti, Rutgers
Keith Ismael, San Diego State
Hayden Howerton, SMU
Brian Ankerson, South Alabama
Trace Clopton, Southern Miss
Drew Dalman, Stanford
Airon Servais, Syracuse
Kellton Hollins, TCU
Matt Hennessy, Temple
Brandon Kennedy, Tennessee
Zach Shackelford, Texas
Ryan McCollum, Texas A&M
Aaron Brewer, Texas State
Bryce Harris, Toledo
Christian Montano, Tulane
Lee Dufour, UAB
Jordan Johnson, UCF
Boss Tagaloa, UCLA
Bobby Reynolds, ULM
Sid Acosta, UNLV
Brett Neilon, USC
Derron Gatewood, UTEP
Nick Harris, Washington
Frederick Mauigoa, Washington State
Luke Jurgia, Western Michigan
Tyler Biadasz, Wisconsin
Seth Joest, WKU
While more than a dozen All-America teams are selected annually, the Rimington Trophy committee uses these three prestigious teams to determine a winner:
Walter Camp Foundation (WCF)
Sporting News (SN)
Football Writers Association of America (FWAA)
Because the selectors of these three All-America teams can place centers in a "mix" of offensive linemen that includes guards and tackles, their 11-man first teams can often have two centers. The Rimington Trophy committee's policy is to count all players that play primarily the center position for their respective teams as centers, even though they may be listed as guards or tackles on the All- America teams.
The center with the most first team votes will be determined the winner. If there is a tie with first team votes, then the center with the most second team votes will win. If there is still a tie, the winner will be determined by a majority vote from the Rimington Trophy committee. The winner will be recognized at the Rimington Trophy Presentation at the Rococo Theatre in Lincoln, Nebraska on Saturday, January 18, 2020.
About the Rimington Trophy
The Rimington Trophy is presented annually to the most outstanding center in NCAA Division I College Football. Since its inception, the seventeen-year old award has raised over $4.2 million for the Boomer Esiason Foundation, which is committed to finding a cure for cystic fibrosis.
Dave Rimington, the award's namesake, was a consensus first-team All-America center at the University of Nebraska in 1981 and 1982, during which time he became the John Outland Trophy's only two-time winner as the nation's finest college interior lineman. For more on the Rimington Trophy and a list of past recipients, visit www.rimingtontrophy.com.
1280x100