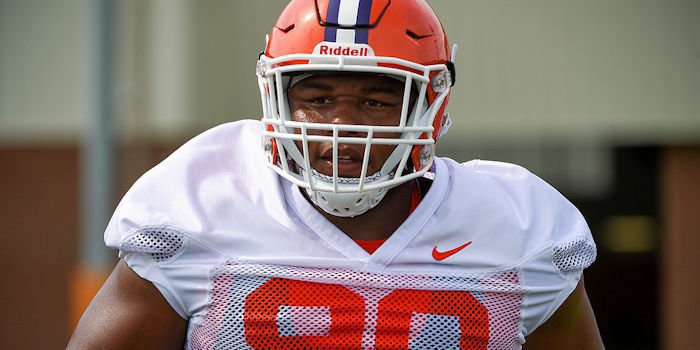 | | |
| --- | --- |
| Notre Dame center on Lawrence not playing: "I'll believe it when I see it" | |
---
| | | |
| --- | --- | --- |
| Wednesday, December 26, 2018, 10:33 AM | | |
Wednesday morning was the 'team media breakout sessions' for both Clemson and Notre Dame players as they talked to reporters previewing the Goodyear Cotton Bowl.
Notre Dame center Sam Mustipher heard the shocking news that standout defensive lineman Dexter Lawrence might not be available to play due to a recent failed NCAA drug test for a ban substance called Ostarine.
Mustipher will prepare like Lawrence will play in the game and go head-to-head with him.
"I'll believe it when I see it," he said to the media. "It was shocking, surprising, but I learned a long time ago in my career you got to prepare like you would for the best opponent you are going to play. All year I have taken the same mental approach each game I have gone into no matter who it is. That'd something that I take pride in being the same guy every day. No matter who steps in for Clemson I know they are going to be talented. I know the type of talent they recruit down there. I know the type of defense that Coach Venables runs, and they are going to be attacking. They are going to pin their ears back, trying to make plays and get off blocks. I'm looking forward to the challenge."
If Lawrence isn't available, the Tigers could lean on talented backup defensive tackles Albert Huggins and Nyles Pinckney.
"They are talented," he said. "They are seasoned, so it's not like there is a true freshman coming into this game who has zero playing experience. These know what they have been doing. They have been running the defense, so it's going to be a challenge. When we found out the news it wasn't 'Whoo; he's not playing.' They still got three guys over there that are top 10 talent I believe, and they got guys coming in who in future years can do the same things."
Mustipher knows that Lawrence is a big-time talent for Clemson.
"A guy who plays way more athletic than his size would indicate," he said. "He is able to shed blocks and make incredible plays and really manhandle some offensive linemen that we have watched on film. I'll believe it when I see it is still in my mind. He's an incredible talent and deserving all the recognition he has gotten."
For the season, Lawrence had 37 tackles including 7.5 for loss, 1.5 sacks, and three pass breakups.