| | |
| --- | --- |
| Mel Kiper's take on Williams, Watson | |
---
| | |
| --- | --- |
| Friday, January 20, 2017 9:32 AM | |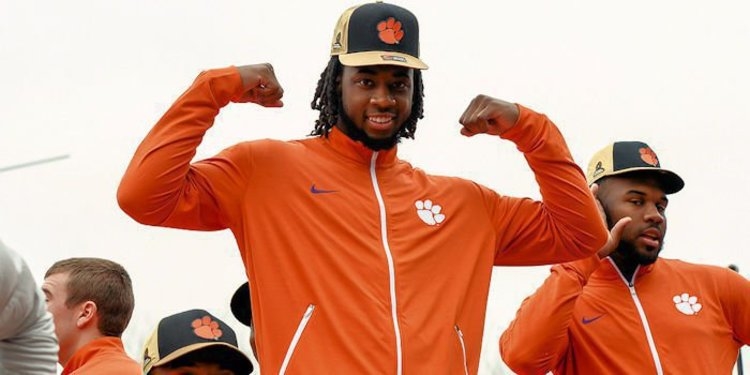 Clemson won their first National Championship in football since 1981, and several Clemson players are entering the upcoming 2017 NFL Draft.
ESPN draft analyst Mel Kiper Jr. held a media teleconference on Thursday and spoke about his opinions of different prospects including wide receiver Mike Williams and quarterback Deshaun Watson in the NFL.
"He [Williams] fits the mold of what you see in this league now the big Julio Jones type receivers, The Alshon Jeffries, the guy that can go high point the ball and are a mismatch against the smaller corners," Kiper said. "I think you saw what he could do in the national championship game. He was such a key element there. Throw it up, and he will go get it. He's like a power forward. That's what Williams can do."
Williams finished the National Championship game with eight catches for 94 yards and a touchdown. He was recently rated as the second-best wide receiver on the NFL.com's draft board at #9 overall.
Kiper has flip-flopped on his opinion of Watson in the last few months ranging from a mid-round project to now having him as an early first-round selection.
"I think when you look right now at Deshaun it's trying to find the team," Kiper said. "He could have went to the Jets (6th pick). I don't see that because they have a coach that has to win. I could have easily put him at Cleveland at 12. I think to put him up there at 1 or 2 or 3 based on I thought he was a second rounder going into the later portion of the season. To move him up that far I couldn't do it. Now I understand there might be someone out there that might put him there. I have him going 10. I thought that was a good spot at Buffalo. Could he go (in top 3)? Vince Young has that great bump from the national championship game, and he ended up going three. So I am not going to say it is out of the question. I think that would be a quantum leap for me to go from early to mid second all the way to 1, 2 or 3. It has happened before, though. I have him at 10. So if you have him at ten on January 19, come late April he could be up that high."
Kiper shares that he has a #36 overall draft grade on Watson but thinks that someone in the first round will select him.
He can throw the football. You look at him when he moves around. I thought he threw better I thought late in the year from the pocket. He's a great kid. He will work hard which is a critical part of the whole equation. He certainly has the arm to make the throws you want. Is he accurate enough from the pocket? That is the big question. You are talking about the first round, not the third or fourth round. You are talking about maybe a top 10 pick, not a late one. I don't have as high a grade on Watson as you would think based on him going 10th. I have him right now at the 36th player on the board, not 10th. But quarterbacks get forced up. Is there some risk reward there? Yeah. It depends on what kind of grade Buffalo ultimately has on Watson, but I do think he is going to go somewhere in the top 10 to 15. If it is not Buffalo, then it will be somebody else."
Watson finished the comeback victory over Alabama going 36-for-56 for 420 yards and three passing touchdowns. He also had 21 rushes for 43 yards and a rushing score.