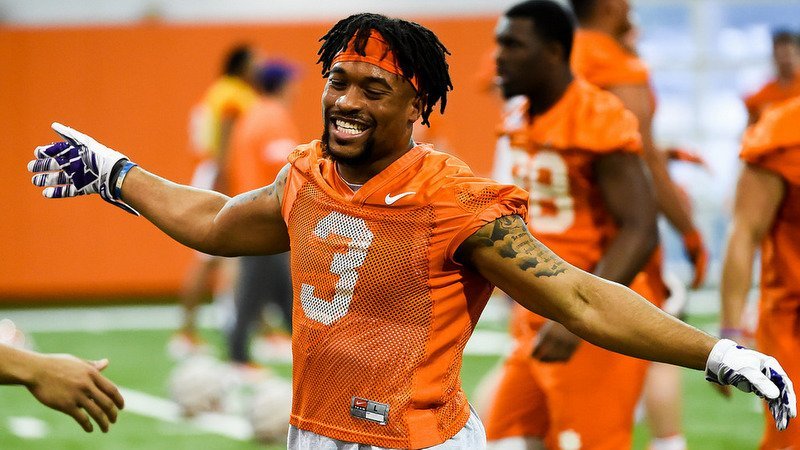 | | |
| --- | --- |
| Amari Rodgers rehab update | |
---
| | | |
| --- | --- | --- |
| Tuesday, July 16, 2019, 9:49 AM | | |
Clemson is known for being 'WRU' for their stockpile of receiver talent on their championship roster. One playmaker that is progressing well on his rehab is Amari Rodgers according to Jeff Scott during Tuesday's media outing.
"He is doing well," Scott smiled. "I just saw him walk by five minutes ago leaving the training room. My experience with guys regardless of the position that have had to battle through an ACL a lot of has to do with the individual, their mental toughness, their mental approach and the way they attack it. Obviously, I was very disappointed and felt bad for Amari because he has worked extremely hard going into the spring.
Scott knows that if anyone can come back stronger from an ACL injury, it is Rogers because of his work ethic.
"But at the same time and what I told all those guys in the [WR] room," he said. "There is probably not anybody in that room more prepared for that obstacle. The way he has attacked it has not surprised me one bit. He is ahead of every benchmark that they have had for him in there, very similar to when Deshaun Watson was going through that. I think for Amari it is going to be one of those things where we are saying whoo not sick em, just kind of slow him down a little bit. He will go out and probably do a little bit more than the trainers want him to do right now. He is able to do some straight-ahead things and we are hoping in fall camp with the trainers he will be able to do some things laterally. I expected him back sooner than later and exactly when that is in the season is yet to be determined."
Scott knows the key is for him to get back 100 percent and not rush the process.
"He is doing some running and feels really good with where he is right now as do the trainers, but it is still a process, and it is not something where we are going to rush him back or put him back out there before he is ready," he said. "He really thinks he has a chance to have a really good season for us this year and we just want to be sure he is back to 100% before we put him back on the field."
Rodgers has 74 career receptions for 698 yards with four receiving touchdowns in 29 games (15 starts).
#NewProfilePic pic.twitter.com/8u6GDA1Qpq

— Amari Rodgers3?? (@arodgers_3) July 15, 2019
Scott believes several guys have a chance to step up while Rogers is working himself back in the mix.
"There is a group of guys," he said. "Cornell is in that mix. Diondre Overton, T.J. Chase. Those are the three guys that have really been repping that five man spot along with Brannon Spector who just got here in the spring. I think that competition is still going. When you put out a depth chart you got to kind of put something out there that will probably change multiple times between now and the first game. I'm happy for those guys. You are sad on one point for Amari but you are also excited for some of these other guys that have been waiting their turn to get their opportunity and it will be fun to watch them compete for that spot the rest of preseason camp."