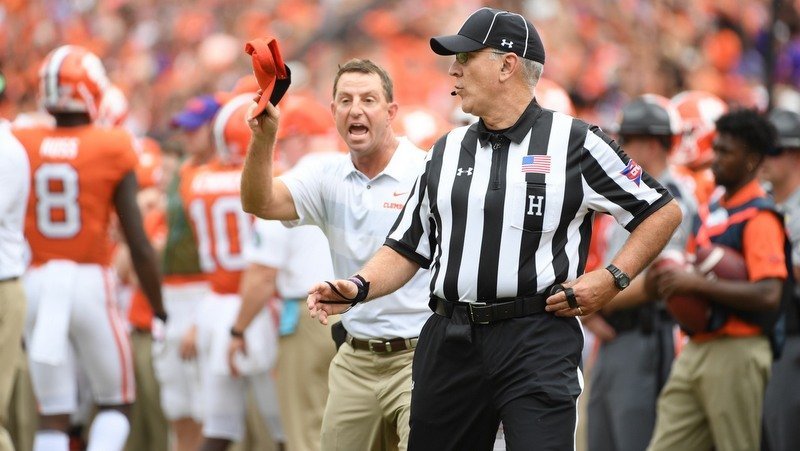 | | |
| --- | --- |
| Swinney on five-bomb pictures by Gamecock fans | |
---
| | | |
| --- | --- | --- |
| Tuesday, November 20, 2018, 11:38 AM | | |
Clemson head coach Dabo Swinney discussed in-depth about the rivalry game with South Carolina during his Tuesday press conference.
Swinney was asked about previous pictures of Gamecock fans 5-bombing him to celebrate the past wins against Clemson.
"I've grown up with that. I get it. It's surprising sometimes that parents allow their kids to speak to adults sometimes but I just keep on moving," he said. "What's acceptable to some parents isn't acceptable to other parents. I take pictures with anybody, I don't care - Gamecock fans. I don't have any ill will toward anybody. At the end of the day, we're all on the same team or we should be in a bigger picture. Sometimes people coming up taking pictures and trying to 5-bomb you and parents having fun with that. I would never allow my kids to do that, but that's me. Everybody has to parent the way they want to parent. As far as the normal, 'You stink,' 'Go Gamecocks,' and 'Roll Tide,' that's good fun and it goes both ways."
Swinney said that he would not retaliate by 5-bombing Gamecock nation if his team happens to win for the fifth straight season on Saturday.
"You won't see me doing any five-bombs or any of that stuff if we were to win. I'll just be happy that we won the game. I'm all about what's in front of us and what's after that."