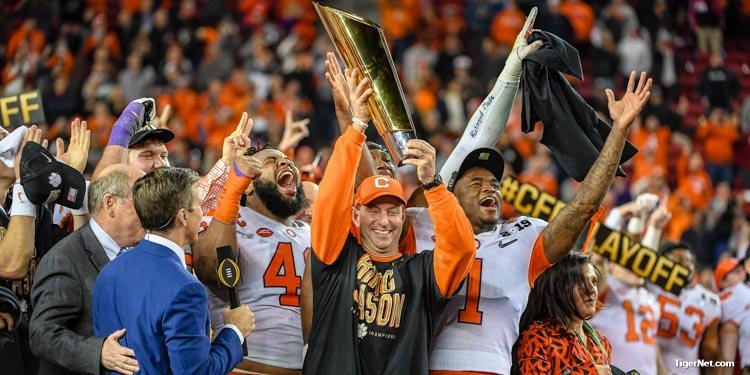 | | |
| --- | --- |
| Swinney: Everyone wants to explain what happened to Bama but Clemson was just better | |
---
| | | |
| --- | --- | --- |
| Wednesday, February 6, 2019, 5:01 PM | | |
Clemson dominated Alabama 44-16 in the College Football Playoff National Championship to garner their second title in the last three years.
Media pundits were dazed and confused watching the Crimson Tide being rolled by such a large margin of victory.
Clemson coach Dabo Swinney thinks that the Tigers were underestimated by the media as they were clearly dominant all season.
"This group was so much fun to be around," Swinney said during Wednesday's press conference. "They enjoyed it. This team was dominant. I mean just dominant. It's been interesting all the riding around in the car and listening to the radio and it has been fascinating to me to hear some of the comments. Everyone wants to explain what happened to Alabama instead of how about Clemson just had the better team. They really didn't do anything different than they had done all year. They won 13 games by 20 plus. They won their state championship by three touchdowns. They won the ACC championship by four touchdowns. Then they won by four touchdowns in the Cotton Bowl. Then they win by four touchdowns in the national championship game. All they did was do what they have done all year."
Swinney had no doubt that they were the best team in the country leading up to the title game.
"People just didn't really play attention," he said. "Nothing happened to Alabama. They just played a better team that day. Simple as that. Alabama is unbelievable. They were 14-1. They did an amazing job. Amazing job. We just had the better team. That was my message before the game as I told them early - 'We got the best team in the country right here.' I've told them that all year. 'Tonight you get a chance to prove it' and that's what they did and they left no doubt."