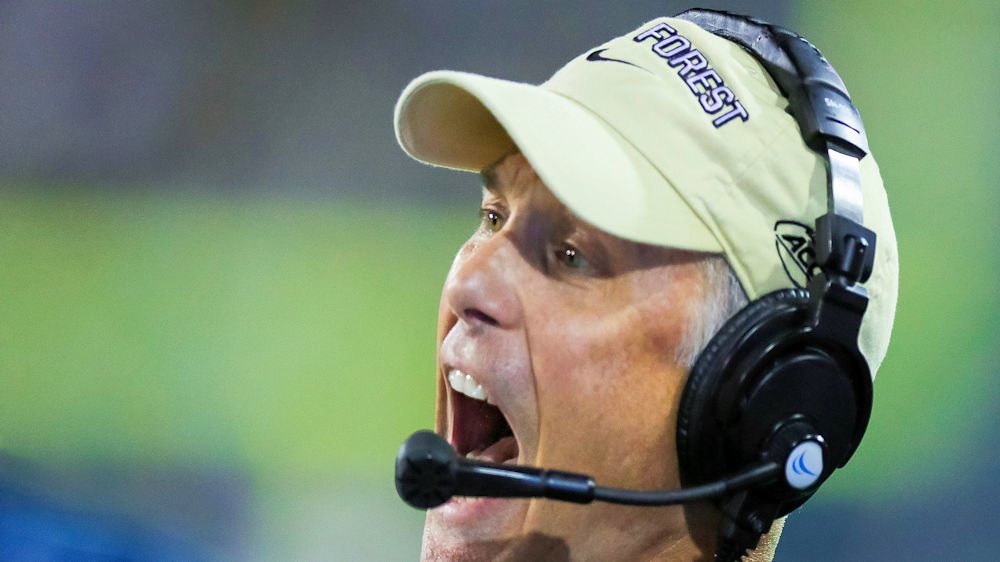 | | |
| --- | --- |
| WF's Dave Clawson makes complaint to ACC about Clemson's band | |
---
| | | |
| --- | --- | --- |
| Friday, October 12, 2018, 1:00 PM | | |
Wake Forest was utterly demolished 63-3 against No. 4 Clemson last Saturday.
Demon Deacon head coach Dave Clawson was seen throughout most of the first half screaming and jumping up on the sidelines like a crazed madman at the game refs. Most casual observers just thought he was visibly upset with his team getting manhandled on both sides of the ball.
However, it appears that Clawson was arguing about Clemson's band as he pointed at them in the stands several times while his team was trying to call plays.
"It was an issue that I addressed with the supervisor of officials on Monday, and he agreed with my perspective on it," Clawson said via the Winston-Salem Journal, "and there was a situation in the game that wasn't handled the way it should have been."
Clawson was talking about it to the refs for at least the entire first quarter.
"I knew it, and it was allowed to keep happening, and eventually it got fixed but not the way it should have or when it should have," Clawson said. "You know, so again, that was — I wasn't happy with it. I expressed that the whole first quarter.
Clawson eventually got the band situation handled to his liking and will now mentally move on.
"It eventually got fixed, but it was not — it wasn't handled the way it should have been procedurally from their end … I had a good talk with Dennis Hennigan, and he agreed, so we're moving forward."
Can you imagine if the Clemson band and the fans had stayed quiet during the game? It would have probably only been a 55-3 nail-biting win for the Tigers.
Did the band REALLY matter in this lopsided blowout?