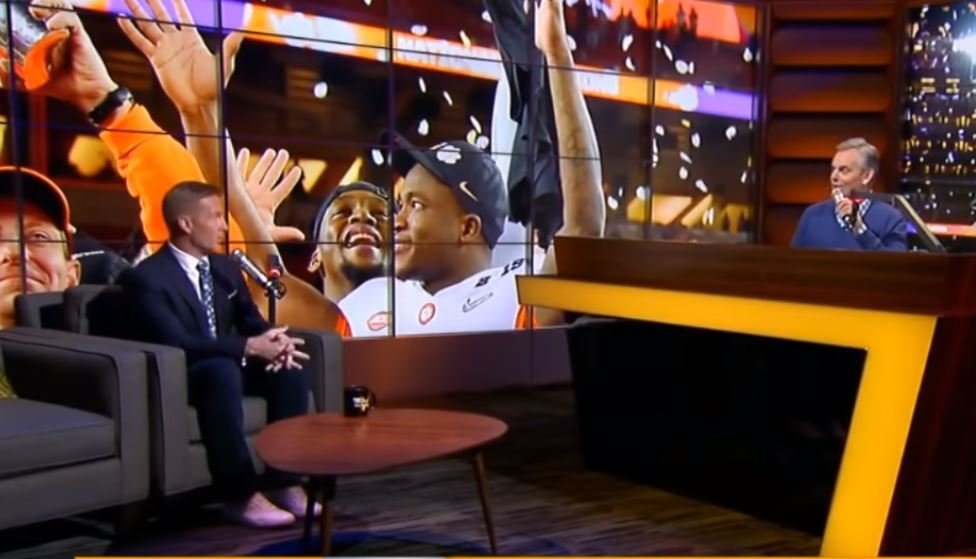 | | |
| --- | --- |
| WATCH: CFB analyst calls Clemson new 'kings of college football' | |
---
| | | |
| --- | --- | --- |
| Tuesday, January 8, 2019, 3:54 PM | | |
College football analyst Joel Klatt hasn't always had glowing words to say about the Clemson program in relation to Alabama, but after Monday's 44-16 Tigers win, there's no denying a change in dynamics at the top.
"Clemson is at least right now the kings of college football," Klatt said on the Colin Cowherd Show on FS1. "The dynasty (at Alabama) has been great but now they're the challenger."
Klatt and Cowherd explained the current state of the programs in terms of Alabama as a factory and Clemson as a family.
"They got severely outcoached...(If Alabama is a factory), Clemson is a family," Klatt said. "That's the difference. So think about it, their coaches stay. They have the same set of coordinators for four years. They've also got kids that stay in school for their senior years...Their best NFL prospects returned for them this year. Why? Because it's a family. Neither is better than the other because they both win."
Cowherd disagreed.
"Family is better. Do you want to work in a family or in a factory?" Cowherd asked.
"Maybe, here's the deal - I think when kids go to Alabama they know they're going to a factory," Klatt said. ""It's a means to an end. When assistants pick coaching with Nick Saban, it's a means to an end. They're constantly deciding to enter that factory because they want to be better than the other side. I don't think one is better than the other and I don't think this means Alabama is going to be worse next year or going downhill. They're going to be fine and we're probably going to be talking about this matchup at the same time next year.
"I think Alabama and Clemson have totally separated themselves from college football."
Klatt is pumping the brakes on the hype surrounding Trevor Lawrence, however, but still very high on the soon-to-be rising sophomore.
"That was one of the best performances we've seen from a team in a long time," Klatt said. "He's (Trevor Lawrence) really good and is going to be one of the elite prospects. The hype is in front of the train right now. Listen, he's got to grow and he got away with a few really poor throws in that game by unbelievable wide receiver play...I buy in 100 percent (on Lawrence) but I'm just saying - easy, easy.
"He's tremendous. He got away with a few 50-50 throws because of great wide receiver play. He's going to be the best QB prospect since Andrew Luck when he comes out. Let's just let him be a great college player for awhile."
My Way-to-Early Top 10 for next season
1) @ClemsonFB
2) @AlabamaFTBL
3) @TexasFootball
4) @OhioStateFB
5) @OU_Football
6) @FootballUGA
7) @oregonfootball
8) @NDFootball
9) @GatorsFB
10) @UMichFootball

— Joel Klatt (@joelklatt) January 8, 2019