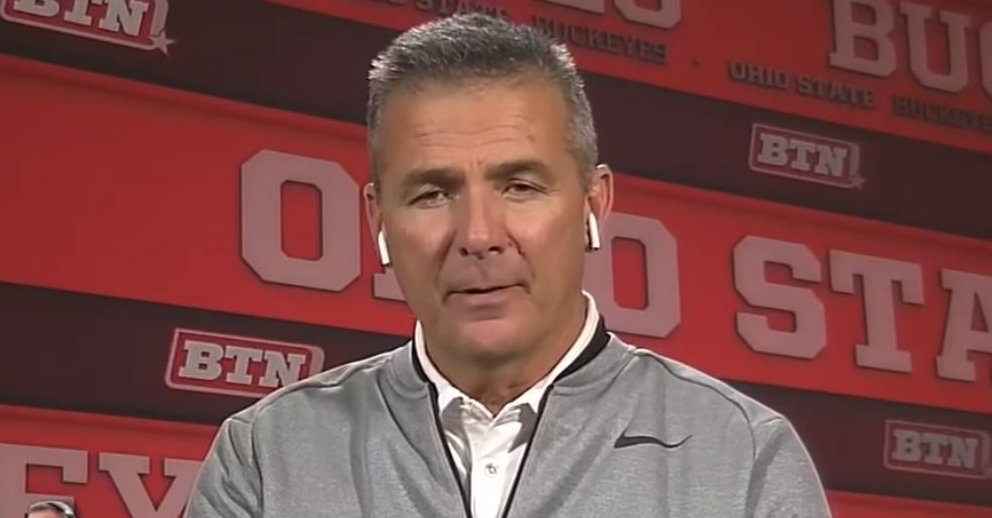 | | |
| --- | --- |
| Urban Meyer says tested Buckeyes have advantage on Clemson | |
---
| | | |
| --- | --- | --- |
| Tuesday, December 10, 2019, 3:05 PM | | |
Former Ohio State coach, current assistant AD and FOX analyst Urban Meyer weighed in on the Fiesta Bowl matchup between the Buckeyes and Tigers on Colin Cowherd's show this week.
Meyer was asked if Ohio State's strength of schedule -- in comparison to Clemson's -- was an advantage. Ohio State's schedule is rated 18th by Sagarin, and Clemson's, 60th.
"I think it is (an advantage for Ohio State)," Meyer said. "Ohio State fell behind by 14 points at halftime to Wisconsin … Coach (Ryan) Day and Justin Fields had never been in that situation. And to come back and fight and make the halftime adjustments. That's the sign of a good staff, a good coach and a great leader. I think that gives them an advantage. The ACC is not good. The ACC is really struggling. When your Miamis and Florida States and Louisvilles aren't top-15 teams like they have in the past -- and Virginia Tech … Those are historically strong programs. When those teams are great, the ACC is great, but they're not."
Meyer said the undefeated trio of Clemson, LSU and Ohio State have had health on their side to boost their impressive campaigns.
"It all comes down to health of the team," Meyer said. "I would have put Alabama in there if Tua (Tagovailoa wasn't injured) -- and they lost that great middle linebacker earlier in the year. Those are elite teams. I've already watched film on Clemson. The thing about LSU is they have a better resume. They have played these elite, elite teams. Ohio State has big wins against Wisconsin, Penn State and that team up North (Michigan). LSU has been in the street fights already. Clemson, quite honestly, hasn't played great teams.
"So, it's going to be an intriguing matchup."
Meyer faced Dabo Swinney and the Tigers in the 2016 Playoff semifinals also held in Glendale's Fiesta Bowl, a 31-0 Clemson win. Meyer marvels at what the Tigers do defensively still.
"Offensively their wide receivers and tailback -- and their quarterback is in a groove -- their offensive skill is as good as Ohio State has seen by far. By far," Meyer said. "On defense, they're one-third, one-third, one-third...That's very difficult to prepare for. That coach Venables does a -- I'm still amazed and wondered if they changed from when we played them before and they're doing the same stuff. It's very hard to prepare for...It's three distinct styles of defense...For an offensive line it's confusing and how much time -- you have 40 minutes to work on in practice -- what do you work on?
"The good thing is you have bowl time and a little more time to work on it. They're not quite what they were on the defensive line. They're very good. You're talking about when we played them before that they had all first-round draft picks. They're very good but the scheme is very hard to prepare for."