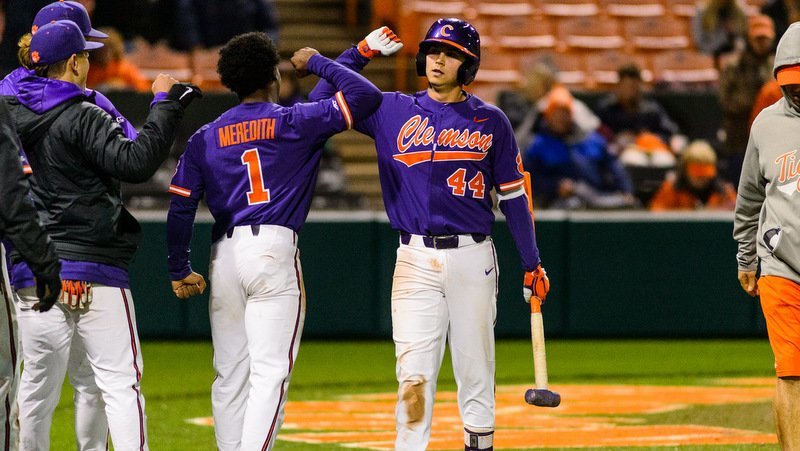 | | |
| --- | --- |
| Updated Clemson NCAA Tournament projection, ACC Tourney outlook | |
---
| | | |
| --- | --- | --- |
| Wednesday, May 1, 2019, 1:05 PM | | |
Clemson baseball took a little momentum into the exams break with a rally over new No. 10 Georgia Tech to salvage a game from the series on Sunday.
The latest NCAA Tournament projection from Baseball America has the Tigers squarely on the bubble, however.
Clemson, which had dropped 11-of-13 games going into Sunday, is now slotted as a 3-seed in Georgia's regional. The last time the Tigers were in Athens they played a 20-inning game that the Bulldogs won with a walk-off single.
Monte Lee's Tigers hold an RPI of 35 currently with nine RPI Quadrant 1 wins in 17 games, including a sweep of North Carolina and a series win over ACC-leader Louisville. They are an even 16-16 versus RPI top-100 teams.
With two ACC series left (at NC State and at home versus Wake Forest), Clemson is currently a 10-seed in the ACC Tournament, which would draw them in a pool with North Carolina (34-12, 15-9) and Florida State (28-15, 14-10) at the moment. The tournament will be held in the Durham Bulls Athletic Park from May 21-26.
Clemson returns to action this weekend in a two-game, home-and-home series with Gardner-Webb on Saturday (3 p.m. in Clemson) and Sunday (2 p.m. in Boiling Springs, N.C.).
ACC tournament seeding (As of May 1)
1. Louisville - 15-6 (36-9 overall)
2. Georgia Tech - 15-9 (30-14)
3. North Carolina - 15-9 (34-12)
4. NC State - 14-10 (34-12)
5. Miami - 14-10 (31-14)
6. Florida State - 14-10 (28-15)
7. Duke - 13-11 (27-17)
8. Notre Dame - 12-12 (19-23)
9. Wake Forest - 12-12 (27-19)
10. Clemson - 12-12 (27-18)
11. Virginia - 10-14 (27-20)
12. Boston College - 8-16 (23-24)
(RPI data per WarrenNolan.com)