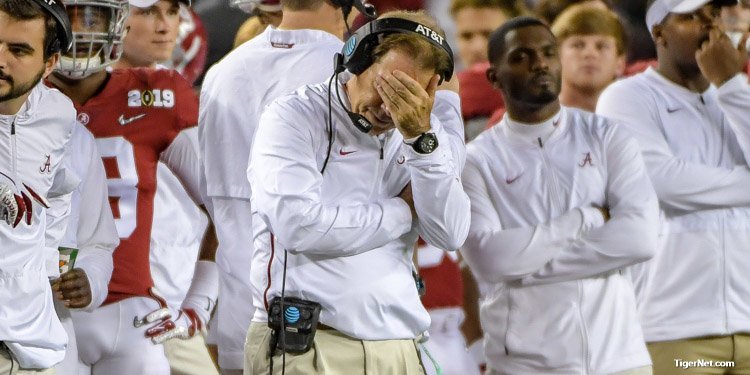 | | |
| --- | --- |
| UGA 'expert' still in denial almost six months after Clemson title win | |
---
| | | |
| --- | --- | --- |
| Thursday, June 6, 2019, 4:12 PM | | |
Clemson's 44–16 whooping of Alabama in the latest National Championship game was a heavyweight fight that was a convincing beatdown throughout the contest. The Tigers were the better team that night with a loaded roster coached up well combined with impressive playcalling.
It was like watching a UFC fight where you hope the refs would call it to salvage some pride for the bloody victim laying on the ground dazed and confused.
Despite that impressive type of win, some media analysts and SEC homers are still raking their SEC-infused minds almost half a year later on how the mighty Tide could have been dominated and manhandled so easily.
AJC's DawgNation reporter Mike Griffith is one of those individuals that saw a different contest and had plenty of excuses for Alabama.
"If Alabama-Clemson played in September-October, Alabama would have won by three touchdowns," Griffith proclaimed on the Three Man Front Podcast recently. "But what happened was Clemson got better, Trevor Lawrence developed into the best pocket passer I've seen in the SEC since Peyton Manning and his receivers are phenomenal and Alabama got beat up."
Griffith goes on to say that Alabama got beat up by that unstoppable SEC schedule.
"They got beat up by the SEC schedule, and Tua wasn't Tua. There were a couple of pivotal plays early in the championship game. Tip your cap to Clemson they won but the Alabama team that I saw in the regular season last year made history statistically, and I thought they were unbelievable."
This is such a lousy take that I'm just in shock discussing it. Put down the SEC kool-aid or whatever drink it is and re-watch the championship game for goodness sake. It's all about the title game win and not some irrelevant early season participation trophy by just being in the SEC conference.
This is wild. pic.twitter.com/4rmXMyeza7

— Larry Williams (@LarryWilliamsTI) June 5, 2019