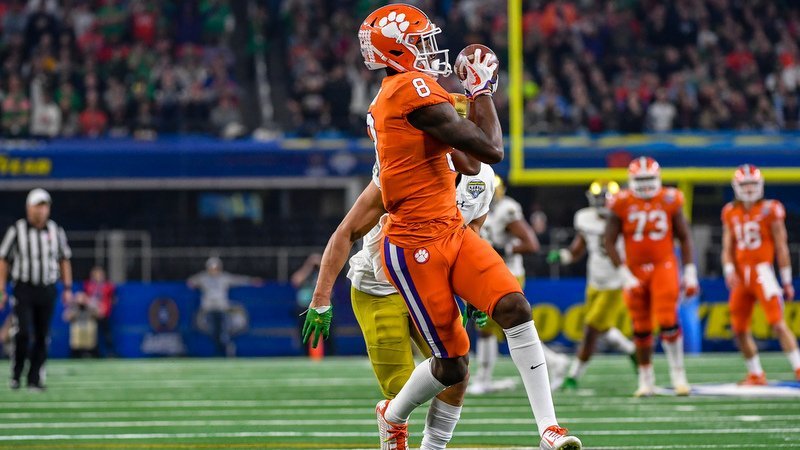 | | |
| --- | --- |
| Two Tigers on ESPN 'most important' players list | |
---
| | | |
| --- | --- | --- |
| Tuesday, August 20, 2019, 10:54 AM | | |
Taking a different outlook on the key players this season, ESPN's Bill Connelly posted a 25 potential 'most important' players to the 2019 season on Tuesday and two Tigers made the list.
Sophomore receiver Justyn Ross is listed in a category of players "with pure transcendent potential."
"We've only begun to figure out what Ross is capable of, and he's already a top-10 level player," Connelly writes. "He spent much of 2018 as a frustrated freshman trying to find a niche in a loaded offense. Then he stole the show in the College Football Playoff, catching 12 passes for 301 yards and three touchdowns against Alabama and Notre Dame. Just imagine what he might do in a full season as the No. 1 guy."
Another category with a Tiger in it was key defenders stepping into new roles, with sophomore defensive tackle Jordan Williams:
"Nyles Pinckney returns, but either Williams or blue-chip freshman Tyler Davis needs to provide an immediate push to make sure a longtime area of strength doesn't become at least a temporary weak spot."
QBs from a couple Clemson opponents also made the list much thanks to the Tigers being a factor in the schedule, with South Carolina's Jake Bentley in a "veteran quarterbacks who could beat a contender" category and Texas A&M's Kellen Mond with a "potential game-changing leap in (him)" category.
"With Mond and most of his receiving corps back, the odds are pretty good that they beat at least one team with solid national title odds," said Connelly of Mond, who tossed for 430 yards and three touchdowns versus Clemson last year. "Who will it be? Will they close the deal against Clemson this time? Will they pull a sneak attack of the Crimson Tide in College Station? Will they take down a 9-1 Georgia or 10-1 LSU?
"There's nothing scarier than a high-ceiling team with a spoiler's mentality. That's A&M in a nutshell in 2019."