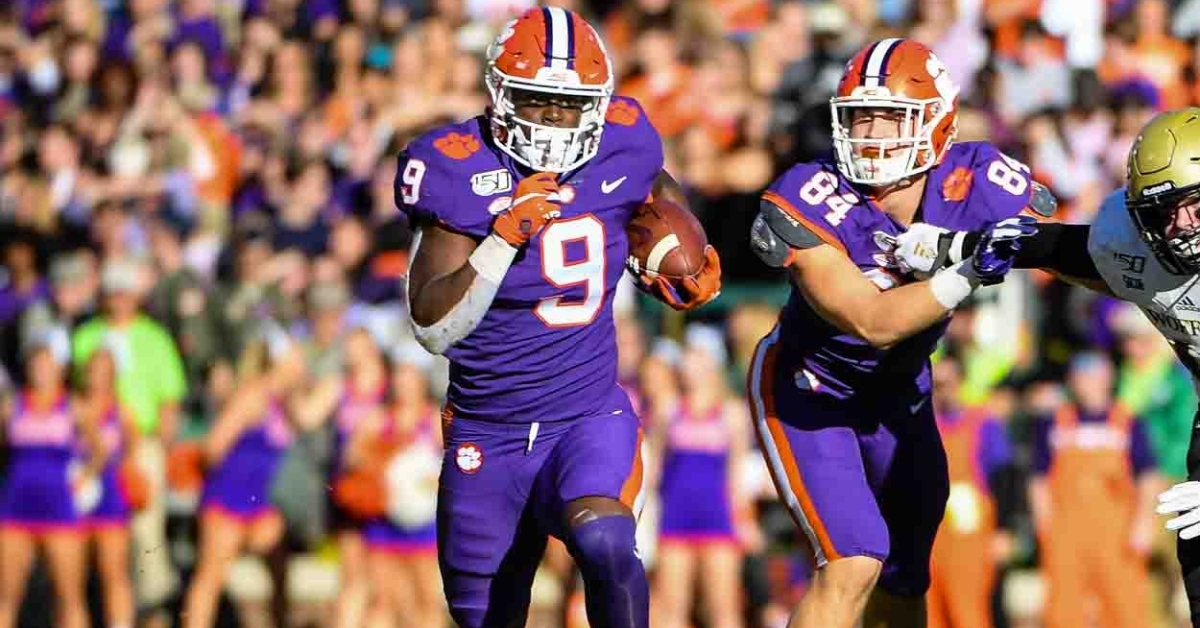 | | |
| --- | --- |
| Twitter reacts to Clemson's No. 5 CFB Playoff ranking | |
---
| | | |
| --- | --- | --- |
| Tuesday, November 5, 2019, 10:37 PM | | |
The initial College Football Playoff rankings were announced on ESPN's release show on Tuesday night.
The top four were No. 1 Ohio State, followed by No. 2 LSU, No. 3 Alabama, and No. 4 Penn State. The next two in the rankings regarding the playoffs were No. 5 Clemson and No. 6 Georgia.
Twitter was abuzz as fans, former players, and local and national media discussed whether they agreed or not with the rankings.
Wheels up from committee-land. This one was certainly ... different to explain. Eye test for Ohio State and Bama, resume for Penn State. Can understand each position individually, but the justifications by the group for each were inconsistent. Eventually protocol will matter.

— Heather Dinich (@CFBHeather) November 6, 2019
Take a step back for a second.
Clemson has won 24 straight games.
18 of last 19 wins by 14+ points.
At least 8 future 1st rounders starting.
No. 7 in off eff & No. 1 in def eff

But maybe not a playoff team because the ACC is bad.

How is that logical at all?

— ?????????? ????????? (@ADavidHaleJoint) November 6, 2019
I am not 100 percent convinced on that. Clemson is going to have 1 game against a ranked team left, against Wake Forest, and if they win, Wake Forest will more than likely fall from the rankings. Conceivable Clemson ends the season with 0 Top 25 wins. It's not a slam dunk. https://t.co/KGYC8tlFUy

— Andrea Adelson (@aadelsonESPN) November 6, 2019
I think there is a shot yes. I don't know how probable it is, but I'm not ready to say it's a 100 percent guarantee undefeated Clemson is in especially if they struggle down the stretch or need OT to win the ACC Champ Game. https://t.co/bwrh2JeHHd

— Andrea Adelson (@aadelsonESPN) November 6, 2019
If Clemson wins out but struggles along the way and LSU loses a close game to Alabama and is sitting there with one loss, you can't tell me the committee is going to slam dunk put Clemson in. I *think* they would, but the disrespect for the ACC schedule isn't going to change.

— Andrea Adelson (@aadelsonESPN) November 6, 2019
Committee kind of contradicted itself with Bama/Clemson/Penn State. Bama and Clemson both power rate higher and would be favored over PSU, but PSU has better resume wins than either. If Penn St is above Clemson, why not ahead of Bama too...

— Chris Fallica (@chrisfallica) November 6, 2019
They really got Clemson #5 though hahahaha

— Mike Williams (@darealmike_dub) November 6, 2019
Few observations on first rankings release (which don't matter so relax)

-If you're going to have Penn State ahead of Clemson you should have them ahead of Bama too
-Clemson is being dinged too hard for ONE bad game
-LSU should have been #1
-The Big 10 is stronger than the SEC

— Danny Kanell (@dannykanell) November 6, 2019
Just got off teleconference with Rob Mullens, and the committee thinks Alabama is "just better" than Penn State and Clemson. Eye test over resume for Tide.

— Heather Dinich (@CFBHeather) November 6, 2019
As in past years, the #CFBPlayoff Committee was a tough grader on teams outside power conferences. Cincinnati, Memphis, SMU, Boise State, San Diego State, and Clemson were all ranked lower by the committee than the #APTop25.

— RedditCFB (@RedditCFB) November 6, 2019
People get so sick of Dabo Swinney playing the disrespect card, but Clemson just debuted at number 5 in the CFP rankings and has won 24 games in a row.

— Graham Ferrell (@johnnyrambos) November 6, 2019
The cream always rises to the top #AllIn

— Hunter Renfrow (@renfrowhunter) November 6, 2019
My conspiracy theory:
That's why the committee did this. Gives lip service to putting Clemson outside top 4 due to a weak schedule but knows the Tigers will win out and today's top 4 will cannibalize each other.

Comm. gets to say SOS matters, but they'd never keep Clemson out. https://t.co/Gpu2yNCrNo

— Radi Nabulsi (@RadiNabulsi) November 6, 2019
#1: Eye Test
#2: Eye Test
#3: But Bama
#4: Resume
#5: SOS
#6: But SEC

— The Angry Clemson Fan (@AngryClemsonFan) November 6, 2019
We pull our first string out in the second quarter, and second string has a good couple of possessions before third string comes in before the end of the third quarter. Maybe we should just leave our starters in the entire game and hang 100 on every team from here on out.

— Barstool Clemson (@BarstoolClemson) November 6, 2019
Until tonight, #Clemson had been ranked in the top four of every CFP committee ranking starting with the initial ranking for 2015.

— SportsTalk (@sportstalksc) November 6, 2019
#Clemson fans are entitled to feel perplexed by No. 5. But the Daboism has never been more on point. This one doesn't matter. LSU and Bama play Saturday. Ohio State and Penn State play Nov. 23. Undefeated Clemson gets in no matter what.

— Manie Robinson (@_ManieRobinson) November 6, 2019
"Strength of schedule/best win(s)" taking precedent over "watching games" in case of Clemson and Penn State.

— Anna Hickey (@AnnaH247) November 6, 2019
Never fear Clemson fans, Dabo Swinney is the best in business at playing the disrespect card and he just got all the ammunition he needs.

— Nikki Hood (@CUnik08) November 6, 2019
When Jeff Scott and Tony Elliott ask Dabo if they can pull the starters at halftime pic.twitter.com/EeOV5PAqfy

— Clemson Tom ?? (@ClemsonTom) November 6, 2019
Penn State plays a close game against Pitt and it's fine, yet Clemson plays a close game against UNC and WELL THAT IS NOT ACCEPTABLE AT ALL YOU ARE NOT ALLOWED TO STRUGGLE AGAINST THE ACC*
*Unless you play in the Big Ten and have a marquee win against ... checks notes ... Iowa.

— Andrea Adelson (@aadelsonESPN) November 6, 2019
"Penn State's been very consistent. After Week 10, the Committee felt Penn State was a notch above [Clemson]," CFP chair Rob Mullens said on ESPN.

— Greg Pickel (@GregPickel) November 6, 2019
Dabo addressing the team after being ranked 5th by the committee pic.twitter.com/RME6RAUXpd

— Clemson Tom ?? (@ClemsonTom) November 6, 2019
Committee chairman Rob Mullens: "Penn State's resume, with wins over Michigan and Iowa, those are marquee wins. ... thought they were a notch above" Clemson.

— Stewart Mandel (@slmandel) November 6, 2019
"Clemson is the undefeated national champion, why aren't they in the Top 4?"

The #CFBPlayoff committee: pic.twitter.com/QzUTu0p1dm

— NOTSportsCenter (@NOTSportsCenter) November 6, 2019
How are we in the rankings right next to Georgia, who LOST to our little brother of a team that we have been laughing at for the better half of a decade?

— Barstool Clemson (@BarstoolClemson) November 6, 2019
I don't know why Clemson fans are surprised. The national media has been throwing the Tigers under the (ROY) bus all season long.

Just win, baby. Just win. ?? #ALLIN

— Michelle ?? (@cutigerbelle) November 6, 2019
I can understand the argument for Clemson at #5. I just want us all to admit that if any recent National Champions (Bama or Ohio St) had Clemson's current resume and were the defending champions, they wouldn't be #5. That's the frustrating part.

— Kelly Gramlich (@kellygramlich) November 6, 2019
Clemson @ 5 makes no difference??????? pic.twitter.com/MgjNx7l7eQ

— Judah Davis (@The_Prophet_36) November 6, 2019
LSU and Ohio State belong as 1-2 in rankings right now, order doesn't matter. LSU best resume, OSU best on eye test.

I don't understand dropping Clemson but not Bama. If you think Penn State can pass Clemson, then should've passed Bama too. Bama has played nobody at all.

— Brandon Walker (@BWalkerSEC) November 6, 2019
They really disrespecting Clemson this is crazy man

— Dj Reader (@Djread98) November 6, 2019
Clemson #5 – say a prayer for NC State. #CFBPlayoff

— Scott Cole (@ScottColeShow) November 6, 2019
Dabo Swinney will absolutely use this to motivate his team. The disrespect/Little Ole Clemson/ROY Bus card are 100 percent all coming out.

— Grace Raynor (@gmraynor) November 6, 2019
Confused what Alabama has done that Clemson hasn't.

— Jack McGuire (@JackMacCFB) November 6, 2019
No. 1 Ohio State
No. 2 LSU
No. 3 Alabama
No. 4 Penn State
No. 5 Clemson

Committee held Bama & Clemson accountable for weak SOS.

— Stewart Mandel (@slmandel) November 6, 2019
It takes no guts for the committee to put Clemson at #5; they know all the teams in front of them will cannibalize each other and an undefeated Tigers team wouldn't be kept out

— Todd Fuhrman (@ToddFuhrman) November 6, 2019
PERFECT SPOT. ??

— Sons of Clemson (@SonsOfClemson) November 6, 2019
Oh Clemson fans are gonna be mmmmmmmmaaaaaaaadddddd

— Ralph D. Russo (@ralphDrussoAP) November 6, 2019
Clemson No. 5 --- let the panic begin!

— Stewart Mandel (@slmandel) November 6, 2019
Defending champion Clemson comes in at No. 5

— Brett McMurphy (@Brett_McMurphy) November 6, 2019
At this point I'm kinda hoping they stick Clemson at #5 and have Finebaum announce it. I'm here for chaos on a Tuesday night.

— Tiger Commenter (@TigerCommenter) November 6, 2019