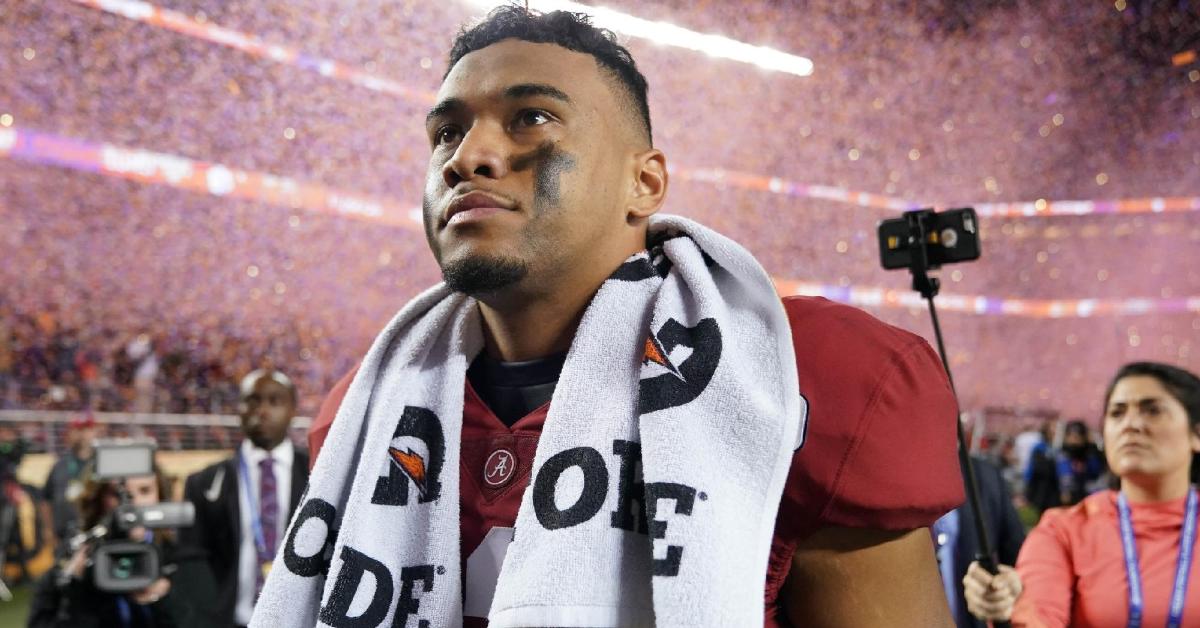 | | |
| --- | --- |
| Tua Tagovailoa carted off field vs. Mississippi State | |
---
| | | |
| --- | --- | --- |
| Saturday, November 16, 2019, 1:49 PM | | |
Alabama quarterback Tua Tagovailoa was carted off the field in the second quarter with the Crimson Tide winning 35-7 against Mississipi State on Saturday.
Tagovailoa was heard in serious pain according to sideline reporter Molly McGrath.
"He was screaming in pain as medical training staff had to pick him up and carry him off the cart."
During his half-time interview with ESPN, Alabama head coach Nick Saban said that Tagovailoa had a right hip injury.
"He hurt his hip. I don't know anything else more than that," he said. That was going to be his last series of the half. Certainly, I don't want to see anybody get hurt, especially not him."
Tagovailoa left the stadium in an ambulance to get medical attention.
Alabama released the following statement on Saturday night.
"Tua Tagovailoa sustained a right hip dislocation that was immediately reduced at the stadium. He is undergoing further testing to determine the best course of treatment. He is expected to make a full recovery but will miss the remainder of the season."
Saban will be second-guessed by the national media and fans for leaving in the hobbled star quarterback in the blowout.
Here's what happened to Tua, got injured, carted off.pic.twitter.com/wH2LpQ0crB

— Dov Kleiman (@NFL_DovKleiman) November 16, 2019
This is NOT a good look for Nick Saban at all. Tua beat down, couldn't get off the field on his own power.

You're up by 28 in the second quarter!!!!!! pic.twitter.com/O1dzdDmsKF

— Emmanuel Acho (@thEMANacho) November 16, 2019
Tua getting carted off after getting tackled. pic.twitter.com/QveJEVYhxz

— Bleacher Report (@BleacherReport) November 16, 2019
That looked really bad for Tua. Taken off field in cart with Bama up 35-7 in second quarter. Has two weeks to get ready for Auburn, but there's a chance that's the last time we ever see Tua playing college football.

— Clay Travis (@ClayTravis) November 16, 2019
As Tua is carted off the field remember he has no pension, retirement, etc.

— Rex Chapman???? (@RexChapman) November 16, 2019
So much for the last tweet. Looks like Tua hurt again. Maybe worse. And now cue the (justified!) questions abouy why he was in there up 35-7? Or at all? @AlabamaFTBL has one of the best medical staffs in sports. I just don't get this though for the longer haul

— Chris Fowler (@cbfowler) November 16, 2019
Hopefully Tua is OK, but if this is a season-ending injury, @CFBPlayoff selection committee would downgrade Bama because of it when doing final rankings. This obviously would impact Bama's chances to finish in top four

— Brett McMurphy (@Brett_McMurphy) November 16, 2019
Tua Tagovailoa is carted off while bleeding from his nose in the closing minutes of the first half pic.twitter.com/icUpbxmPna

— Sports Illustrated (@SInow) November 16, 2019
Why in the hail is Tua in the game when you are up 35-7? That makes no sense. None!

— David Pollack (@davidpollack47) November 16, 2019
"He was screaming in pain as medical training staff had to pick him up and carry him off the cart." @MollyAMcGrath said the first report is that Tua Tagovailoa suffered an injury to his right hip vs. Mississippi State. pic.twitter.com/ppMJykMq9N

— SportsCenter (@SportsCenter) November 16, 2019
Tua Tagovailoa injury video reviewed. Mechanism consistent with posterior hip subluxation. Leads to labral tear. Surgery probable. Season likely over.

— Dr. Mark Adickes (@jocktodoc) November 16, 2019
Tua Tagovailoa injury similar to Bo Jackson injury. Hip subluxation/dislocation puts femoral head at risk of loosing blood supply and dying. Need to get hip back in place gently ASAP and remove pressure from joint.

— Dr. Mark Adickes (@jocktodoc) November 16, 2019
Tua left Davis-Wade Stadium in an ambulance after suffering apparent hip injury against Mississippi State. pic.twitter.com/vXix2dqrLm

— Bleacher Report CFB (@BR_CFB) November 16, 2019
8 million dollar coach Nick Saban sure is costing Tua alot of money, while he makes his.

— Emmanuel Acho (@thEMANacho) November 16, 2019
My only real knock on Tua is health. But does anyone really think he will drop in the Draft? Maybe a spot. But Russel Wilson will be MVP. Kyler Murray has been very good. Those are the Tua comps. And the NFL is a copycat league.

— Colin Cowherd (@ColinCowherd) November 16, 2019
Lots of second guessing out there on whether Tua should have played/still been in game. Reality: He clearly looked healthy enough to play, and had a freak injury on a COMPLETELY DIFFERENT body part. Saban plays guys who are healthy enough to play, no matter the opponent, period.

— Barrett Jones (@BarrettAJones) November 16, 2019
Tua's injury could have happened on his first drive just as easily as his last. That's not a hot take, that's just the risk inherent in the game. Here's hoping he's healthy again soon.

— Andrew Siciliano (@AndrewSiciliano) November 16, 2019
Hearing Tua Tagovailoa's hip injury is serious. Hip fracture. Similar to Bo Jackson's career-ending injury. Surgery tonight or tomorrow morning. Praying for Tua and his family. ??

— Jim Nagy (@JimNagy_SB) November 16, 2019
Tua Tagovailoa was airlifted to St. Vincent's Medical Center in Birmingham. Nick Saban called it a hip injury that was possibly "serious" in on-field interview at halftime. Source says there was concern before end of game it was a "very serious" injury. MRI and scans next.

— Adam Schefter (@AdamSchefter) November 16, 2019
Breaking News: Tua Tagovailoa is out for the season with a dislocated hip with a posterior wall fracture, a person with knowledge of the situation tells me.

— Aaron Suttles (@AaronSuttles) November 16, 2019