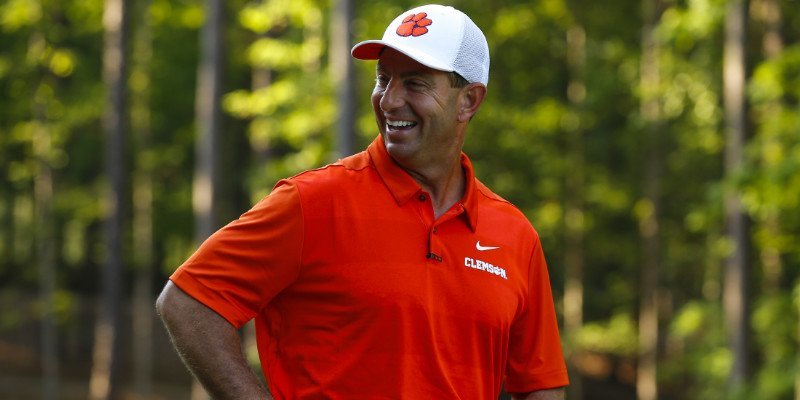 | | |
| --- | --- |
| Swinney wins $65K for his foundation, scholarships in Chick-fil-A Peach Bowl Challenge | |
---
| | | |
| --- | --- | --- |
| Wednesday, May 1, 2019, 12:07 PM | | |
Greensboro, Ga. (April 30, 2019) – Team Ole Miss carded nine birdies and two eagles to win its fourth consecutive Chick-fil-A Peach Bowl Challenge by two strokes today at the Reynolds Lake Oconee Resort outside Atlanta.
Head coach Matt Luke and celebrity partner Wesley Walls teamed up to finish at 13-under par to win the $100,000 first-place prize. Team Georgia finished second at 11-under par after closing the round with seven birdies on the back nine, while the teams from Clemson, Georgia Tech, North Carolina and Ohio State tied for third at 9-under.
"I think coming down the stretch last year, we had a little cushion. We got behind this back nine. I think Georgia was up there, so there was a little bit more pressure coming in having to hit a good shot," said Ole Miss head coach Matt Luke. "It's been a day of good friends and good times."
"Matt can putt, I can tell you that. He made a lot of crucial and critical putts," said former Ole Miss tight end Wesley Walls. "What a great job Chick-fil-A and Peach Bowl, Inc. does with putting on this golf tournament. It's awesome and a lot of good comes out of it."
The Ole Miss victory marks the first time in the event's history where a team has won the tournament in four consecutive years. Ole Miss is now tied with Georgia Tech for the most wins in the tournament's history with four all-time victories.
The first-place prize money will be split between an endowed scholarship at Ole Miss and the Fellowship of Christian Athletes chapter at the university.
"We want to congratulate Matt and Wesley on their unprecedented four-peat," said Gary Stokan, Peach Bowl, Inc. CEO & president. "We set a record this week with the amount we raised for charity thanks to so many of the sport's top coaches who took time to play golf for a noble cause."
Final results from the 2019 Chick-fil-A Peach Bowl Challenge including total charity and scholarship winnings: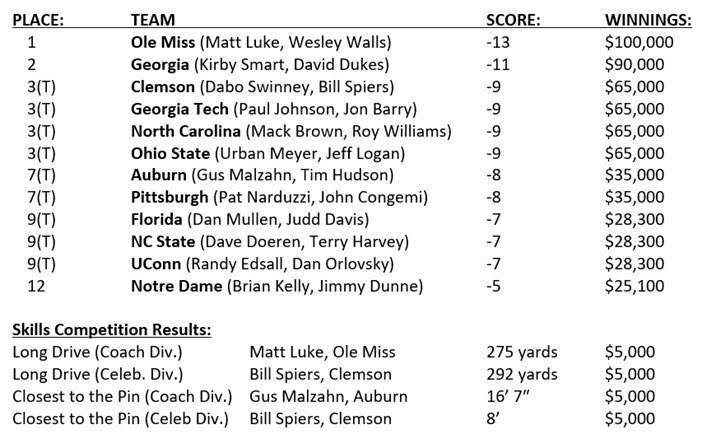 Team winnings will be split evenly between endowed scholarships at the universities and foundations or charities of the coach's choice. The Chick-fil-A Peach Bowl Challenge is the country's premier head coach and celebrity charity golf event featuring NCAA head coaches and former athletes and celebrities from the same school competing against their rivals for a share of a $650,000 scholarship purse.
In addition to the $650,000 charity and scholarship purse, another $181,280 was generated for charitable organizations bringing the 2019 total to $831,280 in charitable giving. Since its creation in 2007, the event has contributed a total of $8.4 million in scholarship and charity, helping make the Chick-fil-A Peach Bowl college football's most charitable bowl game.