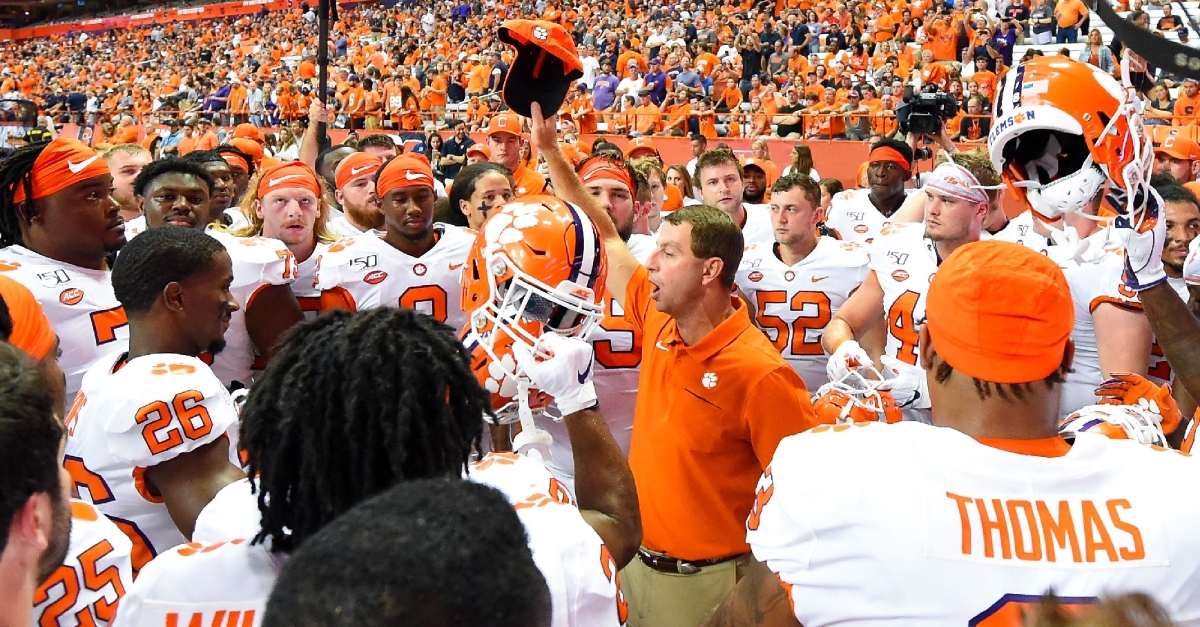 | | |
| --- | --- |
| Swinney on critiques of his pay for play stance: 'Give me a break!' | |
---
| | | |
| --- | --- | --- |
| Friday, October 4, 2019, 12:11 PM | | |
Clemson coach Dabo Swinney was among the interviewees for a lengthy L.A. Times piece on paying college athletes this week, in the wake of the new Fair Pay to Play Act being signed in California.
Swinney has been critiqued in the past for equating compensation for college athletes as a symptom of "entitlement in this world" and a South Carolina state senator referenced that when interviewed for the piece.
"I applaud coach Swinney for his success, and I'm proud of Clemson being the No. 1 football team in the country," Charleston-area Sen. Marlon Kimpson said, who is sponsoring an S.C. bill similar to the Fair Pay to Play Act. "But I can think of no one more entitled than him, to be in this position mainly because of the players that he coaches."
Swinney has heard such criticism and says few national outlets write about his stance for modernization of the scholarship with increased stipends, as well as paying for travel costs for parent families to make games.
"See, nobody ever writes any of this," Swinney told the LA Times. "They say, 'He's against the player.' Give me a break! I'm for the player! Tie everything to graduation, so you have the student-athlete in the collegiate model.
"The collegiate model is a beautiful thing. And it's been a great thing. The scholarship for a long time was archaic, and it needed to be changed and addressed. Nobody wants to acknowledge that. Right? Because that doesn't fit the story. You know, they're supposed to be starving. These guys ain't starving. These guys got money. They got cars, they got tattoos, because they've got money. It's a different situation than when I was in school."
He told the LA Times that college athletes being paid a salary would be "a train wreck," substituting a salary for the scholarship and leaving it up to the athletes to take care of expenses currently paid for by the schools.
Clemson athletic director Dan Radakovich was also interviewed for the story and he also referenced that scholarships and stipends would likely go away with a salary-model.
"The naysayers say, well, that's not enough," Radakovich said of the benefits currently doled out to college athletes. "Well, what is enough? What is the right number? Because if we begin to pay student-athletes, all those things I just talked about probably go away."