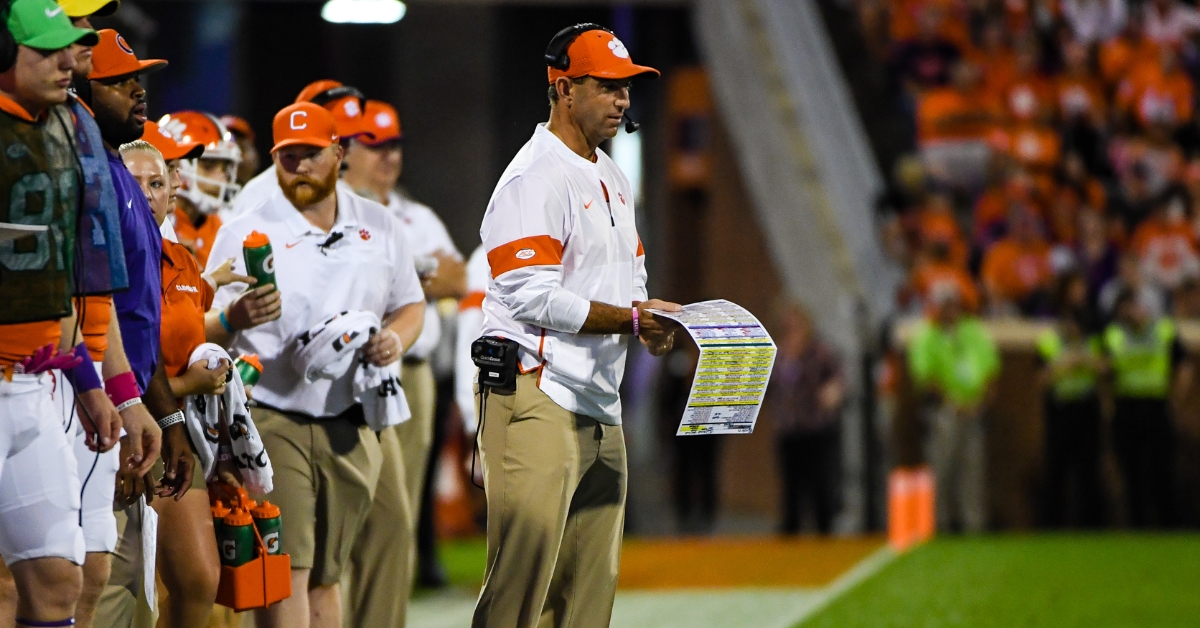 | | |
| --- | --- |
| Swinney on Todd Ellis 'Walk of Champions' comments: "It's ridiculous" | |
---
| | | |
| --- | --- | --- |
| Monday, November 25, 2019, 8:50 PM | | |
South Carolina play-by-play announcer Todd Ellis made some waves last week on the Will Muschamp radio call-in show by saying Clemson's pregame 'Walk of Champions' incites the South Carolina fans.
Clemson coach Dabo Swinney had his say on the matter on his call-in show Monday.
"They need to cut out shooting them birds at us too," Swinney said with a laugh. "That's probably the funniest thing I've heard all week. Somebody said we're taunting people. We're taunting people? The thing is, we've been doing that for seventeen years. It has zero to do with the opponent or the fans. It's everything to do with us being unified right before we go to our individual (drills). Lord have mercy. What was the quote he said? It puts them in a bad spot and we're taunting them and they can't refrain from throwing stuff. I'm like, that is the craziest thing. Who are the adults in the room here? We're talking about a warmup.
"It's just crazy. It makes no sense. Ok, when guys are shooting you birds -- we're supposed to throw stuff in the stands? It's ridiculous. It has nothing to do with anybody and they didn't care when they were beating us five years in a row. It didn't bother anybody."
The 'Walk of Champions' is simply the Clemson players and coaches linking arm-in-arm on the field and marching as a team toward the end zone before pregame drills. At South Carolina, that coincides with the student section end zone.
Swinney wasn't pleased two years ago in Williams-Brice Stadium when a number of fans threw trash on the field during the game, even drawing a flag because of it.
"It's just disappointing to see that and it's dangerous," Swinney said postgame. "The refs have to do something about that, and I lost my cool and they threw a flag on me because I came out of the box, and I did, I came out of the box. They didn't throw a flag on me because of anything I said. They threw a flag on me because I was out of the box. It was about the fifth time."