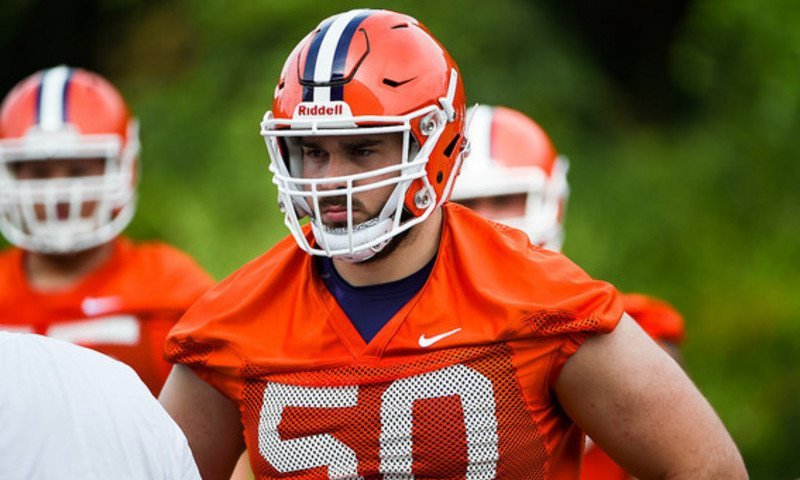 | | |
| --- | --- |
| Swinney injury updates on Falcinelli, Huegel | |
---
| | | |
| --- | --- | --- |
| Saturday, October 27, 2018, 5:42 PM | | |
Clemson coach Dabo Swinney talked about the injuries postgame sustained this week by starting center Justin Falcinelli and kicker Greg Huegel.
Falcinelli did not make the travel roster after suffering a concussion in practice this week.
"Justin got hit in the head in inside period the other day," Swinney said postgame. "They put him in the concussion protocol and he just wasn't ready."
Gage Cervenka received his first start at center and impressed Swinney.
"He did a great job. We really didn't even flinch," Swinney said. "That's one of the benefits of playing the amount of people we play. It's just, 'OK, next guy just play.' And he's (Cervenka) played a lot of football. He's played really good football for us and played in every situation. He was excited - not the way he wanted to get his first start - but he was pumped. He was born for this. He's a kid who has dreamed of playing for Clemson and being a starter.
"I thought he did a heck of a job. He had good snaps. We had no sacks the whole game. He did a good job of directing the traffic and communication as well."
Huegel was run into on his first road field goal attempt this season for a personal foul flag. Huegel didn't come out for the ensuing extra point but did hit two more to finish the half.
"He's OK," Swinney said. "It's just his knee was sore. He got hit pretty good. He tried to shake it off. He came back out...but he was just pretty sore so we kinda held him. Plus it was a good opportunity for BT (Potter) to get in and get some experience and he did a nice job. Good to see him make that field goal."