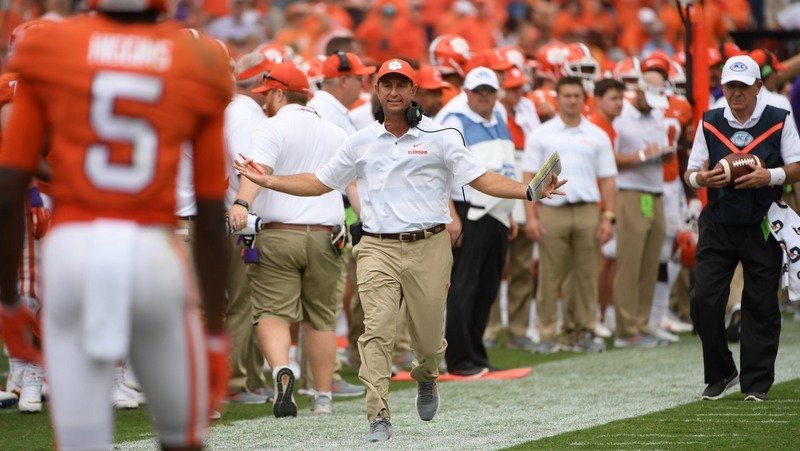 | | |
| --- | --- |
| Swinney fires back at Alabama 'tired' narrative: 'Are you serious?' | |
---
| | | |
| --- | --- | --- |
| Wednesday, August 7, 2019, 3:21 PM | | |
We're just about three weeks from Clemson's home opener with Georgia Tech but narratives surrounding the 44-16 win over Alabama in January continue to be a talking point among national and regional media.
ESPN's Chris Low brought up in his story Wednesday the idea of Alabama being fatigued from a perceived tough schedule going into the matchup -- and Clemson coach Dabo Swinney wasn't having it.
"I know people say that Alabama was tired because they went through the grind and had to play all these teams," Swinney told ESPN. "Well, they won by an average of 33.1 points per game [going into the playoff], so they ought to be well-rested.
"My thing on that is, 'Are you serious? They're tired?' Then you look at Clemson, and we won 12 games by 20-plus. Who really challenged Alabama in the SEC? They didn't get challenged by anybody until the Georgia game [for the SEC championship]."
Swinney questioned the depth of the SEC, citing "two or three really good teams" and being kind of "hit or miss from there." He reiterated comments from the ACC Football Kickoff in July as well for how the narratives have shifted since Clemson has reached the pinnacle of college football two of the last three years.
"People get amnesia," Swinney said to ESPN. "A lot of folks make a lot of bold claims early in the year and then they forget, and there's a lot of excuses when it doesn't go that way. Five, six or seven years ago, the rhetoric was that an ACC team is not going to win a national championship because they don't play anybody during the season, so then they get to the postseason and are just not prepared for the big, bad boys.
"Well, now, they've flipped it around, and the only reason we're winning is because we don't play anybody in the ACC. ... You don't just come out of a soft conference and haven't played anybody and all of a sudden go out and beat Notre Dame and Alabama."