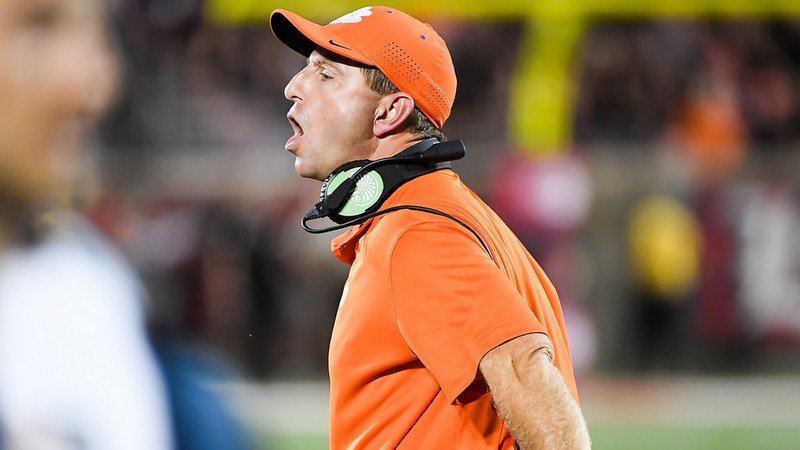 | | |
| --- | --- |
| Swinney Wednesday coaches teleconference transcript | |
---
| | | |
| --- | --- | --- |
| Wednesday, October 24, 2018, 5:03 PM | | |
Clemson coach Dabo Swinney did a breakdown of the upcoming Florida State game Saturday (12:00 p.m., ACC) and more on the ACC coaches teleconference Wednesday:
DABO SWINNEY: Well, we're excited about how we played this past week. I thought we played our best game against a really good team, but just really proud of our team, especially how we utilized the open date.
So off to a good start this second half of the season, but doesn't get any easier, that's for sure, man. Florida State is a very talented football team. I mean, they are every bit as talented as we are, no doubt about that.
Special quarterback. I think Francois, he is a tough, competitive football player. Can make all the throws. They are one of the better pass offenses out there and one of the best rush defenses in the country. They are one of the best sack defenses in the country. They have got speed and athleticism at all the skill positions on both sides of the ball. One of the best punt returners in the country.
This is a really good football team. I know they didn't get off to a great start, but sometimes, you know, with coaching changes and transition, it takes a little time to get things going. But these last four games, they have played a lot better and kind of I this I gotten in the rhythm of the season.
This is a big challenge. This is still Florida State, one of the best programs in all of college football history, and a very tough place to go and win. So we're excited about it. Looking forward to it, and you know, know that we're going to have to really, really play well, take care of the ball and do the things that we need to do to execute our plan to win.
Q. Since you started coaching, what's the biggest thing on offense, defense or special teams that has changed?
DABO SWINNEY: Since I started coaching in '93? Oh, man. Well, the biggest thing that has changed is the style of play offensively. I mean, back when I got into coaching, everybody was under center. Most everybody was some type of I-Formation. You know, 21 personnel or two tight ends all the time, run the football, not a lot of passing. So that's kind of where it was when I came, got into coaching.
It's changed tremendously from an offensive standpoint because all of a sudden, shotgun became a factor. The spread offenses starting getting into play. You know, the zone read, the high school offenses started to change and that trickled up to college and now it's trickling up to the pro ranks, as well.
I think that's the biggest change is just the styles, the style of offense, throwing the ball a lot more, to run the ball. It's become more of a space game.
And then defenses have had to respond to that, so defenses have had to change some things, and then same thing on defensive side. The schemes have gotten so much more complex. Back when I first got into coaching, there wasn't as much movement on defense. You didn't have as much complexity in the coverages.
Now you've got multiple fronts, multiple personnel groupings, zone pressures, those type of things. Just I think a lot of it, too, as the technology has changed, where coaches used to -- back when I got into coaching, I mean, to get the practice tape, I mean, it was like the next day, and to get film, you still had to -- like somebody had to get in a car and drive and meet somebody and exchange film to get tape to study, and now everything is digital and so much faster.
So there's so much more information that you have available as a coach, quicker, more detailed, and that's allowed the game to evolve, as well.
So lots of changes, that's for sure, but been fun.
Q. The atmosphere this week in Tallahassee, you're used to going down there and this place being packed out and as loud as it always is, but there's reports it's going to be empty and not going to be as loud and as intimidating as it has been. How do you approach this one and is it going to feel different for you, that maybe you have to bring your own energy for this one than you have in years past?
DABO SWINNEY: No, man, this is Clemson-Florida State. Are you kidding me? This is -- and I always tell our guys. It's not what surrounds you; it's what's inside you that matters. If you only play well because you're playing at home, or if you're playing at home and the stadium is half-full, or if you go on the road and it's a small stadium or big stadium, empty stadium, whatever; if those are the things that determine your performance, you're never going to be very good. You work too hard.
I don't give two second thoughts to that. This is Clemson-Florida State. I know there will be a really good crowd. I'll be very surprised if there's not. But hey, if it's not, it really has nothing to do with how we should play the game. We've got a lot at stake, man.
This is a division game. This is the biggest game of the year, and I mean, we're looking forward to it, and we'll be excited and ready to play. If we're not, it's going to be a long day and it won't be because of what's out in the stands. It's going to be because of those players that Florida State has. This is a really talented team we're playing.
Q. I had a two-part question for you. Willie Taggart spoke highly of a visit he took to your program in 2017. I wanted to see what your thoughts on why you opened up your program for other coaches around the country at times to come see you and see what you guys do, and your general thoughts of Willie from the interaction with him a year or two ago.
DABO SWINNEY: Yeah, well, first of all, I think that -- I mean, I wouldn't be where I am if I didn't have people that helped me along the way. You know, allowed me to come visit; allowed me to reach out and ask questions like that. I think that's one of the unique things in the coaching profession is coaches help each other.
You know, obviously, had he been at Florida State at the time, it probably wouldn't have happened simply because we've got to play them every year. But I've always followed Willie. I didn't know him, but I had a lot of respect for what he had done at Western Kentucky and how he built the program back at South Florida.
He was on his way to Oregon, had just taken the job and they reached out and I was more than happy to meet with him, like I am with lots of coaches.
For me, I go back when I first got the job here, one of the visits I made was out to Texas and I didn't know Mack Brown and he opened his doors for me to come in and was very helpful for me early on.
So I'm always glad to do that. Willie has been great. I've been around him in two or three meetings now since he's gotten into the ACC, and you know, I think he's a heck of a football coach. I think he's a great fit. He's trying to build a program the way he wants to build it, and the culture the way he wants it.
So you know, when he came here, it was a good meeting for sure. We talked a lot about just kind of our journey here and how we've done things, and so I've got a lot of respect for him. I think he's, like I said, a very good coach. I don't have any doubt he's going to be very successful.
I know they didn't start off this season like they wanted to, but you know, like I said, sometimes it takes a little while to kind of transition when you take over a program and you've got a lot of people there that you didn't necessarily recruit, etc., and you're doing some things differently.
But they have kind of hit their stride I think these last few weeks.