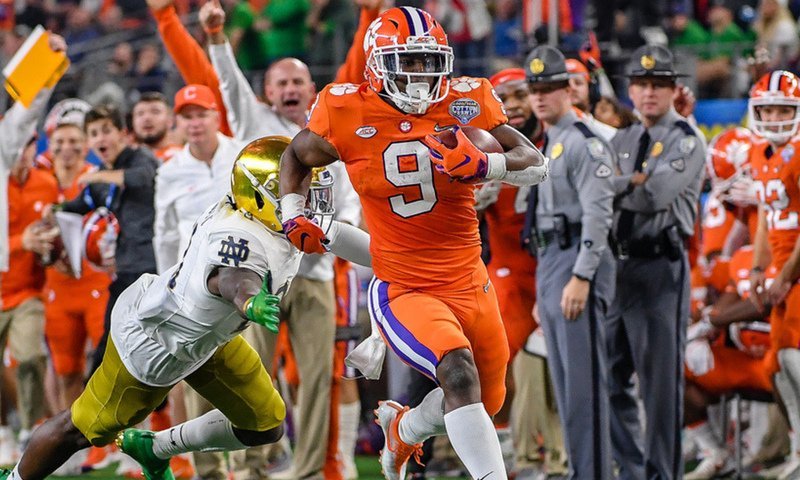 | | |
| --- | --- |
| Notre Dame AD believes Irish were better than Clemson in 'some areas' | |
---
| | | |
| --- | --- | --- |
| Saturday, June 29, 2019, 3:04 PM | | |
Clemson rolled Notre Dame 30-3 in the College Football Playoff Semifinal Goodyear Cotton Bowl back in January on their march to win their second National Championship in three years.
Freshman quarterback Trevor Lawrence threw for 327 yards and three touchdowns in the very convincing victory. On the defensive side of the ball, the Tigers were up 23-3 at halftime and controlled the game not allowing a single touchdown in the contest.
However, it appears that one man didn't watch the same game as most of the country.
Notre Dame Jack Swarbrick told the Athletic recently that he thought the teams were pretty equal even stating that the Irish were better in some areas.
"I came off the field against Alabama thinking, 'We've got a lot of work to do here.' I didn't feel that way at all in this game," he said. "Clemson is an exceptional team. They are very good. And they played that way. But I didn't see a significant talent differential. I didn't see a program differential in terms of strength and conditioning, or preparedness. I thought we had units on the field that were the better of the two in some positions, some areas."
This is a delusional take and Notre Dame fans need to know that they have a ways to go yet. Don't listen to your AD on this one. Nobody in America thought those two teams were close to the same after watching the blowout. The Irish were a nice team but not comparable to the elite talent level of the National Champions.