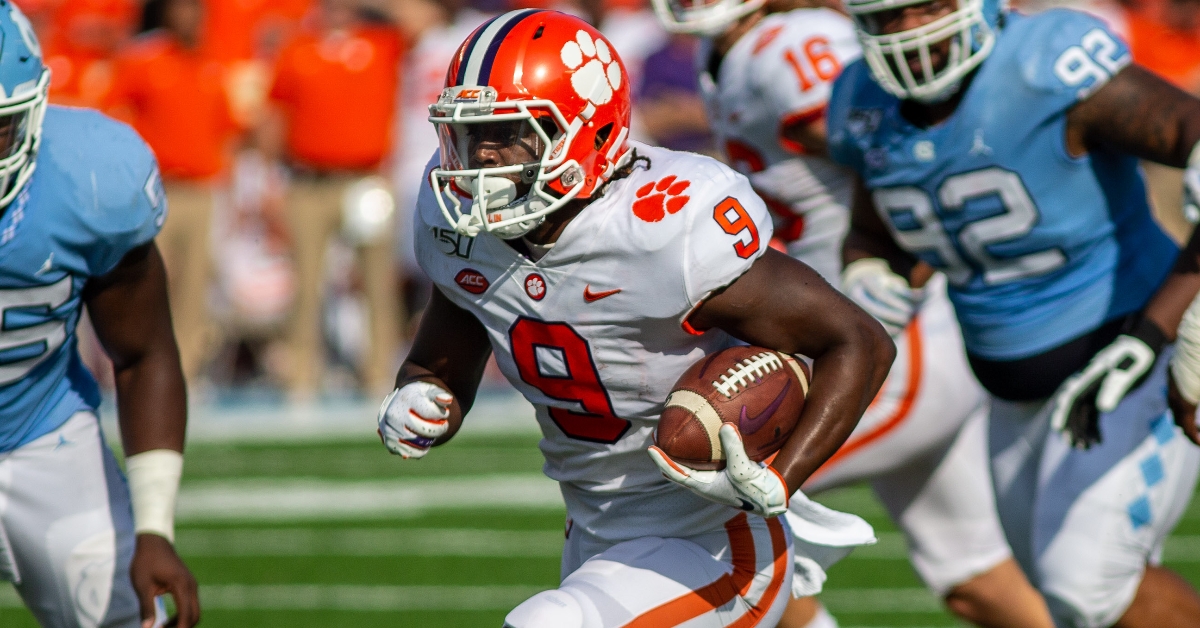 | | |
| --- | --- |
| Latest Playoff picture for Clemson | |
---
| | | |
| --- | --- | --- |
| Sunday, November 3, 2019, 9:39 AM | | |
The first College Football Playoff rankings are due Nov. 5 (approx. 9 p.m./ESPN) but little from this weekend will weigh in those initial placements.
Clemson was a lone prominent current Playoff contender even in action, with more darkhorse candidates in Oregon (38 percent) and Georgia (25 percent now per FiveThirtyEight) improving their chances with key wins.
The Tigers' CFP chances spiked after the win over Boston College per ESPN's FiveThirtyEight, but those figures peaked a bit -- actually seeing a slight slip a few percentage points after the win over FCS-level Wofford (82) but far ahead of the nearest team (Ohio State; 63 percent). Alabama (50 percent) and LSU (39) meet on Saturday in Tuscaloosa, Alabama, and the 538 projection model isn't as big on a two-SEC CFP bid -- LSU's chances dropping to 21 percent with a loss and Alabama, 14 percent. Virtually eliminated with unbeaten runs to the finish from Oklahoma and Oregon (LSU, 13 percent; Alabama, 8 percent). CBS Sports' projection disagrees, picking Alabama to win this weekend and the SEC and LSU to face them again in the CFP semifinal Peach Bowl.
Another Power 5 unbeaten is guaranteed to go down next week too with Penn State (23 percent Playoff chance currently) traveling to Minnesota (5).
When it comes to Playoff rankings on Tuesday, ESPN's Heather Dinich sees a close race between Clemson and Alabama, wherever they're placed.
"Alabama's brand name and history don't earn the Tide a pass when it comes to résumé scrutiny from the committee members," Dinich said, "and Alabama's only win so far against a Power 5 opponent with a winning record is against Texas A&M, a team Clemson also beat. Clemson has three road wins to Alabama's two, including against a much-improved 5-3 Louisville team…
"Clemson has been criticized at times this season for looking vulnerable. Some of that has been warranted (a 21-20 win against North Carolina or Trevor Lawrence's eight interceptions), but the Tigers are still beating opponents by an average of 31 points per game and rank No. 1 in defensive efficiency."
Dinich does indeed have Clemson over Alabama in her Playoff rankings for the season to this point, at No. 3 behind LSU and Ohio State. Not too far removed from the bulk of ESPN prognosticators not having Clemson in the field, all 14 have Clemson in now, as well as LSU and Alabama. Ohio State is on 13 of 14 ballots and Penn State the other.
Actually they're beating opponents by about 33 ppg, I believe. Not exactly scraping by. Maybe your definition is different, though. https://t.co/fIDGXMCRU4

— Heather Dinich (@CFBHeather) November 2, 2019
Yes. Alabama's ONLY WIN against a P5 opponent over .500 is vs. A&M. 4 of their opponents play today, and even with wins will still be under .500. Clemson has 3 road wins, A&M win, and BC, Louisville and FSU also over .500. FSU and UNC have a chance today. Bama's opp curr 26-39 https://t.co/aa73xFmgxO

— Heather Dinich (@CFBHeather) November 2, 2019