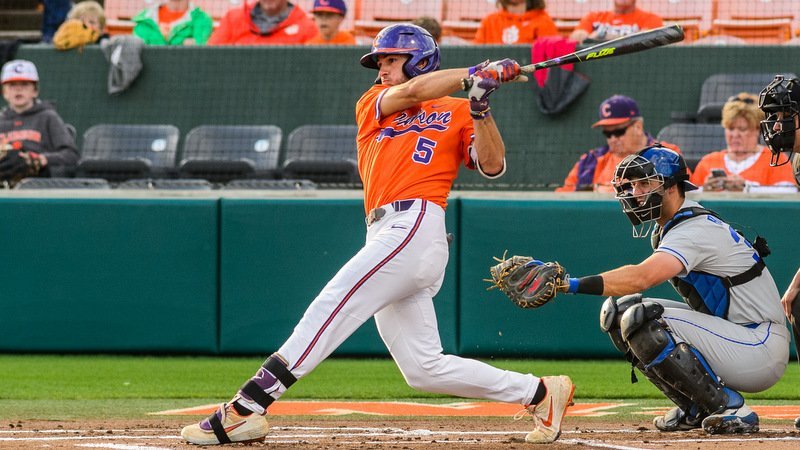 | | |
| --- | --- |
| Latest Clemson NCAA tournament projections | |
---
| | | |
| --- | --- | --- |
| Wednesday, May 15, 2019, 2:04 PM | | |
Monte Lee's Tigers are the last and next-to-last team in the projected field for D1Baseball and Baseball America respectively.
Both college baseball sites project a potential rematch with national-seed Georgia in Athens, where the Tigers and Bulldogs played a 20-inning game last.
Clemson (31-22, 13-14 ACC) clubbed Coastal Carolina 14-3 on Tuesday in Conway and heads home for its final ACC series with Wake Forest starting Thursday (6 p.m.).
Louisville (19-8 ACC) and Georgia Tech (17-10) head into the weekend in the top-two positions for next week's ACC Baseball Championship in Durham, N.C. The projected seeding after that comes from a series of tiebreakers.
Clemson is likely in line for no better than a seven-seed and could finish as low as 11th overall. Currently they are tied with Wake Forest (13-14) for the No. 8 spot, with Duke a game ahead (14-13) of both (the Blue Devils holding a head-to-head tiebreaker with Clemson and losing a tiebreaker with Wake Forest; 4-2 versus both) and Virginia and Notre Dame (12-15) a game back.
The ACC tournament is broken up into four pools of three teams (1, 8, and 12; 2, 7 and 11; 3, 6 and 10; 4, 5 and 9), with the round-robin winner advancing to a single elimination semifinal and then those winners meeting in the championship game.
Clemson is currently rated No. 38 in RPI despite 10 losses in the last 15 games, buoyed by a No. 30 strength of schedule.
ACC series finales
Wake Forest (13-14) at Clemson (13-14)
Florida State (16-11) at Louisville (19-8)
Duke (14-13) at Miami (16-11)
Pitt (7-20) at Georgia Tech (17-10)
Notre Dame (12-15) at Boston College (10-17)
NC State (16-11) at North Carolina (16-11)
Virginia (12-15) at Virginia Tech (8-19)