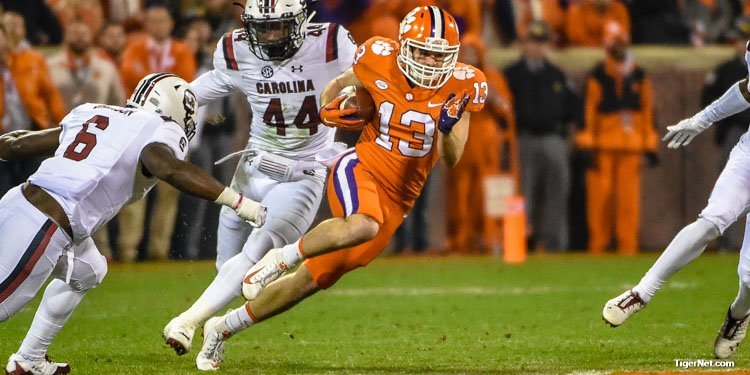 | | |
| --- | --- |
| Hunter Renfrow wins Burlsworth Trophy | |
---
| | | |
| --- | --- | --- |
| Monday, December 3, 2018, 1:53 PM | | |
Clemson senior receiver Hunter Renfrow was awarded the Burlsworth Trophy on Monday, which is a nod to his journey to legend status around Clemson.
The award is given to the most outstanding player who began its career as a walk-on. Cal running back Patrick Laird and Wyoming safety Marcus Epps were the other finalists.
A former triple-option quarterback at Socastee High School (Myrtle Beach, SC), Renfrow started his Clemson career as a walk-on after turning down scholarship offers from several FCS programs. He has since become one of the most prolific receivers in Clemson history.
Renfrow has been responsible for some of Clemson's most memorable performances, including a seven-catch, 88-yard, two-touchdown performance as a redshirt freshman in Clemson's first College Football Playoff National Championship Game against Alabama, and following that performance the next year by catching the game-winning touchdown pass against Alabama to secure Clemson's second national championship in school history.
This season, Renfrow has set and re-set school records for career starts for a receiver (45) and consecutive games with a reception (40). He has 180 catches for 2,061 yards and 15 touchdowns over his career. Renfrow is third on the team in receptions this season (43) for 472 yards and a score.
The trophy is named in honor of Brandon Burlsworth. Without a D1 scholarship offer, Burlsworth walked on to the Razorback team in 1994, worked his way to being a three-year starter and was eventually named an All-American in 1998. Burlsworth was selected as the 63rd overall pick by the Indianapolis Colts in the 1999 NFL draft, but was tragically killed in a car accident 11 days later. The Burlsworth Foundation was created in his memory and supports the physical and spiritual needs of children, in particular those children who have limited opportunities.
Check out what Hunter had to say after winning the 2018 Burlsworth Trophy#ALLIN pic.twitter.com/lKxs1nW1gd

— Clemson Football (@ClemsonFB) December 3, 2018
Hunter Renfrow is your 2018 Burlsworth Trophy Award Winner -- presented annually to college football's most outstanding player who began his career as a walk-on. Here's just a brief sampling of what Hunter has meant to the Clemson football program #ALLIN pic.twitter.com/CM8dlTIkQG

— Clemson Football (@ClemsonFB) December 3, 2018
And winner of the 2018 Burlsworth Trophy is... @ClemsonFB Hunter Renfrow! pic.twitter.com/us8qLr5Bv2

— Burlsworth Trophy (@BurlsworthTrust) December 3, 2018
Congratulations to Clemson wide receiver Hunter Renfrow on winning the 2018 Burlsworth Trophy. pic.twitter.com/ggF1XbgCMl

— Tera Talmadge (@TeraTalmadge) December 3, 2018
Proud to be with Hunter Renfrow in Springdale, AR where he is being honored today as a finalist for the Burlsworth Trophy. Hunter has inspired me and many others during his 5 years at Clemson? #ALLIN ?@ClemsonFB? @BurlsworthTrust? pic.twitter.com/WzHiflMxwr

— Coach Jeff Scott (@coach_jeffscott) December 3, 2018
Congrats to @ClemsonFB Hunter Renfrow. #Burlsworthtrophy pic.twitter.com/j2EzjRqlxx

— DreamIt (@DreamItPro) December 3, 2018
Congrats to 2018 Burlsworth Trophy winner Hunter Renfrow from Clemson! #burlsway #topwalkon @ClemsonFB #springdalemakingithappen pic.twitter.com/Afzjg1j8iR

— Lance Eads (@lancereads) December 3, 2018
Congratulations @ClemsonFB Hunter Renfrow, 2018 Burlsworth Trophy winner! @renfrowhunter pic.twitter.com/Ur79gHgajN

— Burlsworth Trophy (@BurlsworthTrust) December 3, 2018
2018 Burlsworth Trophy Winner......Hunter Renfrow ???@BurlsworthTrust? ?@ClemsonFB? pic.twitter.com/XbBTXylIIT

— Coach Jeff Scott (@coach_jeffscott) December 3, 2018
Past Burlsworth winners
· 2017- Luke Falk, Quarterback- Washington State
· 2016- Baker Mayfield, Quarterback- Oklahoma
· 2015- Baker Mayfield, Quarterback- Oklahoma
· 2014- Justin Hardy, Receiver- East Carolina
· 2013- Jared Abbrederis, Receiver- Wisconsin
· 2012- Matt McGloin, Quarterback- Penn State
· 2011- Austin Davis, Quarterback- Southern Mississippi
· 2010- Sean Bedford, Center- Georgia Tech