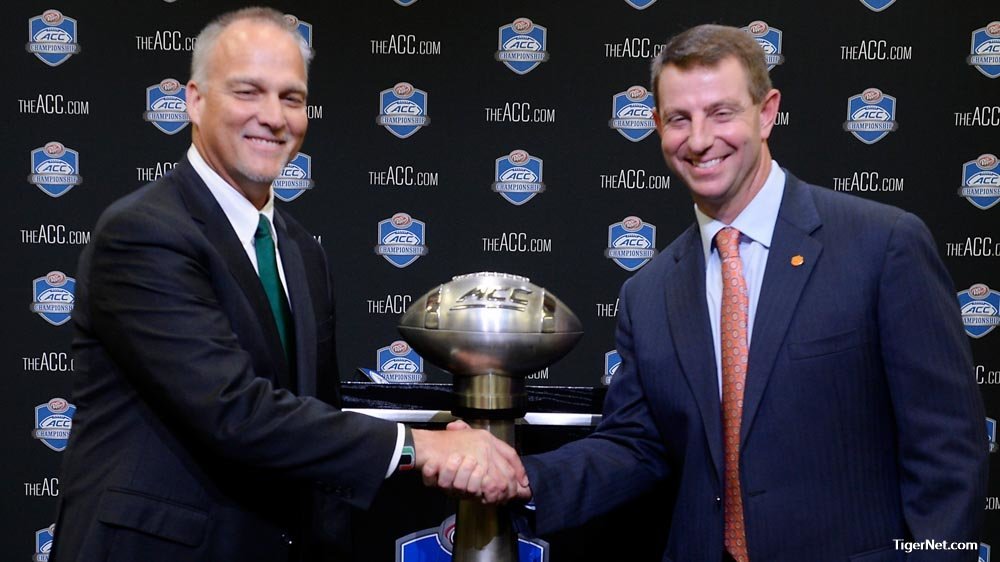 | | |
| --- | --- |
| Former coaches talk keys to Clemson success on ESPN | |
---
| | | |
| --- | --- | --- |
| Wednesday, February 6, 2019, 3:22 PM | | |
Clemson's class finished ranked No. 10 in ESPN's final recruiting rankings after the dust settled on the 2019 class.
The Tigers signed 12 of the ESPN300, which was a second-straight year with that many ESPN300 signees.
Clemson has ranked in the top-10 for ESPN each season since 2015, finishing in the top-5 twice.
Former coaches-turned-analysts Mark Richt and Jim Mora Jr. broke down the success of the program under Swinney on ESPN's Signing Day breakdown Wednesday.
"Two championship games ago we played them and found a way to get into that game," Richt said of his 2017 Miami team. "How'd they do it? First thing is when they came out of the tunnel - they looked a little different than any team I had seen in a while. They looked more like an SEC team basically. There was a big difference in the size of these guys. I'll say this, when all of these guys were draft-eligible decided to stay - I told our staff that there's a heck of a chance they will be in the College Football Playoff again.
"When great guys see guys stick around to play one more season and to have that senior leadership is impressive."
"Dabo's personality is infectious," Mora said. "They want to be around him. They've got amazing facilities. They've got a slide. They've got a putting green at their facility. You're not going to find that in an NFL facility but in a college town. And they want to win. Kids want to win.
"You hear so often these announcements about a family atmosphere - Dabo has done an amazing job of creating a family environment at Clemson and parents want to send their kids there and players want to go there and play and know they're going to have success."
ESPN recruiting analyst Tom Luginbill chipped in with three areas he sees Clemson breaking away from the pack as well.
"The university got on board that football is going to drive the bus and everybody got on board that this is the direction we're going," he said. "You talk about the facilities and all the investments that this university has made has paid dividends….The state of South Carolina is only got about 5 million people. You have to go into everybody's backyards and compete against your competitors. When you win on a Deshaun Watson or a Trevor Lawrence out of Georgia or a Sammy Watkins or a C.J. Spiller out of Florida - you're supplementing your roster to win a bunch of football games.
"Third and most importantly, when they started to build this thing - they built from the inside-out. We're going to have difference-makers on the defensive front and we're going to be to be a good physical front on the offensive line and we're going to have good, consistent quarterback play. Those are the three main ingredients that are difficult to build is because they're just not around."
Mora and Richt each credited factors relating to the coaches for such success as well.
"They've had very little staff turnover and there's a real continuity on that staff," Mora said. "And that appeals to parents and to players and you're not having to reteach your philosophy and culture every year."
"They made a commitment to coaches salaries," said Richt. "In the very beginning Dabo knew how important that was to keep great coordinators and he took some of his own salary to give to others on his staff. Not many coaches are doing it for the money but the amount of money that you make as a sign of respect and that makes it a lot easier to stick around."