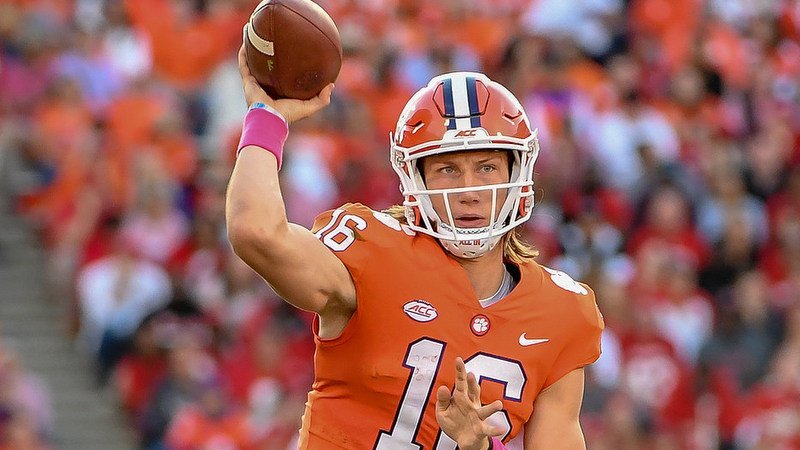 | | |
| --- | --- |
| First Clemson Playoff ranking unveiled | |
---
| | | |
| --- | --- | --- |
| Tuesday, October 30, 2018, 7:16 PM | | |
The first College Football Playoff rankings are in and there's a familiar feel to the top-two.
Twin dominant 8-0 starts from Alabama and Clemson have them in the No. 1 and No. 2 spots respectively in the debut poll. The final two projected CFP spots went to LSU (3) and Notre Dame (4), with Michigan (5) and Georgia (6) on the outside-looking in.
Clemson coach Dabo Swinney had some fun with the new rankings with an argument that ESPN's playoff rankings show panelists weren't buying.
"We're just glad to have an opportunity at this point that we're still in the hunt," Swinney said, then shifting into a bit of humor. "The reality of it is it's like when I was a player. There was the big-time bus and then the R.O.Y. bus - the 'rest of y'all.' It's kinda Alabama and the rest of y'all. We're just glad to be on the R.O.Y. bus right now and still have a chance, but it really doesn't matter. It's exciting to know we are getting into November and we're still a team in the hunt. But the race isn't over. You've got to continue to keep running the race with focus and purpose and great attention to the task at hand and take them one at a time.
"Hopefully when it's all said and done by the fifth or however many shows y'all (ESPN) do - we're still in it. That would be awesome. For us, we have to win our division first. That's what we need to do."
Swinney's Tigers were No. 2 in both the Associated Press and USA TODAY Coaches polls this week also. Alabama had all 60 first-place votes in the AP and 62 of the 64 first-place votes in the Coaches.
The two teams are also No. 1 and 2 the same way in ESPN's Football Power Index. Clemson leads the pack in ESPN's 'strength of record' metric, followed by Notre Dame, LSU and Alabama, while the Crimson Tide top the 'game control' metric with Clemson next, LSU, No. 3, and Georgia, No. 4.
ESPN's Playoff Predictor gives Clemson the best chance to make the CFP (93 percent).
The first CFP rankings shined favorably on the ACC and Clemson's resume with it. Four more conference teams were ranked with Syracuse (19), NC State (21), Boston College (22) and Virginia (25) and another Tigers' out-of-conference win checking in at No. 20 (Texas A&M).
Clemson has been a one (2015, 2017) or two seed (2016) in the last three final CFP rankings. The No. 1 seed in the initial poll nor the final poll have never won the College Football Playoff.
The Tigers have the second-most wins (3) to Alabama (5) in Playoff history. Over the last three CFP polls, Clemson has debuted at No. 1 (2015), No. 2 (2016) and No. 4 (2017) and been ranked in the top-four each week of those polls. Three teams from last season's initial top-four went on to the Playoff, with Alabama and Georgia joining the Tigers.
This year's CFP committee is Oregon AD Rob Mullens (Committee chair), Oklahoma AD Joe Castiglione, former Virginia Tech coach Frank Beamer, former sportswriter Paola Boivin, former Southern Miss coach Jeff Bower, former Central Michigan coach Herb Deromedi, former coach Ken Hatfield, Robert Morris president Chris Howard, former Vanderbilt coach Bobby Johnson, former All-American DB Ronnie Lott, Ohio State AD Gene Smith, Georgia Tech AD Todd Stansbury and Florida AD Scott Stricklin.
This year's CFP semifinals will be played on Dec. 29 with times TBA in the Orange (Miami Gardens, Fla.) and Cotton (Arlington, Tx.) bowls. The National Championship will be held in Santa Clara on Jan. 7.
CFP Top 25 - 10/30
1. Alabama
2. Clemson
3. LSU
4. Notre Dame
5. Michigan
6. Georgia
7. Oklahoma
8. Washington State
9. Kentucky
10. Ohio State
11. Florida
12. UCF
13. West Virginia
14. Penn State
15. Utah
16. Iowa
17. Texas
18. Miss. State
19. Syracuse
20. Texas A&M
21. NC State
22. Boston College
23. Fresno State
24. Iowa State
25. Virginia
It's Bama's 22nd week and Clemson's 19th week in the CFP Top 4.

No other school has been ranked there more than 8 times. pic.twitter.com/qvum0lDwtm

— ESPN CollegeFootball (@ESPNCFB) October 30, 2018