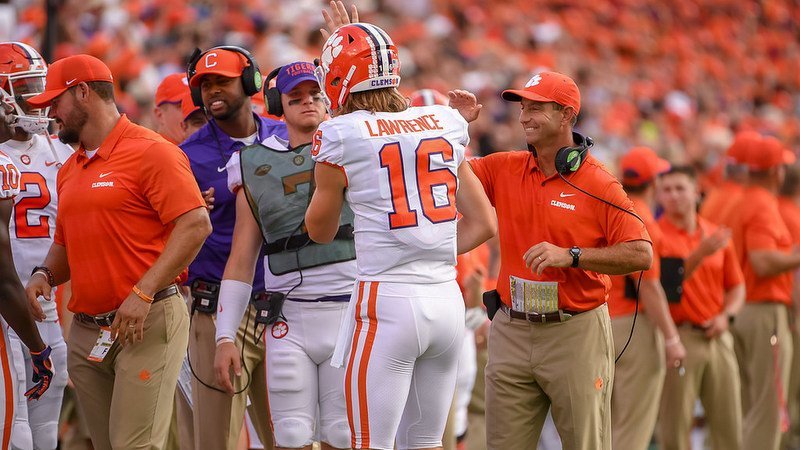 | | |
| --- | --- |
| FS1's Cowherd: Clemson could be 'all-time great team' | |
---
| | | |
| --- | --- | --- |
| Tuesday, August 20, 2019, 7:43 PM | | |
Fox Sports TV/radio host Colin Cowherd has come around on the Tigers after a rocky public relationship going back as recently as the 2016 championship run.
Now you'd be hard-pressed to find a national analyst more in Clemson's corner.
"I think Clemson has a chance to be an all-time great team," Cowherd said on Tuesday. "In the games in which Trevor Lawrence started and finished last year, none were close. Twenty (points) was the closest and he was a freshman. He's now a sophomore. They won the ACC championship by 32, they beat Notre Dame by 27, they beat Bama by 28, they beat Louisville by 61, and they beat Florida State by 50. He is the best college quarterback I've ever seen since Andrew Luck. I didn't watch Patrick Mahomes and Carson Wentz enough (in college) to make that judgment. When I saw (Lawrence) play at 17 in a high school camp, he is the best high school quarterback probably that I've ever seen."
The comparison to Alabama is a natural one among media narratives and Cowherd says Clemson has set itself apart.
"They (Clemson) have the first or second-best running back, the first or second-best head coach, and the first or second-best wide receiver," said Cowherd. "They're rebuilding their defensive front but Clemson always brings in all sorts of dudes that can play up there. They won't be quite as dominant on the defensive line. They've got a very workable schedule. I think they have a chance to be the best college team of all time.
"Alabama has the best dynasty I've ever seen but there's not one team -- they've had a lot of average quarterbacks...Clemson has Alabama's talent but with the best college quarterback of my life...This kid is better than (John Elway and Luck). Arm, size, delivery, everything. He's really an all-time talent...And I do feel like even as good as Alabama has been, I do feel like Clemson is -- this morning -- the better program. They have a better staff, better quarterback, I think they have more momentum, I think they have more stability in their program...I'm sure Clemson is going to end up in the national championship game. I feel very strongly."
Their path to that national championship game should go very smoothly as well, Cowherd adds.
"If Trevor Lawrence is healthy, I think they'll score their way to a national championship," he said. "I think Alabama will probably end up there but they could get knocked off by Georgia...LSU. There's always a Mississippi school that gives them trouble. But I think we are looking at potentially -- if they stay healthy -- the greatest college football team we've seen and I think they (Clemson) will be that dominant this year.
"With me saying that, they will probably get overconfident and get whacked by Georgia Tech but I think they're going to go 15-0 and they're going to roll 14 of the teams they play. I think they're just going to roll through by 20, 30, 40 and 50 points."
"Trevor Lawrence is the best college QB I've seen since Andrew Luck... This guy is going to be a first ballot Hall of Famer" — @ColinCowherd pic.twitter.com/faq7uNalCQ

— Herd w/Colin Cowherd (@TheHerd) August 20, 2019