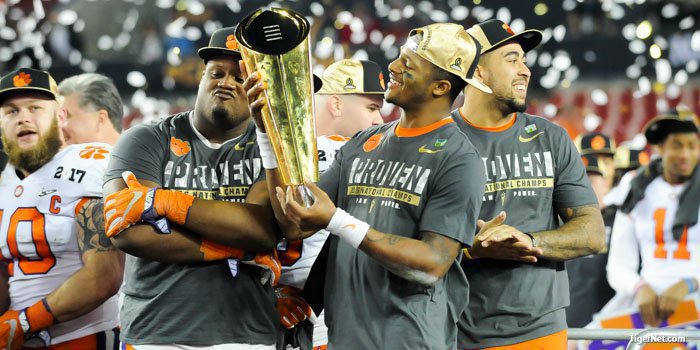 | | |
| --- | --- |
| Deshaun Watson says Clemson was 'best decision I ever made' | |
---
| | | |
| --- | --- | --- |
| Thursday, December 13, 2018, 2:53 PM | | |
Houston Texans quarterback and former Clemson All-American Deshaun Watson gave a window into his path to stardom and the people that guided the way in a Players' Tribune article Thursday.
In the piece entitled 'What You See,' Watson recalled growing up with a single mother in a house with four kids in Gainesville, Georgia and his road to Clemson and then the NFL. His mother, Deann Watson, was diagnosed with tongue cancer when Watson was 14 years old and Deshaun says football and academics provided an outlet to focus on in a tough time, guided by Gainesville position coach Michael Perry and then Clemson coach Dabo Swinney at the time.
Watson says Swinney had him "crave" education.
"That same off-season when I started working with Coach Perry and my mom was battling cancer, Coach Swinney offered me a scholarship to Clemson," Watson said. "It was my first college offer, and I think that's when everything became real for me, you know? Like, I had all these dreams, but now they were pretty much right in front of me. All I had to do was say yes to Coach Swinney, and I would be able to play college football, have a shot at making it to the NFL, and get a college education without my mom having to pay a dime or go into debt.
"Just the possibility of a free education made me realize what a big opportunity — and what a big responsibility — I had in front of me."
Watson added that Clemson's pitch that it wasn't going to recruit a quarterback in his class or the next stood out but the delivery is what sold him on the Tigers.
"My first thought was, Right … I'm probably gonna hear the same thing from Nick Saban and every other coach," Watson said. "But I'm big on vibes, man. Big on energy. I'm the kind of person who, when I meet somebody, if the vibe isn't right, I'm gonna shut it down. I'll separate myself and not say too much. I think I'm pretty good at reading people. And I'm telling you … Coach Swinney had vibes.
"It was one of those things where, when he said something, and he looked you in the eye, you just kind of knew that he meant it, and that he was going to do everything in his power to deliver on it.
"So I wanted to make sure that I was going to deliver for him, too. I committed to Clemson — which was the best decision I ever made — and worked hard to graduate high school a semester early so I could get to campus as soon as possible and have a chance to play as a freshman."
While at Clemson, Watson credits academic advisor Maria Herbst on one side for keeping him on track for graduating in three years and word from Cam Newton after the 2015 title game loss to form the right mindset for the 2016 title.
"With Cam's advice in mind — and the help of Mama Maria, my coaches and all my teammates — I was able to earn my degree and win Clemson's first national championship since 1981, all in the same year," Watson said. "I walked away from my college career knowing that I had given it everything I had, and that I had accomplished everything I'd set out to accomplish. I couldn't dream of a better way to go out."