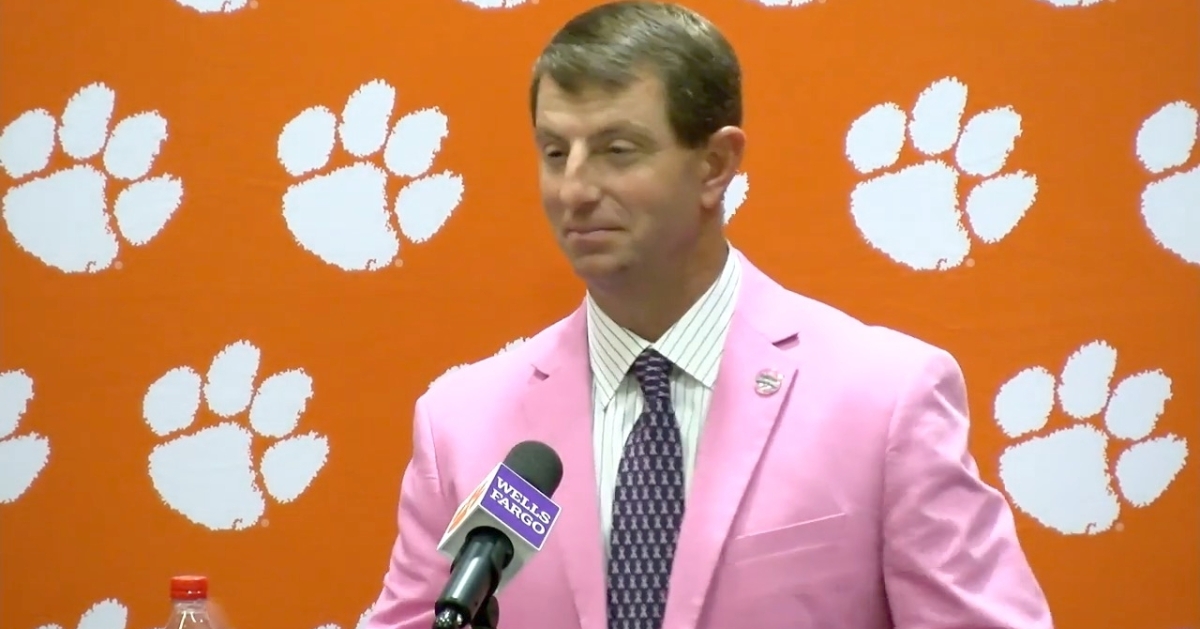 | | |
| --- | --- |
| Dabo loves Belk's $49 pink suits but doesn't want to go to their bowl | |
---
| | | |
| --- | --- | --- |
| Sunday, October 27, 2019, 1:36 AM | | |
If you are in the market for a pink suit Clemson head coach Dabo Swinney has a deal for you.
"I think $49 at Belk if anybody's looking for this. I believe that this is the one that Kath [Swinney's wife] got for $49 at Belk," Swinney said. "Our Ladies Clinic was this past summer, we had over 3,000 women and so Kath and the committee, they came up with this big plan that we were going to do the orange carpet. It was kind of fun, and so they introduced me, and so I came out and did my thing and had some fun. I actually had on my orange jacket, and then Kath surprised me. She comes out, and I didn't know this was going to happen, and she goes, 'We actually have something better,' and she pulls out this jacket."
Swinney decided to pull the pink suit back out for the BC game which was Clemson's breast cancer awareness game for 2019, and his players loved it, but Swinney wants no part of their bowl.
"I've been waiting to pull it back out," Swinney said. "You know what, it's crazy, I've got a couple of nice suits that I don't get any comments. I walk into the team meeting yesterday with my $49 Belk pink coat, and those guys were like, 'Woah!' I mean they were blown away. So, shout out to Belk. Hashtag, shameless plug, so there you go. I love them, but I don't want to go to that bowl. Been there, done that. Y'all aren't going to like me if we're there, but I like their clothes."