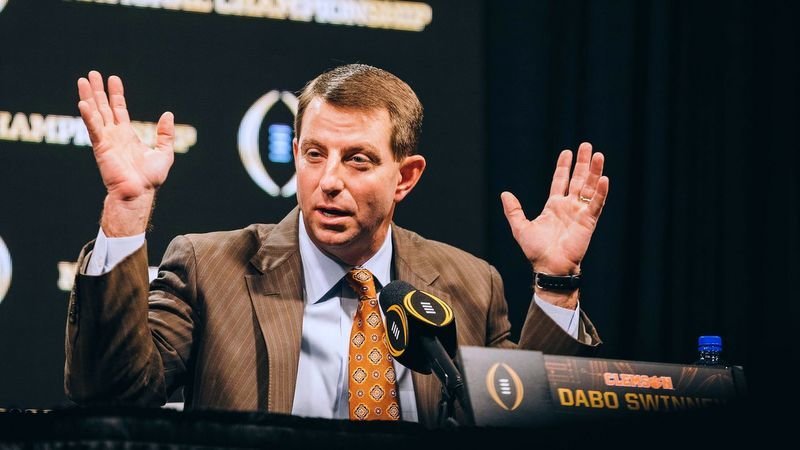 | | |
| --- | --- |
| Dabo Swinney says Clemson, ACC critics can't have it both ways | |
---
| | | |
| --- | --- | --- |
| Wednesday, July 17, 2019, 5:37 PM | | |
Clemson coach Dabo Swinney says critiques and explanations other than crediting his team for its 44-16 beatdown of Alabama can't have it both ways.
Swinney addressed the issue after being asked if the ACC gets enough credit while in a media session at the ACC Football Kickoff on Wednesday.
"Five or six years ago - it was hilarious because the rhetoric used to be an ACC team is never going to win the national championship because they don't play anybody," Swinney said. "So when they get to the postseason they got to play the big bad boys they can't be prepared. Well, now we win it. Well the only reason we win it now is we don't play anybody. You can't have it both ways. I think that the end of the day the reason we win is we play incredible competition.
"This league has had 32 bowl teams in the last three years, eleven this year. Nineteen postseason wins in the last three years. So the depth of our league, week in and week out, with great coaches not good great coaches in this league, it's a challenge. This league doesn't take a back seat to anyone. It's a very competitive league."
Swinney says the league isn't getting the attention it deserves.
"To me it should always be about the program," Swinney said, "but I think our league is so understated it is not even funny. We have won more national championships in the last 6 years than any conference in football. You probably wouldn't know that because nobody is going to talk about that. Everybody wants to talk about the past twenty years. Certainly ten years ago things were different in this league. Ten years when I got this job we had a long ways to go not only at Clemson but as a league.
"Where we are today and the reason we win is because of our league and how we are challenged week in and week out. I think that's what people miss."