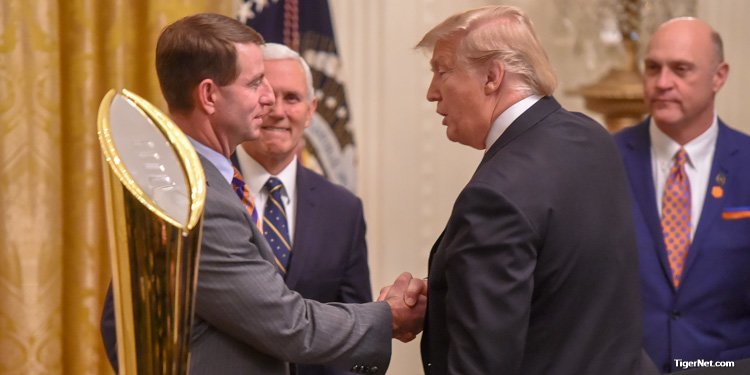 | | |
| --- | --- |
| Dabo Swinney explains how White House trip came about | |
---
| | | |
| --- | --- | --- |
| Wednesday, February 6, 2019, 3:58 PM | | |
The Fast Food hamburger buffet at the White House will be a memorable story for the Clemson Football players and staffers to tell their grandchildren one day.
Clemson head coach Dabo Swinney told the media Wednesday that the team actually pushed to go up to the White House on Monday because of the schedule of all the student-athletes.
"There has been a lot of chit-chat about how that came about," Swinney said. "It was really us that pushed it to that Monday. We were not going to do it in April or May or June. That was a nightmare. They wanted to do it in February, and that would not work at all for anybody, for any of the seniors. So we went back and forth and really that Monday was the only day that was the best time for us even though we already had a lot of seniors that already had their flights and different things. So it was a little bit of a challenge for them, but everybody had the opportunity to go that wanted to go, and it was amazing."
Swinney wants to always enjoy the winning and will go back to the White House if his team wins another National Championship.
"Everybody had an opportunity to go," he said. "If you wanted to go you could go. If you didn't want to go, you didn't have to go. I'm on record. I don't care who the president is or isn't. If we win a national championship and I get invited, I'm going. It doesn't matter to me. I've never going to politicize my role on the team here. I think it is a great honor to get invited to go to the White House."