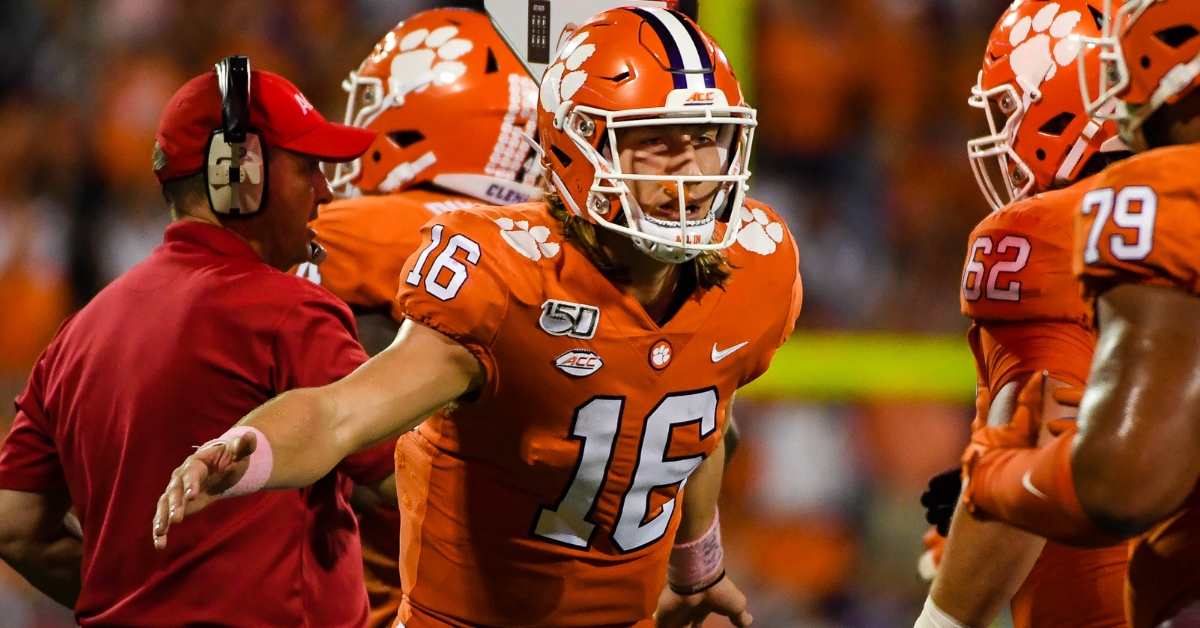 | | |
| --- | --- |
| Clemson ranked No. 4 in latest AP poll | |
---
| | | |
| --- | --- | --- |
| Sunday, October 27, 2019, 2:08 PM | | |
Clemson's 59-7 win over Boston College on Saturday didn't move the needle for the latest Associated Press Top 25 in a week where the top-4 all won.
Clemson remained No. 4 (1,406; 7 first-place votes) behind new No. 1 LSU (1,476 points; 17), Alabama (1,474; 21), Ohio State (1,468; 17), with Penn State rounding out the top-5 after Oklahoma's loss at Kansas State Saturday.
Over the weekend, Alabama topped Arkansas, 48-7, LSU edged previous No. 9-Auburn 23-20 and Ohio State downed former-No. 13 Wisconsin 38-7 on Saturday. Penn State stayed unbeaten with a 28-7 win at Michigan State and will travel to fellow unbeaten Minnesota after a bye week, as does LSU to Alabama.
The first College Football Playoff ranking is due in a little over a week (Nov. 5). Clemson fell to No. 3 in the latest Coaches Poll.
Wake Forest remains the ACC's other top-25 rep at No. 23.
AP Top 25 - 10/27
RANK TEAM PV RANK POINTS
1 LSU (8-0) 2 1,476
2 Alabama (8-0) 1 1,474
3 Ohio State (8-0) 3 1,468
4 Clemson(8-0) 4 1,406
5 Penn State (8-0) 6 1,302
6 Florida (7-1) 7 1,226
7 Oregon (7-1) 11 1,108
8 Georgia (6-1) 10 1,093
9 Utah (7-1) 12 1,032
10 Oklahoma (7-1) 5 1,017
11 Auburn (6-2) 9 910
12 Baylor (7-0) 14 882
13 Minnesota (8-0) 17 778
14 Michigan (6-2) 19 744
15 SMU (8-0) 16 666
16 Notre Dame (5-2) 8 563
17 Cincinnati (6-1) 18 524
18 Wisconsin (6-2) 13 513
19 Iowa (6-2) 20 456
20 Appalachian State (7-0) 21 393
21 Boise State (6-1) 22 280
22 Kansas State (5-2) 218
23 Wake Forest (6-1) 25 200
24 Memphis(7-1) 188
25 San Diego State (7-1) 50
Others receiving votes: Texas 49, Navy 43, UCF 33, Washington 19, Texas A&M 14, USC 11, Louisiana Tech 6, Indiana 4, Pittsburgh 1, Oklahoma State 1, Iowa State 1