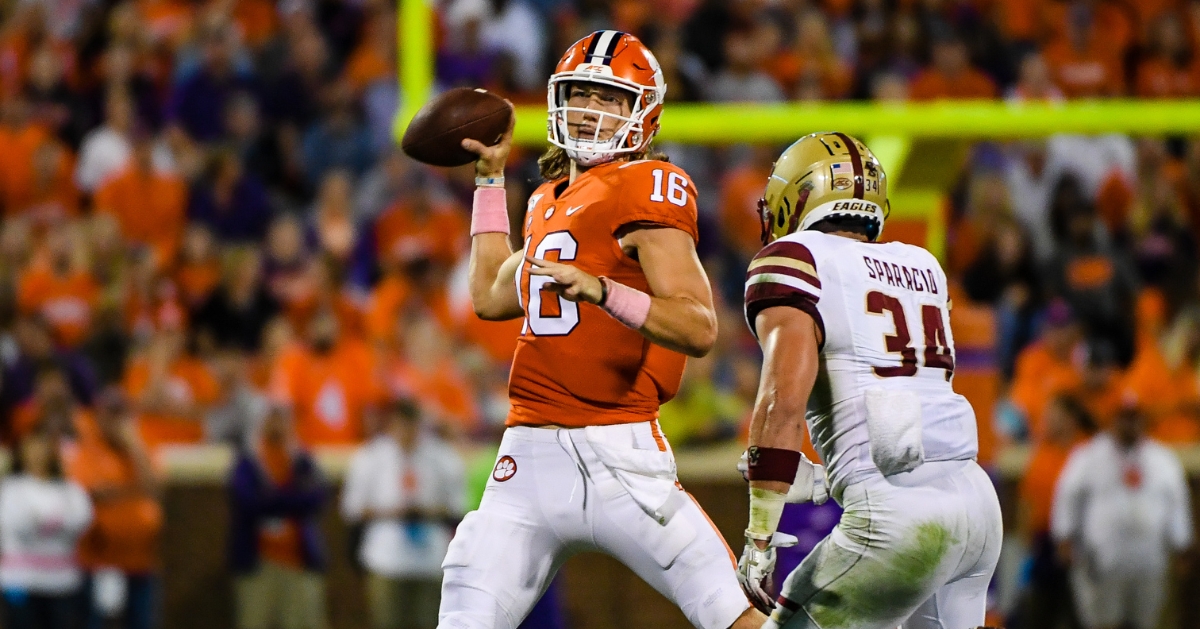 | | |
| --- | --- |
| Clemson moves up in AP Poll | |
---
| | | |
| --- | --- | --- |
| Sunday, November 10, 2019, 2:06 PM | | |
Two top-5 teams fell over the weekend and Clemson saw a move up in the new Associated Press top-25 on Sunday.
The AP trend had been downward for Dabo Swinney's Tigers, seeing a gradual fall from preseason No. 1 to as low as No. 4, but Alabama's loss at No. 1 LSU (1,542 points) guided both Ohio State (2; 1,480) and Clemson (3; 1,441) moving up, with the Crimson Tide (1,312) and Georgia (1,267) rounding out the new top-5.
Another big mover included unbeaten Minnesota, up to No. 7 from No. 13 after toppling previous-No. 5 Penn State at home on Saturday.
AP Top 25 - 11/10
RANK TEAM PV RANK CONFERENCE POINTS
1 LSU (9-0) 1 SEC 1,542
2 Ohio State (9-0) 3 Big Ten 1,480
3 Clemson (10-0) 4 ACC 1,441
4 Alabama (8-1) 2 SEC 1,312
5 Georgia (8-1) 6 SEC 1,267
6 Oregon (8-1) 7 Pac-12 1,224
7 Minnesota (9-0) 13 Big Ten 1,164
8 Utah (8-1) 8 Pac-12 1,099
9 Penn State (8-1) 5 Big Ten 1,003
10 Oklahoma (8-1) 9 Big 12 1,000
11 Florida (8-2) 10 SEC 934
12 Baylor (9-0) 11 Big 12 932
13 Auburn (7-2) 12 SEC 871
14 Michigan (7-2) 14 Big Ten 744
15 Wisconsin (7-2) 16 Big Ten 657
16 Notre Dame (7-2) 15 IA Independents 593
17 Cincinnati (8-1) 17 American Athletic 567
18 Memphis (8-1) 19 American Athletic 510
19 Boise State (8-1) 21 Mountain West 371
20 SMU (9-1) 23 American Athletic 346
21 Navy (7-1) 25 American Athletic 228
22 Texas (6-3) Big 12 199
23 Iowa (6-3) 18 Big Ten 197
24 Indiana (7-2) Big Ten 108
25 Oklahoma State (6-3) Big 12 77
Others receiving votes:
Appalachian State 73, Kansas State 67, Texas A&M 42, Wake Forest 38, Louisiana Tech 25, Virginia 12, San Diego State 7, Iowa State 4, Virginia Tech 4, Washington 3, Pittsburgh 2, UCF 2, Air Force 2, USC 1, Illinois 1