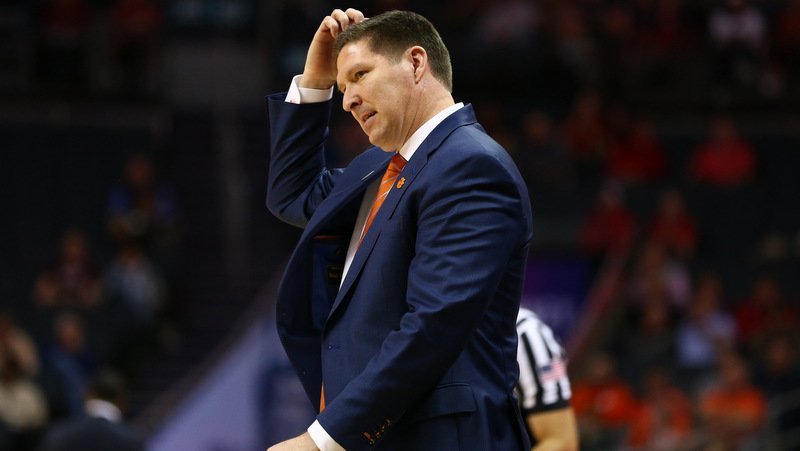 | | |
| --- | --- |
| Clemson men fall short of NCAA Tournament bid | |
---
| | | |
| --- | --- | --- |
| Sunday, March 17, 2019, 5:39 PM | | |
The Clemson men's basketball team was not in the announced field of 68 for the NCAA Tournament on Sunday evening, which means a National Invitation Tournament nod will come later tonight.
The NIT selection special will air at 8:30 p.m. ET on ESPNU.
Clemson entered Sunday with strong rankings up against NCAA-bubble competition in a number of metrics.
In a bid for one of 36 at-large positions, that was led by a No. 29 spot in both the KenPom and ESPN BPI ratings, and they also rated favorably in the new NCAA NET ranking - at No. 35 - which was installed to add efficiency metrics into the evaluation instead of the purely records-based analysis with the RPI.
The clear downside of the Tigers' resume was a lack of quality wins.
Brad Brownell's bunch notched only one victory in 11 attempts versus Quadrant 1 teams (Home versus 1-30 in NET rankings; neutral site 1-50; away 1-75). Brownell's argument to counter the Q1 was four of those 10 losses coming by two points or less and six of the 11 contests being versus top-16 NET opponents.
Clemson was coming off of a Sweet 16 run last season and returned four starters from that team in a bid for back-to-back NCAAs appearances for the first time under Brownell.
The Tigers are instead set for a second NIT appearance in three seasons. Clemson advanced as far as the NIT semifinals in Madison Square Garden in the 2013-14 season.
The last four in the field were Temple (23-9; NET: 56; KenPom: 76), Belmont (26-5; NET: 47; KenPom 54), Arizona State (22-10; NET: 63; KenPom: 61) and St. John's (21-12; NET: 73; KenPom: 78). The first four out, according to CBS, were UNC-Greensboro (28-6; NET: 60; KenPom: 81), Alabama (18-15; NET: 59; KenPom: 59), TCU (20-13; NET: 52; KenPom: 48) and Indiana (17-15; NET: 54; KenPom: 42).
Brownell mentioned Belmont specifically this week as an example of a team that didn't quite stack up to major-conference resumes such as Clemson's.
"This is a hard thing for the selection committee. I was a mid-major guy for a long time so I have a lot of respect for the mid major teams. I also think it's easy to pick a mid-major because that's the thing the people want to see," Brownell said Friday. "That doesn't make it right. I think you have to be careful with that. I have all the respect in the world for Rick Byrd and Belmont and love him as a person and coach but at the same time it's a different deal.
"They're playing 20-some-odd Quad 3 and 4 games and we were 12-0 (in those games). Our record would be 25-and-whatever if we played more of those teams. It's just a different deal and a hard one."
Fellow ACC team NC State was also left out of the field, which featured seven bids for the ACC - including the top-three national seeds with Duke, Virginia and North Carolina.