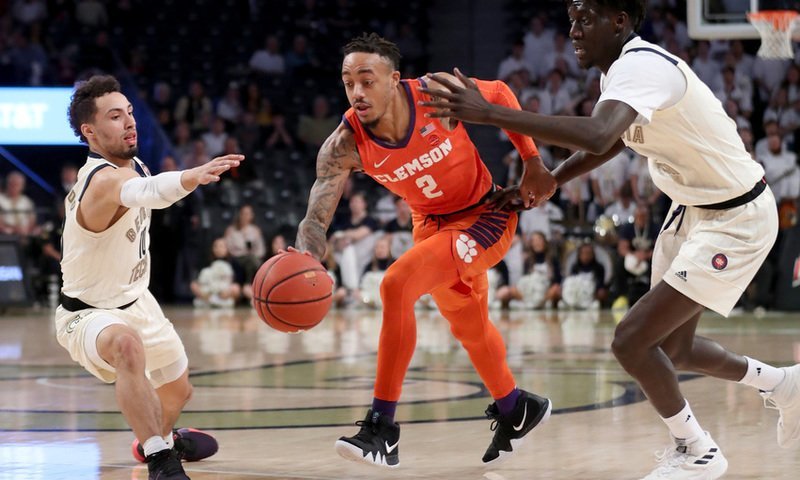 | | |
| --- | --- |
| Clemson hosts Wichita State for NIT second round | |
---
| | | |
| --- | --- | --- |
| Saturday, March 23, 2019, 2:14 PM | | |
Clemson (20-13) hosts the second round of the NIT on Sunday at 2 p.m. (ESPN) versus the sixth-seeded Wichita State Shockers (20-14).
Brad Brownell's second-seeded Tigers won 75-69 over Wright State on Tuesday, while Wichita State went to Furman and pulled out a 76-70 victory on Wednesday.
The contest will be televised on ESPN with Mike Morgan and LaPhonso Ellis calling the action courtside, while Don Munson and Tim Bourret will be on the radio waves. The radio call will be available on the Clemson Tigers Network and Tunein.com.
The winner will play at 1-seed Indiana on Tuesday (time TBA) for a spot in the NIT semifinals at Madison Square Garden.
Projected lineups
Clemson
Pos. No. Name Ht. Wt. Yr. GP/GS PPG RPG APG MPG
G 2 Marcquise Reed 6-3 188 Gr. 30/29 19.5 5.7 3.1 35.3
G 0 Clyde Trapp 6-4 196 So. 33/6 6.0 3.3 1.6 23.7
F 14 Elijah Thomas 6-9 245 Sr. 33/31 13.1 7.8 1.4 25.5
F 24 David Skara 6-8 213 Gr. 32/31 7.6 4.2 1.5 31.2
F 25 Aamir Simms 6-7 248 So. 33/33 8.1 4.5 1.0 26.8
Wichita State
Pos. No. Name Ht. Wt. Yr. GP/GS PPG RPG APG MPG
G 2 Jamarius Burton 6-4 208 Fr. 34/25 6.2 3.5 3.4 23.4
G 4 Samaje Hayes-Jones 6-0 180 Sr. 34/34 12.0 2.5 2.7 32.3
G 0 Dexter Dennis 6-5 208 Fr. 32/22 8.0 1.1 0.9 25.2
F 1 Markis McDuffie 6-8 218 Sr. 34/34 18.3 5.0 1.1 33.0
C 21 Jaime Echenique 6-11 258 Jr. 34/31 9.1 5.9 0.3 17.9
Clemson basketball notes
• Clemson will look to advance to the third round of the NIT for the second time in its last three NIT tournaments.
• Wichita State won the NIT under coach Gregg Marshall in 2011 and made the NCAA Tournament six consecutive times after that. The Shockers made the AAC conference semifinals before losing to NCAA Tourney team Cincinnati, 66-63. They carry into the game 12 wins in their last 15 contests.
• Senior guard Shelton Mitchell missed the game and is doubtful to play in the NIT with a knee injury.
• Clemson is in its 17th NIT. The program has an 19-16 record all-time in the event and advanced to the championship final twice previously (1999, 2007).
• Clemson is 13-4 in Littlejohn Coliseum in the NIT, having won 13-of-its-last-14 at home heading into Sunday's contest.
• Clemson enters Sunday having won nine-of-its-last-14 games, including five-of-its-last-seven.
• Marcquise Reed is one of just two players in the country to average at least 19.5 points, 5.5 rebounds, 3.0 assists and 2.0 steals per game this season. His 19.5 points per game average is the most since Will Solomon in 2000-01 (19.7) and third-most by a Clemson player since Horace Grant during his senior season (21.0 ppg) in 1986-87.
• With five more points, three more assists and one more rebound – Reed would become just the third active player to amass 2,000 career points, 500 career rebounds, 350 career assists and 200 career steals. He would become the 23rd player since the 1992-93 season to achieve those marks in his career.
• Reed jumped into 12th on the all-time scoring list. Reed now has 1,466 points in his Clemson career. He could become the 20th active player to amass 2,000 career points in NCAA Division I (1,995).
• Thomas has accumulated 151 total blocks since the start of the 2017-18 season. He is one of just six total players nationally to amass at least 150 in that span and sits second on that list.
Wichita State's Gregg Marshall previews matchup
On his team going into the game: "There's no quit. They've continued to fight until the end. They're enjoying playing. They're enjoying being in the locker room and singing victory songs. Their goal is to try to get Markis [McDuffie] back home [to New York]. He's done a lot for us this year as a leader and a performer and, for that matter, for four years. The group has a pretty strong resolve to try to help him get back to play in Madison Square Garden. That's our goal and Clemson's standing in the way and who knows what their goals are. Who knows what they're talking about. But obviously, the way they played against Wright State, they want to stick around in this tournament and make the most of it."
On his team on the road: "They looked scared to death early in the year because none of them have ever been in a college away atmosphere. Obviously, getting that over with, not being scared and, secondly, having a little success -- I think we've won four out of the last five, or something, on the road. I don't know the exact numbers, but we've won a few. A handful, maybe. That breathes a little confidence when you have success...and again, trying to defend and rebound because those things travel. That was our message, early on, but we didn't quite get it."
On Clemson: "They've got some good players. They're a very solid, well-coached, fundamentally-sound basketball team. They went to the [Sweet 16] last year and got a lot of guys back. Marcquise Reed is a tremendous talent as a guard. Elijah Thomas is probably the best big man that we will have faced on the block this year. They don't beat themselves. They were really close to being an (NCAA) tournament team, just like Furman. But this group, of their last five losses in (ACC play), four of them were of a combined six points. So, they lost some really close games to good teams and a couple too many losses to get in (the NCAA Tournament). But, you're right there. Coming off the [Sweet 16], they made noise in the tournament last year. Had they gotten into the (NCAA Tournament), who knows. They beat a good Wright State team (on Tuesday) and we know we'll have our hands full."
(Quotes via Wichita State's official site)