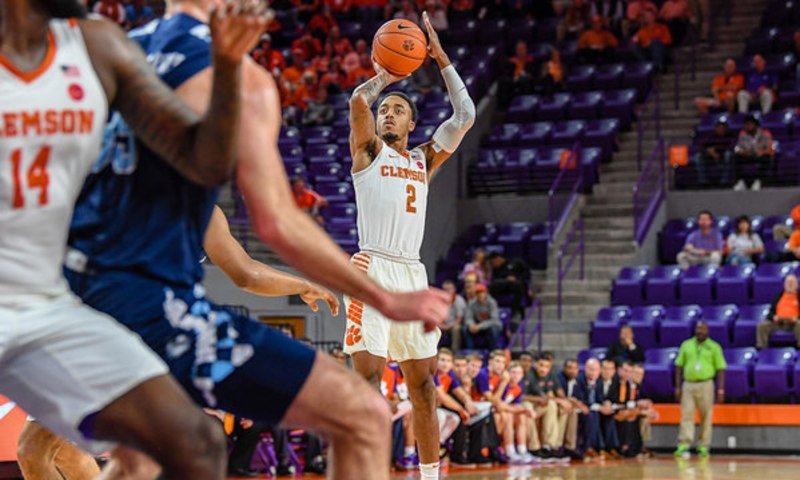 | | |
| --- | --- |
| Clemson heads to No. 21 NC State Saturday | |
---
| | | |
| --- | --- | --- |
| Friday, January 25, 2019, 2:46 PM | | |
Clemson heads to No. 21 NC State on Saturday at PNC Arena in Raleigh, N.C. in a tip-off set for 2:06 p.m. ET.
Jason Kutcher and Dave Odom will broadcast the game on Raycom Sports Network, while Don Munson and Tim Bourret will have the radio call for the Clemson Tigers Network.
Clemson basketball notes
• Clemson will look for its first win in Raleigh since Jan. 28, 2015 when the Tigers took home a 68-57 victory. The Tigers have won three-of-the-last-four matchups with the Wolfpack, including three straight at one point.
• Clemson is 53-102 all-time against NC State. The Tigers will look for their fourth win in their last five
games against the Wolfpack. Clemson is 14-49 all-time on the road in the series.
• NC State is coming off of an 84-77 loss at No. 23 Louisville on Thursday. Clemson fell 77-68 at Florida State on Tuesday.
• Marcquise Reed moved into a tie for 28th on the all-time scoring list following his performance on Jan. 22
against Florida State. Reed now has 1,171 points in his Clemson career.
• Reed has now posted 56 double-digit scoring games in his Clemson career and is 14 performances shy of tying
for 16th all-time.
• Elijah Thomas notched his fifth double-double of the season and the 16th of his career. Thomas posted 17
points, 11 rebounds and a career-best five assists against Florida State.
• In games that Thomas collects a double-double, the Tigers are 12-4 overall.
• Thomas ranks 10th all-time in Clemson history in blocks (133) and sits seventh all-time in blocks per game
(1.73).
• Shelton Mitchell and Marcquise Reed lead the Tigers in assists with a combined 6.6 dimes per contest. Mitchell
stands as the active leader in total assists with 280 as a Tiger.
• The graduate senior guard is averaging 19.3 points, 5.5 rebounds, 3.4 assists and 2.1 steals per contest this
season. To put that into perspective, Reed is the only player in a Power 5 conference to average at least 19.0
points, 5.5 rebounds, 3.0 assists and 2.0 steals per game.
• Furthermore, he is one of just two total players in the nation to achieve that stat line. Reed is joined by American's Sa'eed Nelson.
Projected starters
Clemson
Pos. No. Name Ht. Wt. Yr. GP/GS PPG RPG APG MPG
G 2 Marcquise Reed 6-3 188 Gr. 15/14 19.3 5.5 3.4 34.1
G 4 Shelton Mitchell 6-4 200 Gr. 18/18 11.6 2.6 3.2 32.2
F 14 Elijah Thomas 6-9 245 Sr. 18/16 13.3 7.9 1.1 25.0
F 24 David Skara 6-8 213 Gr. 18/18 8.3 4.1 1.4 29.6
F 25 Aamir Simms 6-7 248 So. 18/18 9.6 4.6 0.7 27.9
NC State
Pos. No. Name Ht. Wt. Yr. GP/GS PPG RPG APG MPG
F 0 DJ Funderburk 6-10 210 RSo. 19/1 9.0 4.5 0.7 18.6
G 2 Torin Dorn 6-5 210 RSr. 19/18 14.5 7.1 1.5 27.2
G 10 Braxton Beverly 6-0 180 So. 18/12 9.6 1.6 3.0 27.7
G 13 CJ Bryce 6-5 195 RJr. 19/18 12.3 5.2 1.8 26.4
G 24 Devon Daniels 6-5 200 RSo. 19/13 10.5 4.9 1.7 23.5