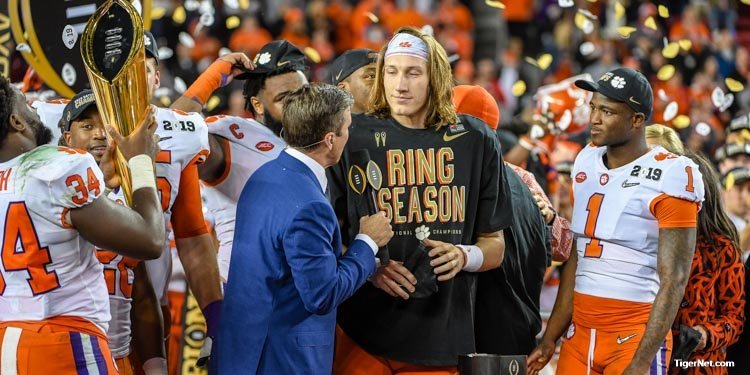 | | |
| --- | --- |
| CFB analyst: 2018 Tigers the 'greatest football team I've ever seen' | |
---
| | | |
| --- | --- | --- |
| Friday, July 19, 2019, 12:40 PM | | |
Talk of Clemson's 44-16 blowout of Alabama was still the topic of the week at both the ACC and SEC media days now six months-plus removed from the result.
New ACC Network analyst Roddy Jones didn't quibble over the 2018 Tigers' place in college football history - not buying excuses heard over the offseason.
"This Clemson team this past year was the greatest football team I've ever seen," Jones told CBS Sports Radio. "Since Trevor Lawrence took over in September, they didn't win a game by less than 20 points. That's incredible. That run is one that we'll never see again. You can talk about the strength of the league and the fact that everybody wasn't focused, but if you go by that excuse, nobody on Clemson's schedule was focused to play the best team in college football, so I don't buy that.
"That Clemson team was just incredible, so can't we just appreciate what they did and the fact that they were so dominant down the stretch?"
Alabama coach Nick Saban indicated during SEC media days that his coaches weren't as focused as they should've been for the matchup. Jones said he was surprised the 2018 matchup was still dominating the conversation.
"Yeah, it is a little bit surprising," ACC Network analyst Roddy Jones said on The DA Show. "It's surprising that we're going into the next year, and it seems like the narrative throughout the offseason in other leagues has been about Clemson – with good reason. All of the things that Nick Saban is saying about Alabama, those all may be true. But it also goes to show you how good a job Clemson is doing at least pushing all of those things to the side for that common goal."