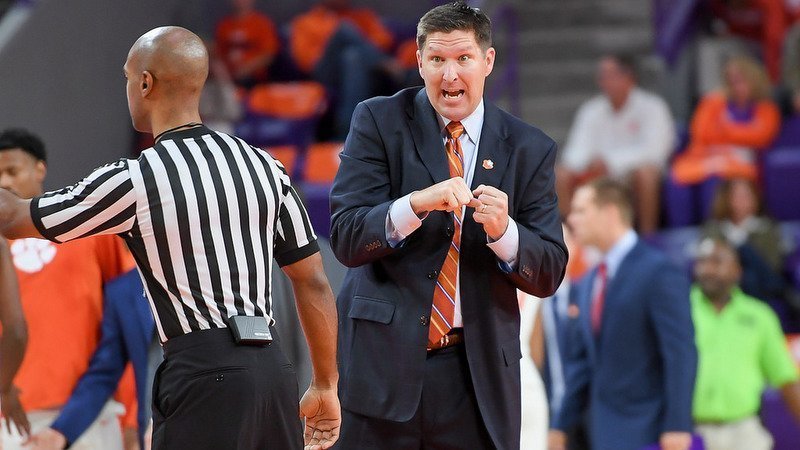 | | |
| --- | --- |
| Bracket Watch: Analyst criticizes Clemson on NCAA 'bubble' | |
---
| | | |
| --- | --- | --- |
| Thursday, March 7, 2019, 3:45 PM | | |
The next week-plus will provide anxious moments for fanbases across the country with one of the weirdest seasons on the NCAA Tournament bubble in recent history.
By the metrics and current NCAAs projections, Clemson (18-12, 8-9 ACC) is just in the field currently going into the ACC regular-season finale at home with Syracuse Saturday (noon/CBS) - ranking No. 40 in the NET ranking and No. 29 in the KenPom metric.
A mark of this season has been the close calls versus quality opponents, as three of Clemson's losses versus Quadrant 1 opponents (NET) have come by two points or less. In Q1 games overall, the Tigers own just one win in 10 tries (59-51 at home over No. 11 Virginia Tech).
That's not good enough to even be on the bubble according to NBC's Rob Dauster, who added that something like a run to the ACC Tournament semifinals next week is needed to clear that bar.
"I say that because regardless of how much we value metrics like KenPom, at the end of the day winning games has to matter," he wrote. "When determining just how good a basketball team is, the first possession of the game and the last possession of the game really aren't all that much different. But when determining what a team has accomplished during the season, there really should be a difference.
"Otherwise what's the point? The difference between winning a game by a point and losing by a point is just two points, but those two points mean everything. That's why the split-second that a ball is in the air as the buzzer sounds is the most beautiful moment in sports."
A lack of quality wins and consistency marks the bubble this season, however. Looking at the first four out for ESPN and CBS, the teams with three or more Q1 wins also barely have more wins than losses: Texas with four and a 16-14 mark (34 NET/47 RPI/26 KenPom) and Creighton with three and a 17-13 record (one being over Clemson at a neutral site; 52 NET/52 RPI/48 KenPom).
Also in the Big 12 is TCU, which holds NET (53), RPI (49) and KenPom rankings (49) around the top-50 and a top-25 strength of schedule (23) with two Q1 wins and a 6-11 mark in Big 12 play.
Elsewhere you have an enigma like NC State with a solid 20 wins, NET of 35 and KenPom of 40 but losses in three of the last five, two Q1 wins and an RPI of 117. Also on the bubble-out, Saint Mary's holds a 20-11 mark in the West Coast conference with top-50 rankings in KenPom (34), NET (39) and RPI (47) but also just one Q1 win.
Clemson has guaranteed matchups ahead with two top-50 NET teams to improve on its resume Saturday versus Syracuse (No. 42) and then next Wednesday at noon versus NC State (No. 35). With the number of differing and new metrics out there currently, some degree of safety is likely found in two wins for Brad Brownell's bunch but there are really no guarantees one way or another with the current picture. But at some point the committee has to pick 36 at-large teams and a potential of 20 wins and at least as many ACC wins as losses - to go with strong metric ranks - certainly works in Clemson's favor.
Clemson men NCAA Tournament profile
Record: 18-12 (8-9 ACC)
NET: 40
Record v. NET Quadrant 1 & 2: 6-12
Strength of Schedule: 33
Average NET of Wins: 148
Average NET of Losses: 30
Bad losses (150+ NET): None
RPI: 58
Road/neutral record: 6-8
KenPom: 29
Record v. current KenPom top-50: 2-10
Top-25 ranked wins (at the time): No. 11 Virginia Tech (59-51 at home)
Last 10: 6-4