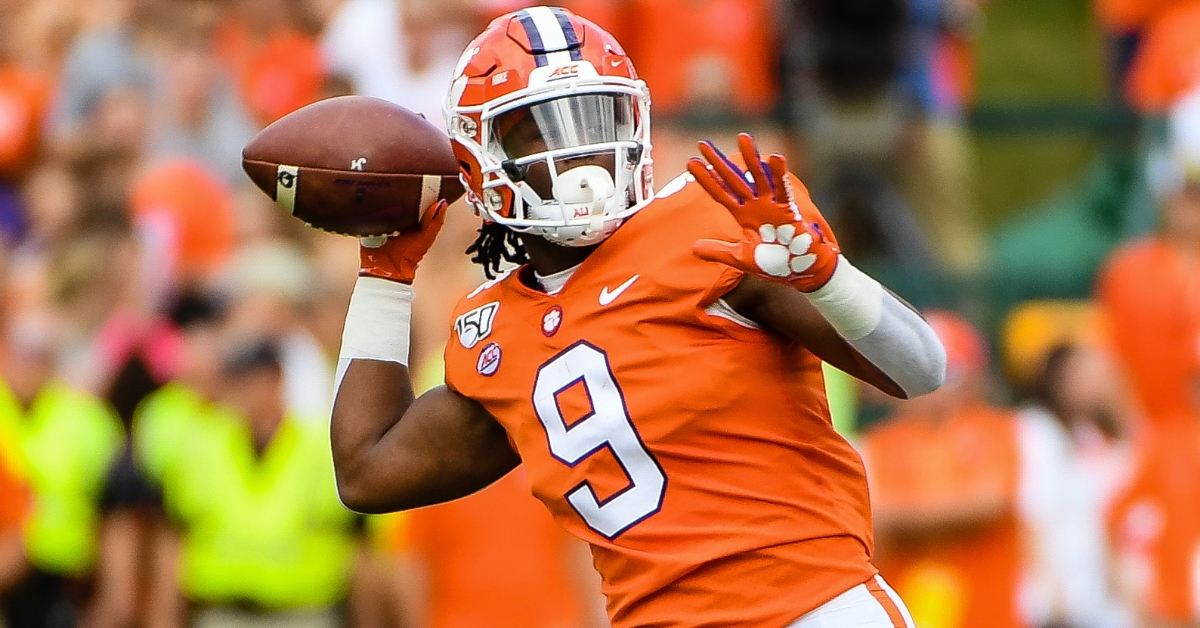 | | |
| --- | --- |
| Advanced outlook: Playoff picture, Clemson-Wake Forest projections | |
---
| | | |
| --- | --- | --- |
| Wednesday, November 13, 2019, 2:25 PM | | |
A clear top-three has emerged going into the final four weeks of the season. If the top-two of LSU and Ohio State win out, Clemson might just have hit a ceiling with the No. 3 rank on Tuesday.
LSU and Ohio State are 1-2 in both ESPN's strength of record and game control metric with each holding top-35 strength of schedule ranks per Sagarin. They would each be able to tack on a top-25 win in their respective championship games, with LSU possibly facing a top-4 opponent in Georgia.
That guarantee isn't there for the ACC's Tigers thanks to a chaotic Coastal Division, but Clemson does boast top-5 metric rankings in both game control (3) and strength of record (5), despite a 71st-ranked schedule (Sagarin).
Clemson has been the No. 1 team in the final College Football Playoff ranking twice and come up short in both instances. Two seasons as the No. 2 team have yielded a national title for the Tigers, however. So seeding, if Clemson were to win out, may not be a big decider on the ultimate goal but will likely determine the length of the trip for the Playoff semifinal. If LSU were to win out, the Peach Bowl in Atlanta would be the likely destination, sending Ohio State and Clemson to the Fiesta Bowl in Glendale, Arizona. If LSU were upset by a one-loss Georgia in the SEC title game, a No. 1 Ohio State could very well host its semifinal in the Fiesta Bowl, especially if an SEC opponent occupies the No. 4 spot.
An average of predictive models compiled by Banner Society (an SB Nation affiliate) gives Clemson (86), LSU (84) and Ohio State (84) far-and-away the best chances to make the Playoff. Those averages predict a dead-heat for the final spot among Georgia (27), Alabama (27), Oklahoma (27) and Oregon (24).
Rankings metrics, often forward-looking, don't share the view of LSU as college football's best at this point. Clemson is No. 2 in the ESPN Football Power Index behind Ohio State and ahead of Alabama, LSU and Georgia. ESPN's SP+ has Ohio State at No. 1 then Alabama, LSU, Georgia, Oklahoma and Clemson. TeamRankings' ratings also have Ohio State on top with Alabama next, Clemson, LSU and Penn State. A Pro Football Focus rating has Clemson on top, followed by LSU, Alabama, Ohio State and Georgia.
An undefeated Ohio State would appear to be a lock for a top-two spot and the same for LSU, which will mount a solid resume for strength of record. By the same metrics, Clemson has a strong claim for a top-three role but it will be challenging to move any further up.
Clemson-Wake Forest projections
Clemson is currently a 34.5-point favorite for Saturday's afternoon kickoff with Wake Forest after having covered similar big spreads in each FBS game since the one-point win at UNC.
The Demon Deacons' strength this season has come with a top-50-rated offense -- but that took a hit recently, two of their top-three receivers out for Saturday's game. The metrics going in:
Efficiency ranks: Offense | Defense | Special teams
CU SP+ ranks (No. 6 overall): 6 | 3 | 112
WF SP+ ranks (No. 48 overall): 45 | 70 | 36
CU ESPN ranks (No. 2 overall): 5 | 1 | 120
WF ESPN ranks (No. 58 overall): 46 | 74 | 87
(SP+ is a metric from ESPN's Bill Connelly, formerly of Football Outsiders and SB Nation, that combines ratings for the five factors of efficiency, explosiveness, field position, finishing drives and turnovers. ESPN's Football Power Index-based metric has similar statistical factors weighing together).
Those key injuries make projections a bit dicey to rely on for Saturday, as the SP+ sees a 26-point Clemson win. The FEI projection is right at the current Vegas line, with a five-TD win picked. TeamRankings predicts a 47-13 Clemson win.
Senior Day can be an emotional game and bring a wide projected margin closer, but if the team that's taken the field since October shows up, Clemson should cruise again.
Metrics outlook | Prediction
SP+ projection: 93% Clemson (Tigers by 26)
ESPN FPI: 97% Clemson
FEI: 98.9% Clemson (Tigers by 34.9)