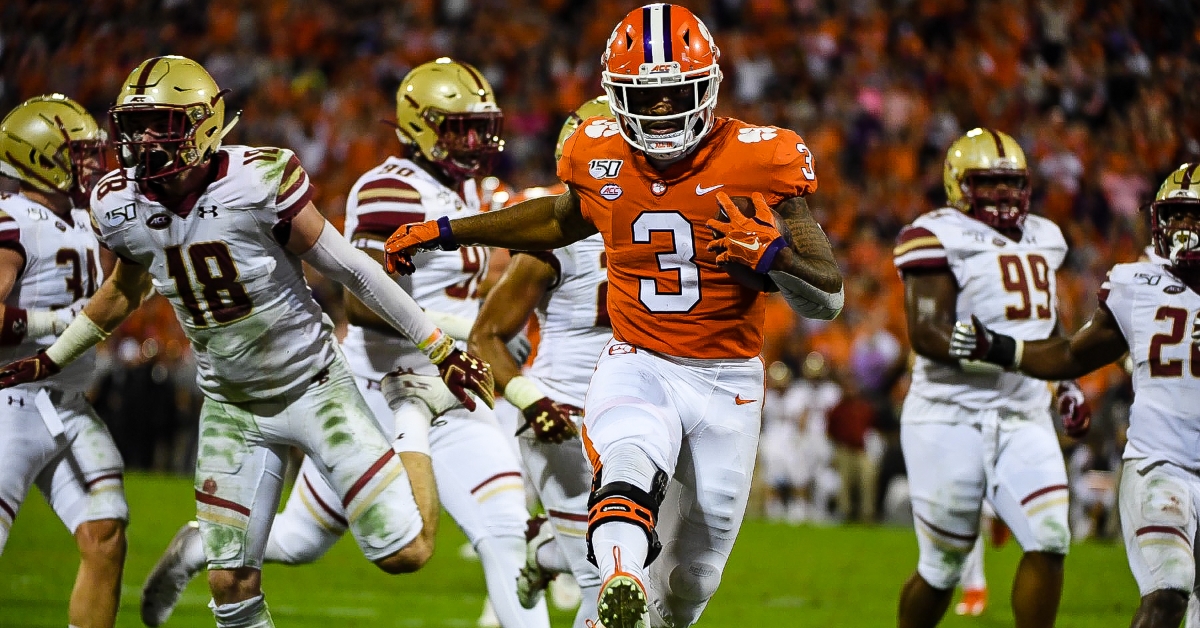 | | |
| --- | --- |
| Advanced outlook: Clemson ranked as high as No. 3 by metrics | |
---
| | | |
| --- | --- | --- |
| Monday, October 28, 2019, 5:57 PM | | |
The College Football Playoff committee will be meeting soon to decide its first rankings. Advanced metrics, which account for "garbage time" situations at different levels, have been a part of that process throughout.
In ESPN's Football Power Index, Clemson is ranked No. 3 (29.4) behind Ohio State (33.6) and Alabama (29.4) -- ahead of new Associated Press No. 1 LSU (25.2) and Penn State (24.4). Dabo Swinney's Tigers are rated with the No. 6 strength of record currently per ESPN, behind LSU (1), Penn State (2), Ohio State (3) and Alabama (4), as well as one-loss Florida (5).
ESPN's newly-adopted SP+ metric has the same top-two with the Buckeyes (35.3) and Alabama (34.1), followed by LSU (29.1), Oklahoma (29) and Clemson (28). The Tigers were ranked as low as eighth after the UNC game after a No. 2 preseason ranking there. The current efficiencies would conclude that Alabama and Ohio State are rated at a level that would have them as around a touchdown favorite on a neutral field versus Clemson.
The Power Rank shares the view of Ohio State and Alabama at the top with Clemson, No. 3, with a projected 24.7 point margin of victory versus the average FBS team. Ohio State is projected as nearly 33 points and Alabama, 29 points, better than the average team.
TeamRankings.com has the same top-three with Ohio State (40.3) 3-0 versus top-25-rated teams, Alabama (31.1) 2-0 and Clemson (29.7) 1-0. LSU (26) is fifth there despite its three wins over top-25-rated opponents.
Clemson is given a 99.7 win projection versus Wofford this weekend by ESPN's FPI. The first Playoff rankings come out on Nov. 5.