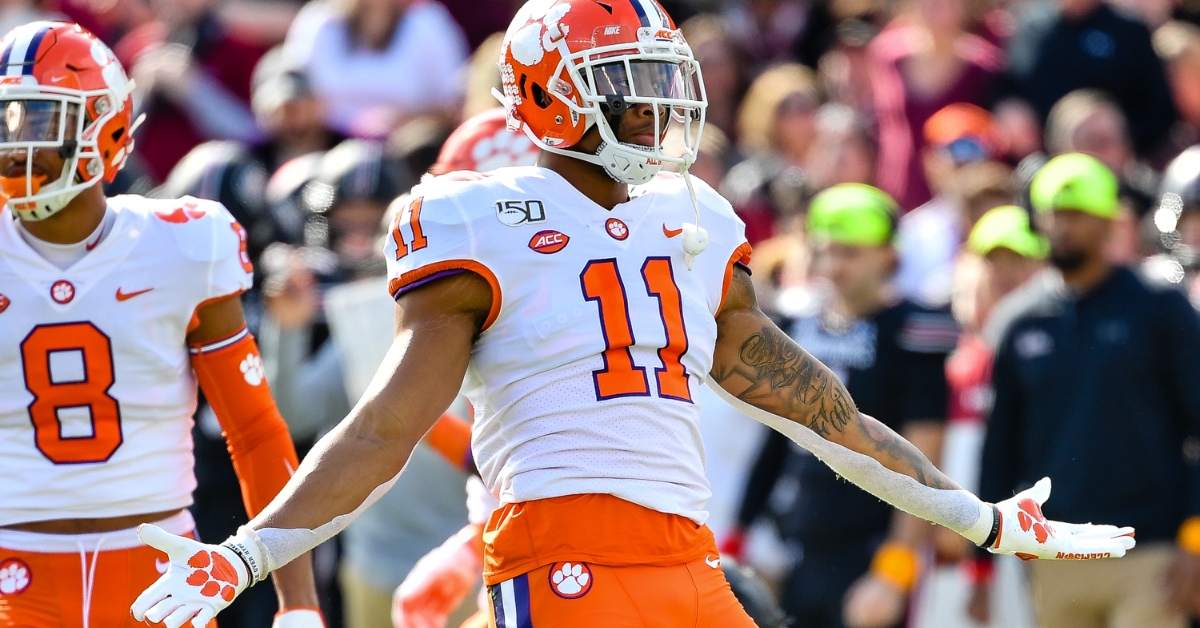 | | |
| --- | --- |
| Advanced outlook: Clemson-Virginia ACC Championship projections | |
---
| | | |
| --- | --- | --- |
| Wednesday, December 4, 2019, 10:59 AM | | |
Clemson football under Dabo Swinney has a philosophy that certainly prepares it well for this time of year and younger players for future seasons ahead.
It also can also mess with some of the more respected advanced metrics that try to judge college football from an analytical perspective.
Clemson is up over a 28-point favorite now (from 28.5 to 29 points) in this weekend's ACC Championship Game versus Virginia (7:30 p.m./ABC). ESPN's SP+, a metric brought from Football Outsiders and SB Nation by Bill Connelly, still has the Tigers favored but by just 21 points this week. And SP+ has consistently under-projected Clemson since the close call at UNC, where Connelly estimated Swinney's group has outperformed his projections by two touchdowns a game on average.
He joked some frustration about how there's something different about how Clemson develops in-season that can play with the numbers:
I think we overstate the "substitution patterns" thing — every top team gets backups lots of PT. That said, Clemson's the only team that consistently goes from 3rd gear to 5th midseason, rendering them underrated late in the year. IT'S ANNOYING.https://t.co/iss6gxWKdi

— Bill Connelly (@ESPN_BillC) December 4, 2019
On the flip side, the fellow Football Outsiders metric alum FEI seems pretty in-tune with this Clemson group -- projecting a 34-point win on Saturday. TeamRankings picks a score right around the number with a 41-14 Tigers win.
Virginia represents a seventh different Coastal challenger in the last seven ACC title games and after debuting at No. 23 in the College Football Playoff rankings this week. Here's how the two sides shape up efficiency-wise:
Efficiency ranks: Offense | Defense | Special teams
CU SP+ ranks (No. overall): 6 | 3 | 103
UVa. SP+ ranks (No. 37 overall): 57 | 36 | 34
CU ESPN ranks (No. 2 overall): 5 | 1 | 121
UVa. ESPN ranks (No. 35 overall): 50 | 51 | 8
(SP+ is a metric from ESPN's Bill Connelly, formerly of Football Outsiders and SB Nation, that combines ratings for the five factors of efficiency, explosiveness, field position, finishing drives and turnovers. ESPN's Football Power Index-based metric has similar statistical factors weighing together).
Virginia's offense centers around the ACC's leader in total offense per game, QB Bryce Perkins (16th nationally; 303 YPG). Perkins rushed for a career-high 164 yards and also passed for 311 yards in a 39-30 win over rival Virginia Tech to capture the division crown.
Defensively, the Cavaliers put pressure on opposing QBs (5th in sack rate) and contain runs at the line of scrimmage effectively (35th in stuff rate). They haven't been invulnerable to allowing big plays, however, ranking 93rd in 30-plus yarders given up (2.5 per game) and 64th on 20-yard-plus (4.7).
On special teams, kickoff specialist BT Potter and the Clemson coverage team could play a key factor Saturday versus the nation's leader in kickoff return yard average, Joe Reed (34.7), who's scored two touchdowns there. Potter and the Tigers have had two games this season without a single return allowed (Texas A&M and South Carolina) and three more with just one. Clemson ranks second nationally in touchbacks (66; LSU No. 1 with 88).
As referenced above, projections haven't been able to pin down the Tigers lately. Neither has Vegas, where Clemson has outperformed the spread by an average of 11 points since the UNC game. The last two ACC Championship wins have come by 34 points a game versus first-time division winners (like Virginia). This game likely follows the same pattern but the Cavaliers outperformed the spread in three of the last four games, all wins, including as an underdog at North Carolina and to Virginia Tech.
Metrics outlook | Prediction
SP+ projection: 89% Clemson (Tigers by 21)
ESPN FPI: 94.9% Clemson
FEI: 98.4% Clemson (Tigers by 34)