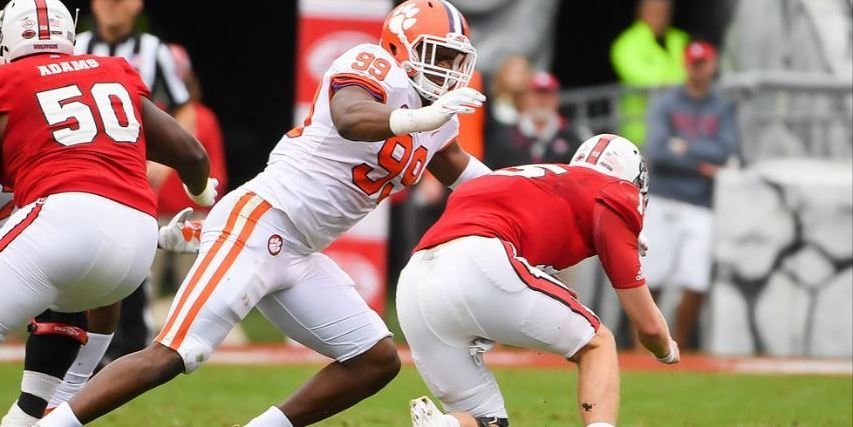 | | |
| --- | --- |
| Advanced outlook: Clemson-NC State projections | |
---
| | | |
| --- | --- | --- |
| Thursday, October 18, 2018, 3:09 PM | | |
The post-bye week meeting of ACC undefeateds Saturday presents the most intriguing matchup left in Clemson's conference championship bid.
What NC State does well offensively in the passing game meets a Clemson secondary that's seen its ups and downs halfway through the regular season.
What the Tigers have done well offensively in the running game meets the Wolfpack's strength on defense.
The ability of either side to gain the advantage in those phases and also balance out the attack could tell the tale in a game where Clemson still heads in as a heavy-favorite (17.5-point).
The last two games in the series have been decided by a touchdown in the Tigers' favor, one coming in overtime two years ago (24-17), but despite some favorable efficiency rankings for the visitors, they are at least a two-touchdown projected underdog in projections.
SB Nation has the Atlantic rivalry the closest (35-21 Clemson), while ESPN-used TeamRankings (37-20) and numberFire (40-22) are right around the Vegas number.
Advanced metrics profile
Clemson
ESPN efficiency rank: Offense – 18. Defense – 1. Special teams – 108.
Football Outsiders efficiency rank (S&P+): Offense – 10. Defense – 5. Special teams – 66.
Success rate*: Offense – 10 (50.3). Defense – 2 (30.6).
NC State
ESPN efficiency rank: Offense – 8. Defense – 43. Special teams – 129.
Football outsiders efficiency rank (S&P+): Offense – 30. Defense – 29. Special teams – 124.
Success rate: Offense – 16 (48.5). Defense – 39 (38.2).
--
Overall, Clemson's No. 1-rated defense (ESPN) meets a top-10 offense in NC State (8), with both facing a step-up in competition this week. SB Nation's strength of schedule metric has Clemson (74th) and NC State (89th) in the mid-tier of the remaining unbeatens.
Senior NC State quarterback Ryan Finley leads the fourth-most efficient passing attack (SBN) versus a Clemson defense that's had to improve from a slow start to a 70th-best pass efficiency defense (SBN). The Wolfpack will look to continue success in big plays (11th in big-play rate, 11.4) against a Clemson defense more middle of the pack against them (66th; 7.2).
One of the bigger battlegrounds on that side of the ball will come in Clemson's pressure versus NC State's pass protection. The Wolfpack rank third in sack rate allowed (1.1) going up against Clemson's fourth-ranked defense in the same stat (11.8). Clemson coach Dabo Swinney gave the edge to NC State's front in last year's matchup, where Brent Venables' group posted its lowest sack effort of the season (min. 5 pass attempts, 1 sack).
Another strength-on-strength matchup comes on third down, with the Finley-led offense ranking No. 1 in third-and-long success rate (54.3; 7+ yards) and 23rd-best in third-and-medium situations (66.7; 4-6 yards). Clemson is in the top-25 in both situations, ranking 23rd (57.7) and 15th (36.1) respectively, with the Tigers holding the advantage on third-and-short (75th for NC State, 71.4; 14th for Clemson, 60).
Defensively, NC State matches an 11th-ranked rush efficiency 'D' versus Clemson's 15th-ranked rushing efficiency offense.
Backed up against its goalline, the Wolfpack rank among the nation's best - in the top-35 in success rate allowed from the 30-21-yard lines (15th), the 20-11 (33rd) and the 10-GL (14th). They are fifth in points allowed per scoring opportunity (3.23), facing a Clemson offense in the top-20 there (17th; 5.47) and in red zone touchdown percentage (15th; 78.3).
On special teams, neither side is lighting it up after the week break, with both ranking in the triple digits in ESPN's special teams rankings. Continued struggles in punt efficiency (Clemson - 81st; NC State - 128th) could put either defense on its heels in key situations.
Metrics outlook: Clemson-NC State
SBN: Clemson 35-21
TeamRankings: Clemson 37-20
numberFire: Clemson 40-22
(S&P+ is a SB Nation/Football Outsiders metric that combines ratings for the five factors of efficiency, explosiveness, field position, finishing drives and turnovers.
* Success rate is determined by gaining 50 percent of the necessary yardage on first down, 70 percent on second down and 100 percent on third and fourth down.)