| | |
| --- | --- |
| What kind of offensive coordinator would Jeff Scott be if promoted? | |
---
| | |
| --- | --- |
| Tuesday, December 2, 2014 11:34 AM | |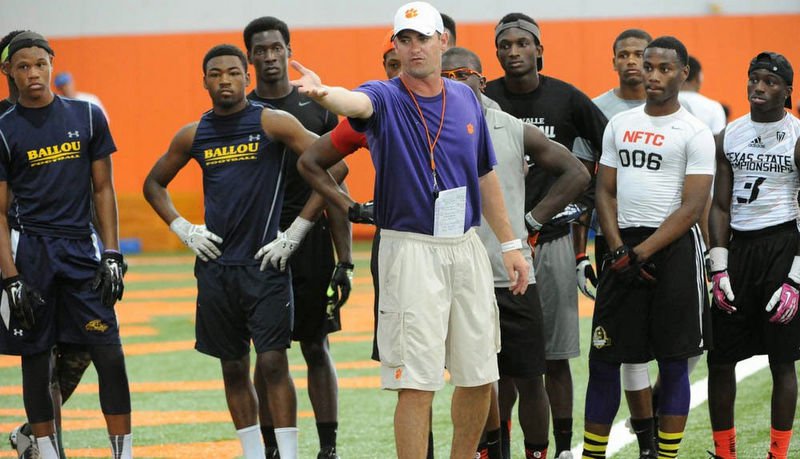 With the departure of Chad Morris

Chad Morris
Offensive Coordinator / QBs
View Full Profile , Clemson fans are clamoring to know who will step in and take the reins of the Clemson offense. One name that will certainly be high on head coach Dabo Swinney

Dabo Swinney
Head Coach
View Full Profile 's list is wide receivers coach Jeff Scott

Jeff Scott
Asst. Coach (WR) / Recruiting Coord.
View Full Profile .
Scott is one of the nation's top recruiters and has sent several position players to the NFL - that much is known. The unknown is what kind of play caller that would be.
There is a track record however. In 2006, Scott began is coaching career as head coach of Blythewood High School (SC), becoming the first ever head coach to lead his team to a state championship as a first-year head coach of a first-year program.
Not many people realize that Scott has play calling experience, so TigerNet reached out to long-time high school football and baseball coach Barry Mizzell – assistant head coach and running backs coach of the 2006 Blythewood Bengals – to learn more about Scott's short tenure at Blythewood and his play calling style.
Mizzell had just been named the head baseball coach at Blythewood when Scott approached him about a position with the football team. Mizzell told TigerNet that although the two didn't really know each other, it didn't take him long to realize that Scott was a bright, up and coming star in the coaching world.
"I was working at Richland Northeast at the time and I had coached football for years and I hadn't coached football for a year or two and I got hired out here as the baseball coach," Mizzell told TigerNet Tuesday. "Jeff came to me and talked me. It was the first time I had ever met him. He was a young guy but it didn't take long being around him to know that he was really sharp. He had a great football mind and he knew exactly what he wanted to do with his staff and this program. You could tell early on that he was not only knowledgeable but he knew exactly what he wanted to do and where he wanted to go. He ended up being very successful here and moving on and being very successful."
While coaching in high school is certainly different than coaching in college, Mizzell said that Scott was able to find the strengths of his team and put together the perfect combination of a spread and running attack, as the Bengals went 14-1 during their first season – losing only the first game, 21-13 to Ridge View.
"In high school, you deal with what you've got as far as players are concerned," Mizzell said. "You can't recruit to a system. We ran a variety of things. Jeff was a spread guy. We spread the ball out and we had a really good quarterback and a really good receiver and we had good running backs. We ran the ball. We ran a combination of stuff but we ran a lot of spread. Jeff liked to throw the ball, but in high school you don't marry one system. We ran a lot of spread of stuff."
Blythewood's offense tallied over 5,500 yards, averaging 371.4 yards per game with Richard Mounce (Charleston Southern) at quarterback and Marquan Jones

Marquan Jones
Wide Receiver (2008 - 2011)
#26 5-10, 195
Columbia, SC
View Full Profile (Clemson) at wide receiver.
Any time you talk to an offensive coordinator, the thing that they always say is most important is that you have to get a feel and into a rhythm of play calling. Mizzell said that it was obvious Scott has that feel.
"He worked extremely, extremely, extremely hard back then," Mizzell said. "He's got a little pedigree to him because of his dad. He's been around it. He was very, very knowledgeable and had a great feel for the game. He was smart enough to run what the defense gave us. He was always very, very prepared and knew exactly what he wanted to do and he knew exactly what they were giving us. He had a great feel. As a play caller, your feel for the game is probably one of the most important things and that's something I think he really had."
Mizzell said it was obvious that the then 26-year old Scott would be successful at every level of football and at any position he earned.
"When I met him and in the years that I worked with him, he just had a vision of what he wanted," he said. "He knew exactly what he wanted and hew as going to work at it. In all aspects of the game he hired really good coaches to work for him. He had guys that rallied around him. Even though he was a really young guy at that time, he proved himself at that time. I knew and a lot of people around here knew he was going to go on and be very successful. There was no doubt in our mind that when he left here and went to Presbyterian and then when he got the job at Clemson that this guy is going to be very successful at what he's doing."
Scott only spent a year at Blythewood before moving on to become the wide receivers coach at Presbyterian College for a season before Swinney made him Clemson's wide receivers coach in 2008.
Mizzell said that he knows if Scott is given the opportunity to become Clemson's offensive coordinator that he will do just as he has at every other stop during his young career – work hard and make the most of it.
He then said that Scott's success hasn't caught those that know Scott by surprise.
"Not the people that really know him. It didn't take long to figure out," he said. "We hated to lose him here but when he left we knew he was well on his way. He's a guy that's really got his act together. He's very sharp. He's got a great knowledge of the game. He's got a great personality, which is why he recruits so well. He comes from a great family and has great morals. He's going to be really successful."