| | |
| --- | --- |
| Wednesday night update: Swinney talks Irish, Mike Williams | |
---
| | |
| --- | --- |
| Wednesday, September 23, 2015 8:41 PM | |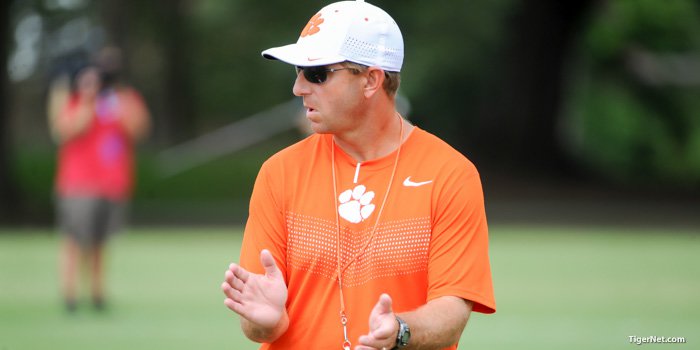 CLEMSON – The Clemson football team practiced for two hours on the practice fields behind Jervey Wednesday afternoon, and the practice was followed by a special event with the ClemsonLIFE program.
Members of the ClemsonLIFE program were allowed to have a Clemson gameday experience following the practice, including riding the bus around the stadium with a police escort and running down the hill.
"This is a great day. All you got to do is look at the joy on their faces," head coach Dabo Swinney

Dabo Swinney
Head Coach
View Full Profile said after the practice and event. "It's just an awesome experience to be a part of. The ClemsonLIFE program is amazing. It's absolutely amazing. In fact, one of the young ladies, Ansley, I actually met this summer at the beach down in Florida. This lady just walks up to me, and she is breaking out in tears because she is telling me that her daughter is coming to Clemson and will be in the ClemsonLIFE program. Anyway, I got a chance to know Ansley. Hope is Charlie Bussey's granddaughter. I got to meet her.
"So they are all just amazing, first of all, and the program is amazing and how it is run. It's something that our foundation supports. We are just really blessed and honored to be able to be a part of what they do because the program ClemsonLIFE stands for Learning Is For Everyone. These young people, they live life the way we should all live life. They really do. It's just a pleasure and a joy to be around them. To see them interact out at practice, to have fun, to see the joy of getting autographs. I wish you could have been on that bus when they hopped on that bus with the police escort to come around here. It was game time. It was so much fun to be a part of. Just to see them run down the Hill and get to do something that they all seen many times and dreamed about doing. Just to put a smile on their face, I'm just glad to be a part of it."
The Tigers are off Saturday – Clemson hosts Notre Dame on Oct. 3rd – and Swinney joked that his team is preparing for the always tough Open Date.
"We are preparing for open, and they have a great defense," he said with a smile. "I think we are going to be able to move the ball on them this weekend. So we are looking forward to that. But I hear open has a good corner or two."
OTHER NOTES
Mike Williams

Mike Williams
Jr. Wide Receiver
#7 6-4, 213
Vance, SC
View Full Profile test on his neck
"It's just something they do periodically. He's doing good. Everything is really perfect to be honest with you as far the way the alignment or the break was. So he is doing really, really good.We don't really have a timetable. I have no idea if he will play this year or not. In his mind, he's playing, but that is all up to the doctors and the good Lord. I have no idea, but we certainly don't want him anywhere near a football field unless he is 100% healed."
Is Deshaun Watson

Deshaun Watson
So. Quarterback
#4 6-2, 207
Gainesville, GA
View Full Profile struggling
"The first interception was a great throw. It was 100 percent on the inside wideout. If the corner is not there to kill Leggett, then Leggett either makes the catch or at least gets his hand on the ball or it's at the very least incomplete. It was a great throw. The second throw was one we have to make. He left that ball outside too much, and it needed to be inside. We wanted to take a couple of shots. Outside of that he missed the throw to Leggett. There wasn't a lot of adversity for him. He had a a 70 percent completion percentage. He averaged 4.5 yards per carry. He played a great game. He just needs to continue doing what he's been doing.
"Overall on the season after three games, he's done exactly what we've asked him to do. He's taken what's been there, he's made some big throws when he's needed to, and he's extended plays. He's run the ball effectively. He's made some great checks. He's gotten us into some right protections. He's not made a whole lot of mistakes. In fact, Louisville was his best game of the three. It was his highest grade of the three games. I just kind of laugh when I hear some of the rhetoric that he had an off night. I'm not quite sure what an on night is if that is an off night. I'll take that every night. He played a great game. Technique wise, grade wise, effort wise it was his best performance of the year."
The matchup between Irish WR Will Fuller and Clemson CB Mackensie Alexander

Mackensie Alexander
RS So. Cornerback
#2 5-10, 189
Immokalee, FL
View Full Profile
"It will be as tough as it gets. It will be hard to get any tougher. It will be like the practice field has been around here for him since he got to Clemson. It's going to be tough. It's tough out here on the practice field. It's going to be a very difficult challenge. This is a great group. Fuller is a superstar for a reason. I think he leads the nation in yards or touchdowns. They've played good people, and he has dominated. It will be a big challenge for our secondary, not just Mackensie. He's (Alexander) a player. He's a competitor. Everybody who likes to compete at the highest level relishes opportunities to play the best."
Notre Dame
"They're really good. Watching them defensively, it looks like we're getting ready to play Clemson. Really, really good up front. Strong and athletic. Backers are big, strong and make a lot of plays. The secondary can cover. Athletic. Can run. A lot of press-man coverage and we haven't seen a lot of that at all these first three games. Everbody has tried to play on top of us. This is a whole different type of animal that we're getting ready to deal with in Notre Dame. This is a legit top 10 football team. I really don't see a weakness in them. Same thing offensively - great wideouts. Everybody talks about Fuller, but they're all good. They can all make plays - tight ends, wideouts, running backs, the quarterback has been exceptional. He's done a great job for them. He's already won a game on the last play of the game. You can just see him playing with a lot of confidence. Now he's won a game against Georgia Tech. The offensive line is as good as we're going to see. They've got a bunch of experience. It's one off those games that will come down to three, four or maybe five plays."
Hunter Renfrow

Hunter Renfrow
RS Fr. Wide Receiver
#13 5-10, 176
Myrtle Beach, SC
View Full Profile
"I guess Y'all think I lie to you. I try to tell you the truth. He's a player. There's no way else to say it. I said the same thing about Adam Humphries

Adam Humphries
Wide Receiver (2011 - 2014)
#13 5-11, 193
Spartanburg, SC
View Full Profile for four years when everybody wanted to know why Adam Humphries is playing. The biggest thing with Hunter is that he had some offers, but he was 155 pounds playing quarterback. He had the skillset to fly, good ball skills, high football IQ, coaches son. He was just too small. He's got good height and a good frame, but he's just too small. Great baseball player. He came in and redshirted and now he's 175 pounds. He's a freshman. He's a confident kid."
Wayne Gallman

Wayne Gallman
RS So. Running Back
#9 6-1, 210
Loganville, GA
View Full Profile
"Good backs aren't going to be arm tackled. Good backs are going to beat one guy. He shouldn't be a guy that gets tackled by one guy very often. You've got run through arm tackles. It's not always going to be perfect and clean. You've got to run through the smoke, and that's where he's really excelling right now - just finishing forward. It's the extra effort. That's what we love about Wayne. He's really got a much better understanding of how to press the blocks, how to set things up, how to read it. He's developing right before our eyes into a pretty doggone good back. He's just going to keep getting better."
Huge thanks to Dabo's All In Foundation for hosting us at practice and for their $35,000 donation to our program! pic.twitter.com/cxbhOFQaE8

— ClemsonLIFE (@clemsonlife1) September 23, 2015
C-L-E-M-S-O-N T-I-G-E-R-S! Fight Tigers, Fight Tigers, Fight, Fight, Fight! Featuring: Coach Swinney. pic.twitter.com/XkAKlnNAlJ

— ClemsonLIFE (@clemsonlife1) September 24, 2015