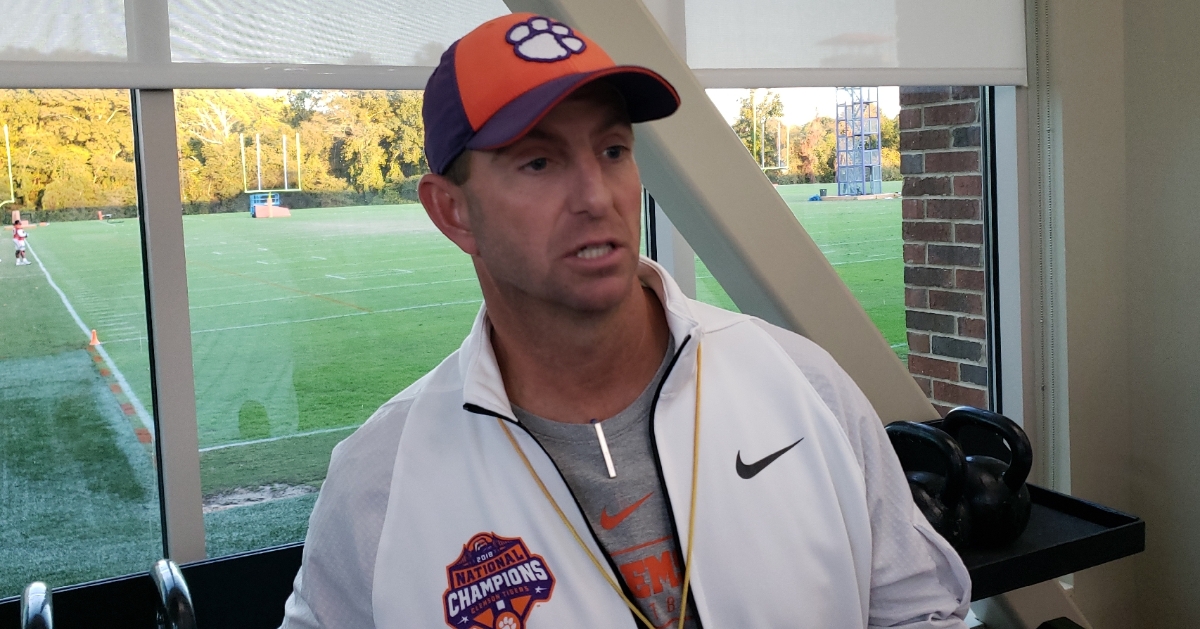 | | |
| --- | --- |
| Wednesday Night Update: Swinney doing his part for Tigerama and Homecoming | |
---
CLEMSON – Head coach Dabo Swinney loves the pomp and pageantry of Homecoming weekend, but he had been on the Clemson campus for six years before he knew about Tigerama. Once he learned, he wanted to make sure his players realized the full college experience.
The Tigers host Boston College this weekend in another pivotal ACC matchup, but it's also Homecoming and Swinney is taking it all in.
"When I got the job, I just felt like Clemson was divided. I felt like there was a disconnect," Swinney told TigerNet after Wednesday's practice. "That is why we started Tiger Walk and why I changed the way we came to the game, literally the next home game. I felt like our guys weren't engaged to what was going on, on campus, and engaged in the pageantry of Clemson. I think that's important. This is college."
Once Swinney learned about Tigerama (which will be held Friday from 6:45-9 pm at Memorial Stadium), he knew he had to be a part.
"I didn't even know what Tigerama was. I had no idea. I had been here six years and didn't have a clue," Swinney said. "So, I said we are going to participate and be a part of it like everybody else. So we've done it every year and it's kind of like a pep rally, something for these guys to be a part of with the rest of the community here. With the fans and the students who get here early. It's a fun time for us to take a few minutes and disengage and connect with our fans and loosen up a little bit. And then we go to a movie. It's become part of our Homecoming routine around here. As is handing out pizzas tonight. I gotta make a pizza run tonight.
"But it's our Homecoming routine. This is just a part of what we do. Just like we have an away game routine that is pretty set, but one of these games we go to an elementary school. That is one of the things we do each year. But it's a fun time and a fun event and I am excited about it."
Swinney said defensive end Xavier Thomas (concussion) is still day-to-day.
"He's kind of day-to-day still, he looked a lot better today," Swinney said. "So hopefully he'll be ready but probably going to see what Danny Poole says tomorrow, but he looked a lot better today."
Swinney said defensive end K.J. Henry has improved the most since the spring.
"He had his worst grade last week grade-wise but just all in all from start of camp to now, he has really come a long way," Swinney said. "Just trust him a lot more, his physicality. But all those guys— Justin Mascoll has come a long way too. Kind of felt like I had three guys in Logan Rudolph, Justin Foster, and Xavier Thomas who had separated a little bit and K.J. has really come on."
As for Boston College, Swinney said the Eagles "embarrassed" N.C. State last weekend.
"That's what happens when you don't have the right mindset physically to match up. That's a long day," Swinney said. "N.C. State was giving up 67 rushing yards per game and those guys absolutely smashed them. So it's easy for our guys to have their attention based on what they've seen on tape. I think our guys have a natural respect for Boston College. Guys that have been in this program every single year know BC is one of the best teams and well-coached teams we play every single year."
He then said that last week was a very physical game because of how Louisville was committed to the run.
"The difference is these (BC) backs are 250," Swinney said. "It's a physical game. I was telling them back when I was playing this was every week. Three downs then punt and see who gives up the field goal and you win 10-7 or 13-10. But this style of play is not every week now. I think that makes college football kind of fun to see if you can adjust and play different styles. I'm really as excited about this one as any all year long because I want to see how our guys match up."

Upgrade Your Account
Unlock premium boards and exclusive features (e.g. ad-free) by upgrading your account today.
Upgrade Now