| | |
| --- | --- |
| Watson's surgery a success, Swinney hopes his QB will be ready for summer | |
---
| | |
| --- | --- |
| Monday, December 15, 2014 8:28 PM | |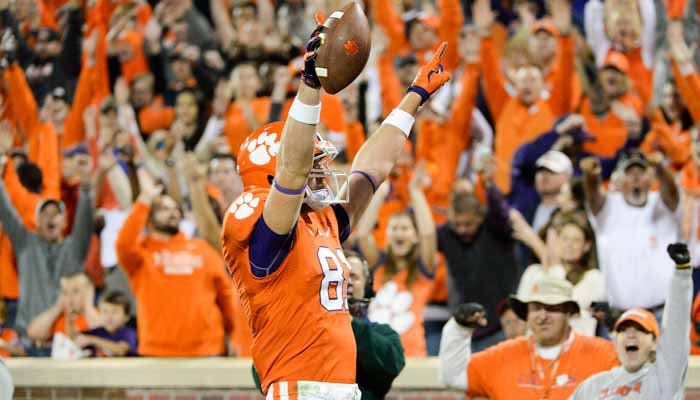 CLEMSON - The Clemson Tigers will be without their field general when they take the field December 29th in Russell Athletic Bowl, but after a successful surgery he is one step closer to being able to lead the troops once again.
Freshman quarterback Deshaun Watson

Deshaun Watson
Fr. Quarterback
#4 6-3, 204
Gainesville, GA
View Full Profile tore his ACL during a Thursday practice before the Georgia State game and underwent surgery to repair the injury Friday morning in order for the Georgia native to begin the rehab process.
Head coach Dabo Swinney

Dabo Swinney
Head Coach
View Full Profile said that Watson's surgery - along with Stanton Seckinger

Stanton Seckinger
RS Jr. Tight End
#81 6-4, 241
Isle of Palms, SC
View Full Profile 's surgery to repair an PCL injury suffered during the South Carolina game - went as well as could have been expected.
"It went great. Seckinger had his surgery on Thursday and Deshaun had his Friday," Swinney said after Monday night's bowl practice. "It went very, very well. In fact, they're already hard at it. Every second they've got they're in the training room. Today both of them came down to my office hobbling on their crutches. Their attitudes are just tremendous. It's always good when you've got somebody who's going through that with you. Those two guys will kind of be attached at the hip over the next several months. They are both wired the same way and it will be good support. Everything is good. Just like we had hoped, we're going to get all of this work here and then we'll get all the rehab at the bowl site. Deshaun and Seckinger will continue to rehab even though they'll have a good week off. When they come back in January, it will be out the gate moving and running as far as off and running with the whole process. So far, so good."
Swinney said that it is unlikely that either Seckinger or Watson will participate in spring practice but they goal is for the Tigers to have their leader back on the field by the time the begin summer workouts.
"We'll see where they are but they'll still be going through that whole process," Swinney said. "They'll be in the meetings and mentally doing everything but they won't have any football practice. We'll see how far they are. All that stuff as far as levels that they take them is based on how they respond to the treatment stuff. Our goal is by summer to have our leader out there to be able to lead the troops. Seckinger will be a senior and Deshaun with what he brings to the table, it will be great to have him out there with his command and presence to challenge the guys in the summer. We're hopeful and anticipate that being a pretty certain thing but you never know until you go through the process"
Meanwhile Swinney said that the rest of the team is putting in the majority of the legwork in learning the game plan for the bowl game against Oklahoma
"We've got a lot of work this week," he said. "This is where the game is won right here. When we leave town, we've got to feel like that when we show up that we deserve to win based on what we've done here. It's a big week for Cole and a big week for everybody as far as getting the game plan down. When you get to the bowl site, there are so many things going on and so many distractions. If you think you're going to get down there and start game-planning, it's a disaster. We wont' to get down there and polish - dot the i's and cross the t's and just continue to take ownership of the plan. Right now is when the bulk of the work has got to get done."
Other notes
Swinney said that Cole Stoudt

Cole Stoudt
Sr. Quarterback
#18 6-4, 231
Dublin, OH
View Full Profile appears more confident and is protecting the ball better
"He hasn't practiced well all year. He's practiced well a lot but we don't have anybody out here that has practiced great every day. He's had a lot of good preparation. He knows that he's the guy and he has a chance to go and finish this thing off the right way and I think he's going to play well. I like the look in his eyes. I like his focus. I think Street [Brandon Streeter] has brought a little different energy out here. He's competing and that's what I like to see. He's done a nice job taking care of the ball so far in these first few practices and that's the biggest thing to me."
On how quarterback coach Brandon Streeter has adjusted to coaching at Clemson
"He's on the fly. He's a smart guy. We don't really do anything that he's never done before, so it's not like it's earth shattering stuff for him. The terminology is different, that's the biggest thing - learning how to speak the same language as everybody. He was pretty comfortable out there today. I've enjoyed watching him coach. He's going to be a really good one."
On how the team has responded to Jeff Scott

Jeff Scott
Asst. Coach (WR) / Recruiting Coord.
View Full Profile and Tony Elliott

Tony Elliott
Assistant Coach / Running Backs
View Full Profile as co-offensive coordinators
"The team has really responded to Tony and Jeff. It's a good energy out here. It's been fun. It's been fun walking into the staff room and watching what's going on in there. I think everybody has a good level of energy about them."