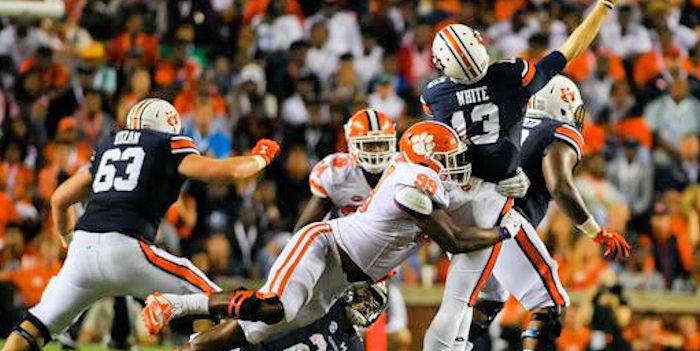 | | |
| --- | --- |
| Venables on preparing for Auburn offense: "Space is their friend" | |
---
CLEMSON – You can tell a big game is on the horizon. Defensive coordinator Brent Venables was a little later than usual to his customary Tuesday press conference, and when he's in the zone of preparing for a tough opponent, his media session is usually quick and to the point.
In other words, he's all business.
That was the case Tuesday as Venables spent ten minutes or so discussing third-ranked Clemson's home game against No. 13 Auburn. Auburn racked up 351 yards on the ground and 184 more through the air in last Saturday's 41-7 win over Georgia Southern.
Auburn also features new quarterback Jarrett Stidham, who transferred in from Baylor. He was 14-of-24 for 185 yards, two touchdowns, and one interception.
"He can throw it very well. He's accurate throwing the ball and has great velocity," Venables said. "He has good arm strength and can run. He keeps his eyes down the field and has good instincts and pocket awareness. He's a winner, competitive, intelligent, all of those things.
"The quarterback throws the ball very well. They do a good job and can spread you out and pound you and spread you out and throw the ball. They have excellent skill at receiver and running backs and their tight ends. They have a veteran offensive line, very physical. They have a very physical spread attack and they get big on you, too. They do a great job with how they game plan and how they have recruited. It'll be a great challenge."
Auburn head coach Gus Malzahn hired Chip Lindsey to be the new offensive coordinator in the offseason.
"Coach Lindsey's background is the state of Alabama and is at Auburn and then he has branched out and has had great success at both Southern Miss and Arizona State," Venables said. "Why wouldn't you do those same types of things scheme-wise? His foundation looks to have an Auburn flavor, but he has put his own spin on it as well."
Auburn also features running backs Kam Martin, Kerryon Johnson and Kamryn Pettway. Both Johnson and Martin rushed for 136 yards against Georgia Southern last Saturday.
"They have recruited really well there. They have speed, size, and power. Number 36 (Pettway) will have fresh legs coming into Death Valley," Venables said. "I think he led the SEC in yards per game. He's a strong, physical back that is a good athlete and can get outside on you as well. They have recruited really well there. It's just a staple of who they are."
He then said that Auburn was hard to make one-dimensional because of the way they spread the defense.
"It's hard because space is their friend," Venables said. "They can still be physical and they do a good job of attacking you outside and inside. They do a great job blocking outside as well and they have a powerful offensive line. On top of that, they have a quarterback who can run it and throw it both. They kind of got all the toys in the toy box."
Clemson didn't get much done last week in regards to pass defense – Kent St. attempted just four passes – and Venables said he is anxious to see how his defense responds against a true passing quarterback.
"Yeah, absolutely. We will find out some new things this week in that regard," he said. "Our offense has prepared us through the spring and summer and now through fall camp. That was just one day. We've been practicing for a long time between all those different periods so I think that our guys got a decent understanding of where they need to be. We'll be challenged in all different types of ways this week, but yeah that would have been nice."

Upgrade Your Account
Unlock premium boards and exclusive features (e.g. ad-free) by upgrading your account today.
Upgrade Now