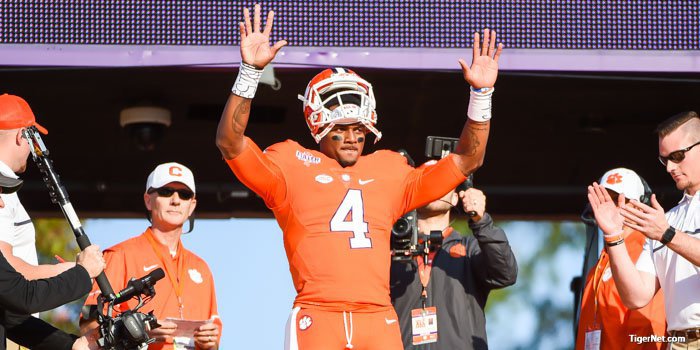 | | |
| --- | --- |
| Upbringing, mom's cancer lead to Watson's mature outlook on loss | |
---
| | | |
| --- | --- | --- |
| Monday, November 14, 2016, 11:23 AM | | |
CLEMSON – Social media and the message boards began to light up Saturday evening following second-ranked Clemson's stunning loss to Pitt, with fans and media pundits agonizing over each play and wringing their hands in disbelief.
To some, football is life and the loss to Pitt evoked feelings of anger and the vitriol spewed forth in waves.
Clemson quarterback Deshaun Watson – the brunt of much of the criticism following the game – stood in the hallway outside of Clemson's locker room and answered questions with his usual calm demeanor and reminded the gathered media that life would go in.
"We're all still breathing," he said. "At the end of the day, it's just football."
Watson again met with the media early Monday in the WestZone – he had to be there early to get treatment on his sore right shoulder – and I asked him if his upbringing and dealing with his mother's cancer contributed to his mature and refreshing outlook on sports and life.
His answer was yes.
"Of course. It's something I kind of grew up on, especially coming from the environment I grew up in and the situation with my mom. It's a blessing to be able to play the game of football, because one step later it can easily be taken away from me," Watson told TigerNet. "A lot of people can take it for granted and get caught up in their everyday life and ways of doing everything a certain way, but the next morning this great life that I am living can be taken away from me. I try to keep a level head and understand the position I'm in and who's putting me in that position. At the end of the day, football isn't going to be the foundation of my life. I always keep my perspective and try to keep my character above the great things I do on the football field. I don't want to be looked at as a great football player - I want to be looked at as a guy with great character who's a student-athlete that is helping the community and inspiring people with the platform I have."
Watson then gently reminded everyone that Clemson's season goals are still intact and that he refuses to listen to the minutiae that can cause unwanted distractions.
"We have to understand that everything is still out in front of us. Each week is a new week, and you learn from those lessons," Watson said. "This adversity is going to bring out who we really are as a team. We are either going to sit around and pout, or we are going to stand up and run towards the criticism and adversity and learn and build on it and get better from it.
"It's just people in general. They are talking and saying we aren't as good as people think we are. You see it all the time. Not just for Clemson but for all the other teams, too. Each team is dealing with adversity and criticism because people have their own biased opinions about who they like and who they pull for. That isn't something that bothers me. I do what I do and control what I can control. I understand people are going to love you and people are going to hate you. It's life."
Watson continues to set records, but he admits he's made too many mistakes but, again, doesn't listen to the outside noise.
"It could have been better. I made more mistakes than I wanted to," Watson said of his season. "That's for everybody. I've enjoyed my season pretty well. You look at last season, not many people knew about me until the end of the season and the Heisman and watching me in the two playoff games - that's when people recognized me. So it's easy for people to say I am not having the type of season that I had last year. To be honest, a lot of people didn't know me until the end of the season. They were just living off the National Championship Game. Personally, I don't care about other people's opinions and expectations. I understand what I'm doing and my teammates do, too."
Watson said there are lessons to be learned in defeat, and he has a plan for dealing with Saturday's disappointment.
"You just respond. It's a good learning lesson. I haven't had too many of losses especially in college," he said. "It's new around here but you live and you learn. You're going take losses at some point in your life. Everyone is not perfect. There is no one that is playing football right now that's completely undefeated regardless if you are a player or a coach. It's just a good time to learn and grow from it."
OTHER NOTES
How he wants to respond this week
"Just go back to work. Just continue to have that one game mentality. Try to be 1-0 this week and just get better, prepare, and put in the work throughout the week in practice and the film room and go out there on Saturday and try to get the job done and the W."
Evaluating the team's performance
"It wasn't good enough to get the W, so that's pretty much it. At the end of the day, we want to win, and all the stats and all the other stuff doesn't really matter if you don't win out. I just want to get the W and move on forward."
The call on 2nd-and-goal where he threw the interception
"It was a naked pass play. I would have done the same thing. There is more in detail if you watch the film and understand the play call and the play. (Hunter) Renfrow was coming across the middle. A lot of people thought I was throwing it to Jordan Leggett but I was throwing it to Renfrow. Guy just jumped in the way and got his head around and made a good play. So credit to them."
Does he pay attention to other teams losing
"It's nothing we kind of really focused on. We just focus on correcting our mistakes and just worrying about us. Let everything else take care of itself. That's something that is out of our control. We knew from the get go we are still in control of our destiny. Win this week and we punch a ticket to the ACC Championship and then we still have a chance to win the state championship and then a conference championship and so forth. So all the goals we still have set for our team and our season is still out in front of us. We just got to go get it."
Did the team begin to feel invincible?
"No. We don't go into a game entitled to win. We understand we've got to go earn it. Each game is different. We've just got to go out there and do our part and execute and finish til the final seconds. That's something we didn't do Saturday night as a team. It's a good learning lesson, but at the end of the day each week is a different week and it's a different opponent."
How is the shoulder?
"It's sore, but it's all good. This is the reason why I came to Clemson to play in an offense like this, to be able to throw the ball around and make some big-time plays."
Thoughts on Wake
"Just a well-coached defense that plays hard and guys that are very confident."

Upgrade Your Account
Unlock premium boards and exclusive features (e.g. ad-free) by upgrading your account today.
Upgrade Now