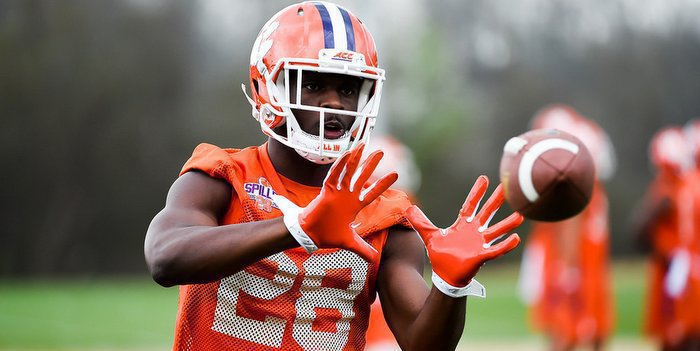 | | |
| --- | --- |
| Tuesday Update: The battle of the depth chart | |
---
| | | |
| --- | --- | --- |
| Tuesday, March 28, 2017, 10:20 AM | | |
CLEMSON – With the installation of the offense almost complete, the Clemson coaching staff will begin the process of evaluating players and a depth chart will begin to take shape at several positions.
That includes quarterback, running back and wide receiver as the Tigers continue life without a star-studded group that led them to a National Championship last season. Monday was the team's first post-spring break practice, and several offensive players could be seen running after practice.
Co-offensive coordinator Jeff Scott said the players were running because practice was sloppy.
"No, it definitely looked like the first day back. Sloppy at times, we did some good things at times, but sloppy and you could tell with the skill guys doing a lot of the running," Scott said. "They were over there sucking in beach balls on the sideline today. Big thing is our tempo and we want to continue to play fast and play hard. It was definitely inconsistent overall."
At quarterback, Scott said the coaches will look to see which players steps to the front.
"Those guys have their moments up and down but what we're looking for is the installation really in and we'll have one more day of install and then it's about being able to evaluate the guys now that everything is in and being able to see who executes the best," he said. "Each of those guys has their moments. They also have some poor decisions as well but that's a part of the process and why we're out here practicing. We're really looking for who can separate themselves from the pack."
What is he looking for out of the skill players?
"Really the same thing I just said and the guys who can take the install and execute at a high level against a very talented defense over there with three top 15 picks on that front, those four defensive guys up front and it's a great challenge for our guys every day," Scott said. "The biggest thing now is now that the install is in, who can execute and who can we trust? The more guys in that category as we head into the summer, the better."
He then added that the second part of spring practice is all about challenging Kelly Bryant, Tucker Israel Hunter Johnson and Zerrick Cooper.
"We've purposely installed a good bit so that we kind of challenge them. It's easy when you're going slow and don't have a lot of things to do, but we've challenged them with the install. I think that's really what the second part of spring practice is all about. 'Now I understand where all the receivers are. Where my footwork is and where the ball goes.' It's kind of like going from algebra one to algebra two. Taking that next step of being able to understand directing traffic up front and get us in the right looks. Just like what I said about the offensive line when they're getting difficult looks from the defense. It's good and we need that because it'll put them in as hard a situation as they'll be in a game. I think what we're hoping to see the most progress in the second half of spring ball is who can take over at the line of scrimmage."
At wide receiver, Scott said the trio of Cornell Powell, Diondre Overton and T.J. Chase are showing the type of consistency he wants to see.
"Good progress, I think all three of those guys have done a good job. Overton got off to a little slower start being in the boundary, that's the toughest position to play," Scott said. "We've really challenged him and he's responded. Been really pleased with his last three or four practices. I think Cornell has been as consistent as any of those three guys. He's made that next step like we're challenging Ray-Ray and Deon from being a backup to being a starter. We're challenging those next three guys from being a role player to a guy that can play 35 or 40 plays we can count on.
"T.J. Chase has gotten a lot of reps with the second group and made a lot of plays. You want to see consistency and growth and guys that are getting better week in and week out. I've seen that from all three of those guys in their attention in meetings and they understand they're going to have an opportunity for a big role in the offense and they're taking advantage of that so far."
Another wide receiver who has grabbed Scott's attention is Trevion Thompson, who missed the end of last season with a broken wrist.
"I think he's been in that top group or top four of Hunter (Renfrow), Deon (Cain) and Ray-Ray (McCloud). I think those four are kind ahead of everybody else," he said. "Part of it with Trevion is the injuries. He was having a solid year then banged up his hand late. We've moved him around and looking for some depth at out '9' man position behind Deon and Trevion's been a guy who's been over there getting those reps at second team, that's what you get with a guy like him with his body type and skill set and can be moved around. It just gives us more combinations and helps a lot with the young guys. Trevion's done a good job."
OTHER NOTES
Offensive retention after the break
"I don't feel like we had a lot of missed assignments, the execution wasn't great. We purposely scripted a bunch of plays and did our team tempo right off the bat. 20 plays in five minutes to really try to gas them and get them to that point and see how they respond. Some of them responded well and pushed through and some of them didn't and that's really what this time of the year is all about- to try and expose a few of them that aren't in position. A lot of it is more mental than physical but it was sloppy at times today. There were also guys that stepped up, overall inconsistent. We've definitely had worse first days back, still was not to the standard."
Can Tavien Feaster be a weapon at kickoff return?
"I do. Feaster's done a good job at kickoff return and punt return. You can notice guys that are natural at catching the ball and he is. He's been very consistent when given those opportunities at punt and kick return. Probably quicker at punt return than kick return because of those guys ahead of him there."
The emergence of John Simpson
"John Simpson is a guy that's really stood out in that second group and a guy that's come on and very talented and athletic. His biggest thing has been there's a lot of things the defense will throw at you and there's a lot you'll see in just one practice thrown at you with the experience they have on the defensive side of the ball, it's a challenge. John is really one guy that caught the coaches' eye through spring practice."

Tags: Clemson Football
,
Trevion Thompson
,
Kelly Bryant
,
Tucker Israel
,
Hunter Johnson
,
Cornell Powell
,
Diondre Overton
,
TJ Chase
,
Tavien Feaster
,
John Simpson
,
Jeff Scott